South Africa had been on the list for a while. Nelson Mandela's story has always intrigued me, but I have to admit: a safari also seemed like a fun thing to do. In the end, what made the trip most memorable was the fact I got to share it with my mom and dad. A three week road trip with the parents. What could possibly go wrong?!
Well..
On arrival it took us at least fifteen minutes to open up the trunk of our SUV. When we finally figured it out, our luggage wouldn't fit. Seriously?! So we bought a travel bag instead and stored our suitcase until the return flight. Problem solved! Our Airbnb in the city center of Cape Town had a private parking space. That was well thought out in advance. Picture a garage box with padlock in a very narrow street. But with the driving skills of my dad, we had nothing to worry about. I can still hear him say: "who's the master?", while the front of our rental scraped the wall. Great! As long as there's wine and delicious food we'll be fine. Add to that the beautiful landscapes and diverse wildlife and that silly scratch was quickly forgotten. We visited a winery in Stellenbosch with amazing views and spotted a colony of seals while driving along the coast. Due to a storm we got to see little of that amazing view and after closer inspection that colony of seals turned out to be seaweed. The wine tasting was, however, a great experience though. The safari ended up being the highlight of our unforgettable journey. "Best holiday ever", my dad posted on Facebook when we were on our way home. And it was, it really was..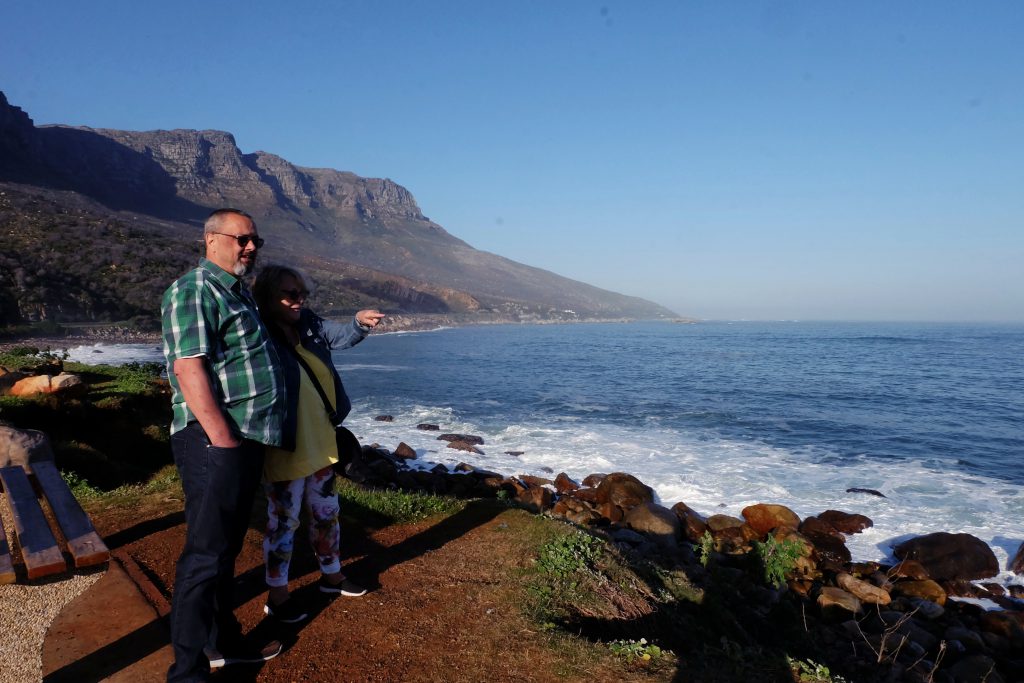 The Garden Route in Pronk style
The Garden Route runs along the coastline between Cape Town and Port Elizabeth. We mixed it up a little and drove parts of it. Obviously the route has various beautiful stops. We decided to skip some and add others because well that's just who we are.
I already wrote about Cape Town being such a cool city. From Cape Town we drove to Stellenbosch. Known for its beautiful vineyards we knew we had to make a stop there. We arrive at Weltevreden Estate in the pissing rain. Weltevreden is an eighteenth century residence surrounded by the amazing landscape of the wine region. Or at least if we can believe the pictures on the internet. Because of the weather conditions we didn't see crap. Fortunately, the residence has a nice restaurant. Just kidding! They only served breakfast and lunch. That's just our luck. The next day we visited Delaire Graff Estate for a wine tasting with a view. Guess what? No view! At least the wine and tasteful food made us forget about the rain for a bit.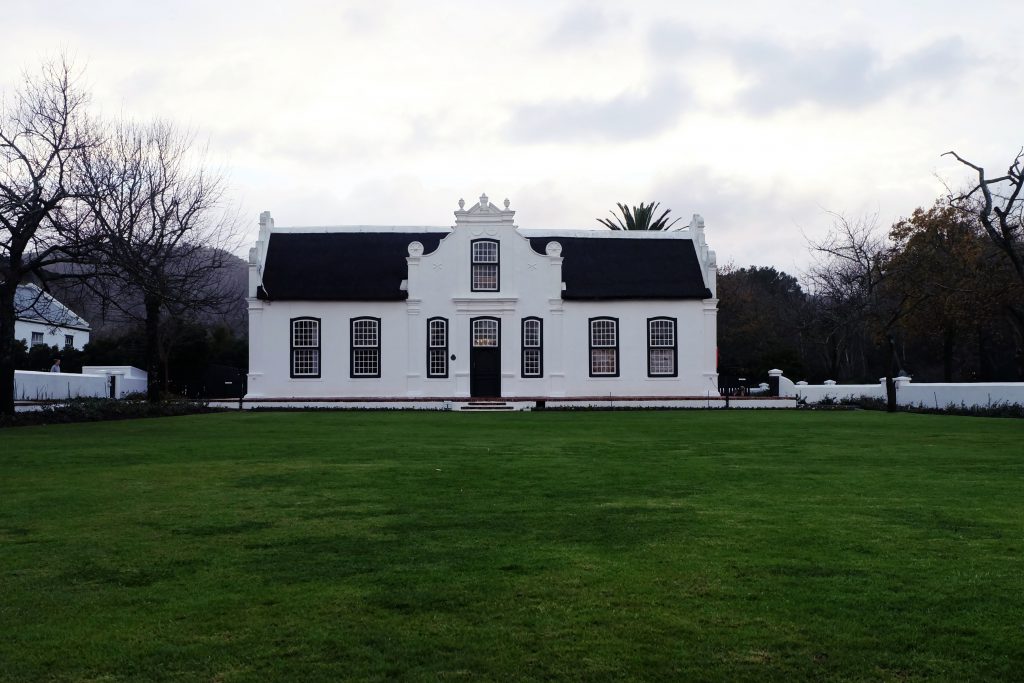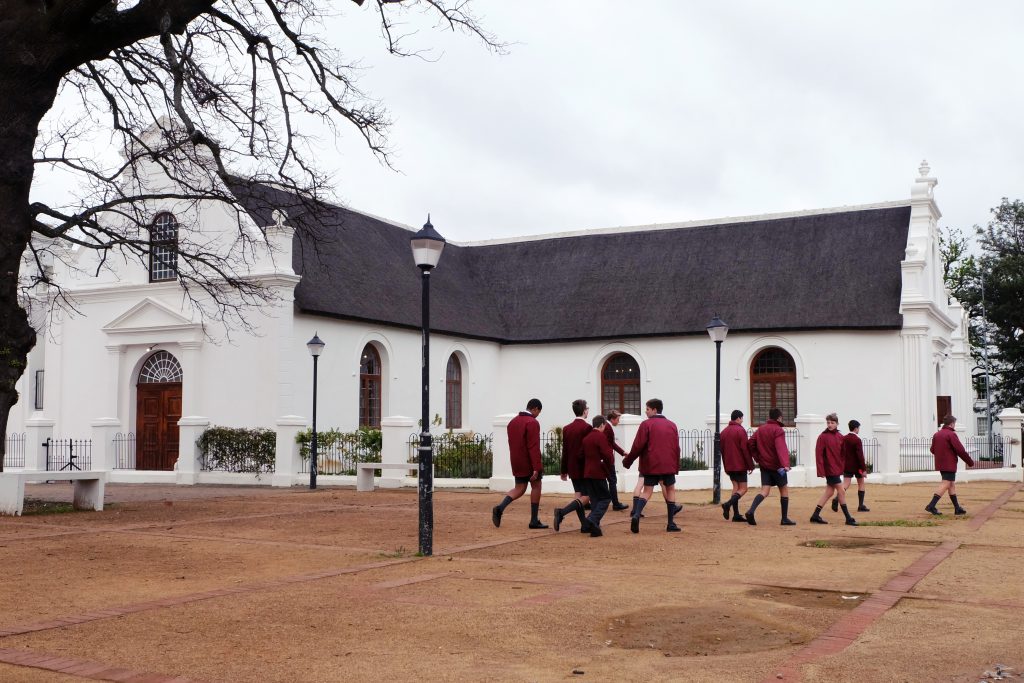 From Stellenbosch we make our way to Hermanus via Bettysbaai. Why take that route? Well, because of the stunning ocean views. Again: due to the shitty weather we had no enjoyment of the surroundings what so ever. The more we drive east, the better the weather gets though. As we approach Hermanus the sun starts shinning. We went for a walk along the coastline before calling it a day.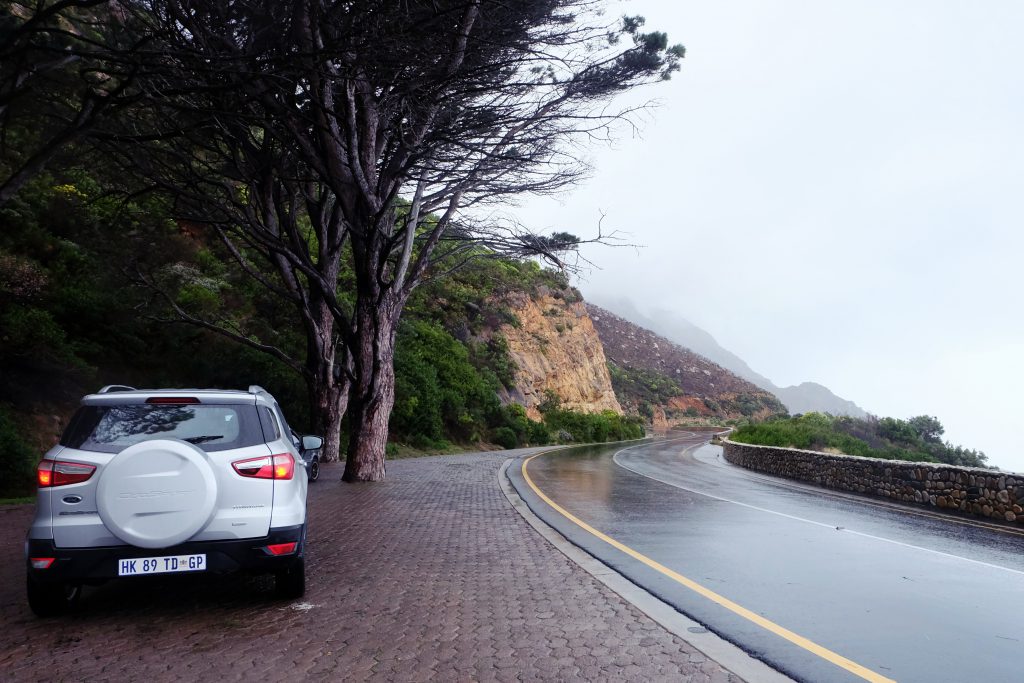 After our quick visit to Hermanus we drive on to Swellendam. On the way we make a stop at L'Agulhas. Here you'll find the southernmost point of Africa. It's also where the Indian Ocean and the Atlantic Ocean meet. Cool, isn't it? Officially Swellendam isn't located on the Garden Route, but with its historic Dutch architecture it's definitely worth a visit. We stayed at Cypress Cottage Guesthouse, a cute home founded in 1796. Etienne and Vera are very welcoming people. In any case, we felt right at home!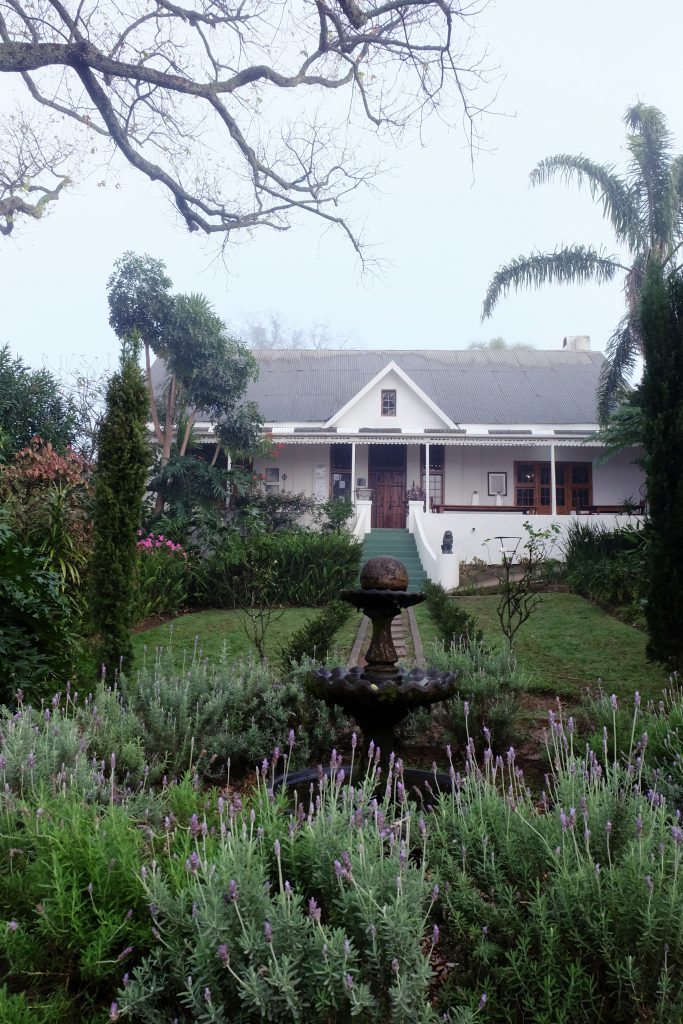 From Swellendam we took route 62 towards Wilderness. Route 62 is better known as the Wine Route. We make our way through green mountains passing waterfalls and baboons. We also create a waterfall ourselfs before entering desert landscapes. In Barrydale we make a pitstop at atmospheric roadside diners for a quick bite. After driving the N12 we finally arrive in Wilderness. This small village has some great surroundings! Take that breathtaking view called 'The Map of Africa' for example. In addition, you can take various hikes. We were in for some relaxation. Pearl Moon Boutique Suites turned out to be the perfect escape!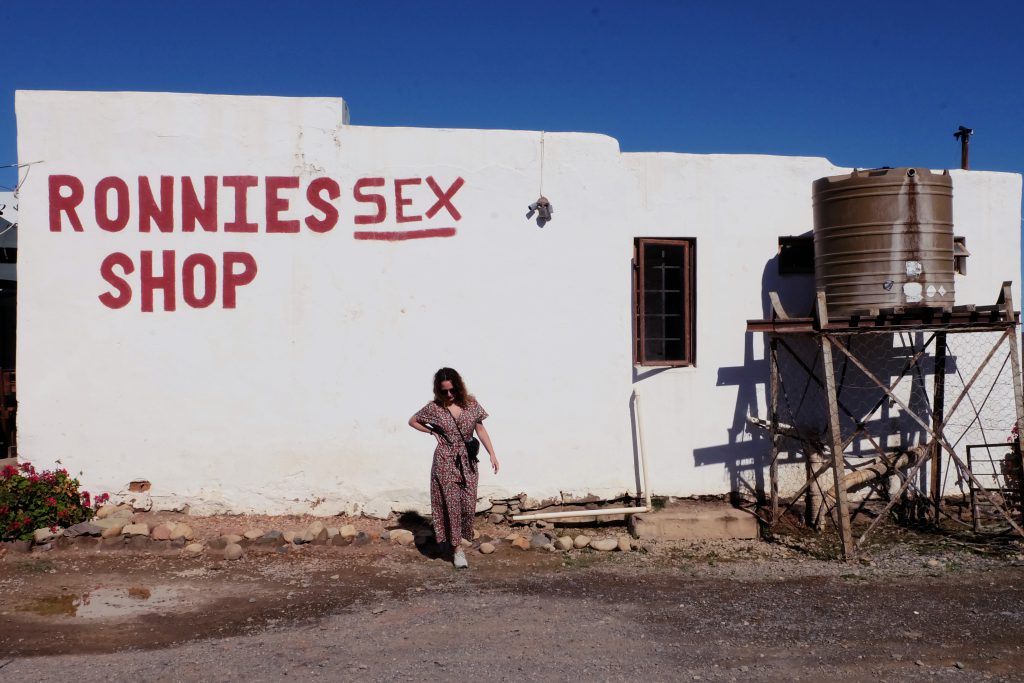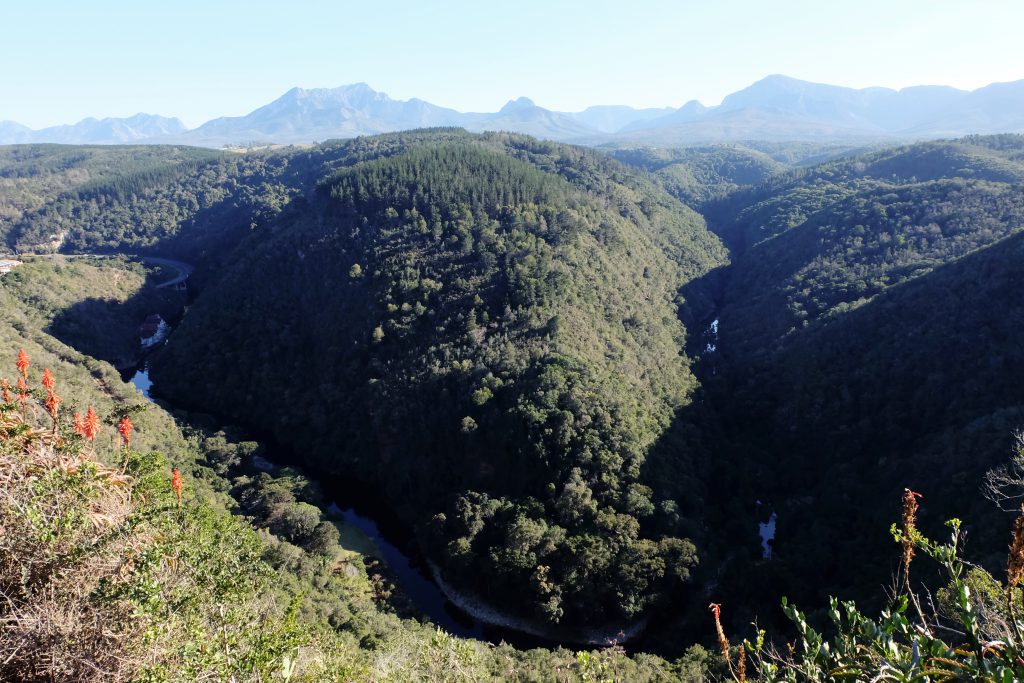 Our next stop: Plettenberg Bay. We're staying at yet another treasure, The Junction Hotel. Yep, we like to live the fancy life. In Plett, as the locals call this pretty costal town, we cover quite a few kilometers by foot. We went to the Robberg peninsula where I – unlike earlier that week – did spot some seals. Near Cape Town we stopped to admire the coastline view. Between waves we kept seeing dark things floating above. "Look, look", my mom said. I was wondering what in the hell we were looking at. My dad asked a random stranger what it was. Turned out we were staring at some seaweed. Very interesting indeed. But on Robberg however you do find seals sunbathing. Can't be missed! Furthermore we drive over the Bloukrans Bridge to visit Tsitsikamma National Park. A nice walk will take you to the Storms River suspension bridge. More of a dare devil yourself? At Bloukrans Bridge you can go bungee jumping. Looked like a cool thing to do. Instead we went to see the monkeys. Apparently King Julien doesn't really like to move it move it.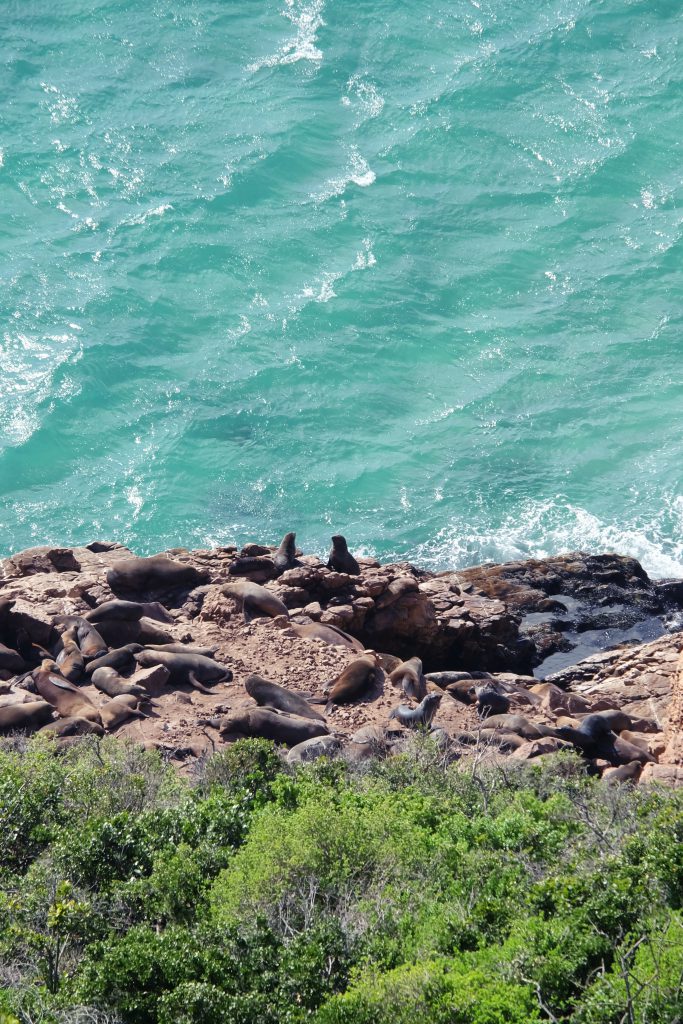 After Plettenberg Bay it's time for the highlight of our trip but I'll tell you more about that some other time. Our journey ends in Port Elizabeth, named after the love of some important hitorical figure. We walk through the city center a bit, where we visit the Donkin Reserve. The monument is surrounded bij mosaic art works. Very colorful, like the city appears to be. Before flying back to Cape Town, we hike the Sacramento Trail. We end our day between the sand dunes of Sardinia Bay.