Admiring wildlife in the great outdoors is the best thing there is! During our trip along South Africa's Garden Route back in 2019 we went on safari, not once but twice. The first time at our own pace and the second time on game drive with a ranger. Both times we had a great experience for different reasons. Below you'll find a short summary of our adventure and some pictures.
Addo Elephant National Park
Addo Elephant National Park is located in the Eastern Cape and is South Africa's third largest national park. What makes a visit to Addo such a fun experience is the fact you can take a self drive with your rental car. Perfectly safe – most times that is. The park has over six hundred elephants – as the name of the park kinda suggest – so you could already tick that one of your list. You have to be in very bad luck if you won't see one during your visit. Furthermore, the other famous four can be found here aswell but you do need a bit of luck to spot them. You can sleep at one of the campsites within the park if you like but an overnight stay in one of the surrounding villages is also an option. We stayed at Sundune Guest House in Colchester at the south entrance of the park.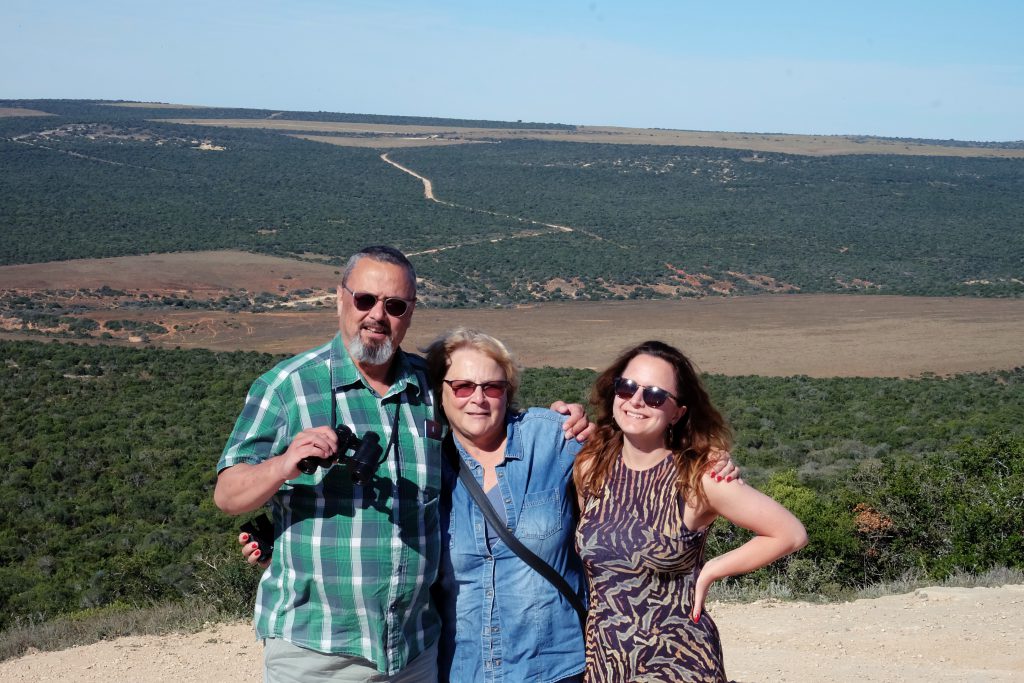 Our day starts early. Within the first hour we spot a jackal, meet Pumba, witness some ostrich sex and see our first elephant of that day. Simply amazing! "If you put your arm out the window, you could almost touch them", a voice from the backseat says. "Beautiful, isn't it mom?!" We are speechless. We leave a herd of zebras behind as we calmly drive on. But then we approach some oncoming traffic with flapping ears. "Oh boy, now what?" Nothing, now we do absolutely nothing. I had read somewhere on the internet that that's the best thing to do when an elephant approaches. Avoid sudden movement, the advice was. I can tell you that, as the giant creatures come closer, the urge to drive away very fast and very far is hard to control. Move cautiously aside maybe? Fortunately, the elephants disappear into the bushes just before us. Pfff, with sweaty armpits we continue our way. However, it doesn't take long before my dad hits the brakes again. "Why are we stopping?" My dad points to the right. There were at least eight buffalos lying in the shade minding their business. "Guys, look to your left", my mom pointed out. We appeared to have stopped between a herd of buffalos. Unaware about the danger, we briefly took in the amazing sight. Where's the harm in that?! It was not like they had steam coming out their noses or were wiping with their feet. "Wow, aren't they beautiful?", we said to each other. Although we were still reminiscing about our perfect day, we left for Kenton-on-Sea the next morning.
Sibuya Game Reserve
Talking about 'glamping': this is what I imagine it would be and more. An all inclusive three day safari with a private ranger and four game drives. Living the fancy life. Our experience starts in Kenton-on-Sea where a pleasant boat trip takes us to our luxury tent. Sibuya borders on the Kariega River which garantees some nice views and various activities.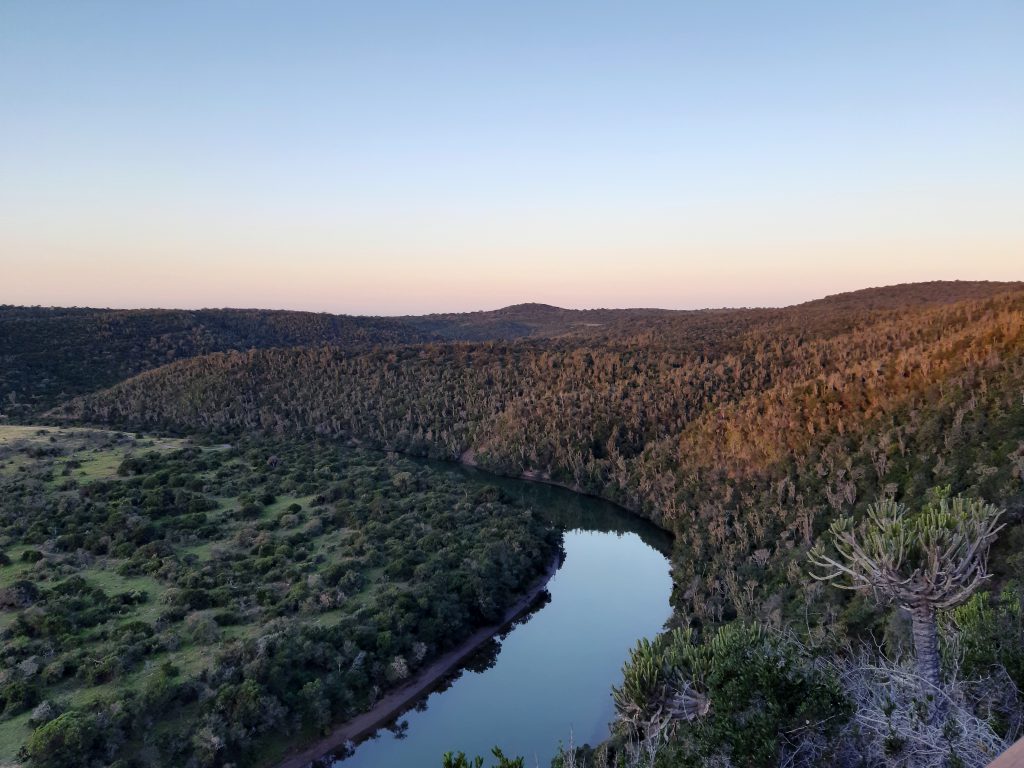 We mainly enjoy ourselfs by spotting wildlife and talking to the friendly Sibuya staff. Brandon and Juan turned out to be good company. We believe that is just as important. On our three day safari we see some zebras, different species of antilope, giraffes, buffalos, elephants, rhinos, birds and last but not least: lions! This time we also learn something about the animals. For example, did you know that the kudu shits nice round dungs? You are probably wondering why that is important to this story? Well, kudu dung-spitting is sort of a thing. Spitting with animal poo – you need something to do while in the wildernis right. We watched the sun go down that evening while enjoying a glass of wine and spitting some dung. The next morning we got up early for our second game drive. "You can go ahead, I'll be right behind you", our ranger said. As I am walking up to our vehicle – still half asleep – I see a rhino across the road staring at me. We both froze instantly. HELP! Fortunately, the poor creature turned out to be more afraid of us than we were of him. The ranger explains that the white rhino is usally shy. In addition, you can recognize by its behavior if the animal feels threatened and plans to attack. With the buffalo, on the other hand, things can go wrong at any given moment. A buffalo can be very unpredictable. Therefore our ranger finds the buffalo more dangerous and does not like to be around them for too long. I look at my parents. If only we had known that before.. To top it all off, our ranger managed to find the lion cubs. He really went beyond to make our stay absolutely perfect. Watching those cubs play in the evening light was the perfect ending to our amazing holiday!