To see and be seen. The fairytale city is definitely insta famous. And rightly so, because that bright sun against those pastel-colored city walls and colorful carpets and spices garantee beautiful pictures. Obviously we had to go and witness it with our own eyes. So at three am the alarm clock went off to board the first flight to the pearl of the south. Marrakech here we come!
Just before landing our enthusiasm wanes a bit. "This is your captian speaking with the local weather conditions." It's bloody raining. You have to be kidding me?! Our disappointment fades when we arrive at old town. Hello Medina. We follow a friendly lady into a souk and are enchanted by the smells of herbs, scenic pottery and glittering lights. It really is like entering a fairytale – just for a moment that is. Quickly we're surrounded by chaos. On our left there's a huge piece of fresh meat hanging infront of a butchers shop, to our right a cyclist is passing with four screaming chickens tied to the handlebars, behind us a scooter honking. Overwhelmed with joy I look at my travel compagnon who looks a bit less happy. Comepletely overthrown we arrive at our riad: peace and quiet. While enjoying a cup of sugar with some mint tea, we let our first impressions sink in slowly. A perfect first impression of a magical city.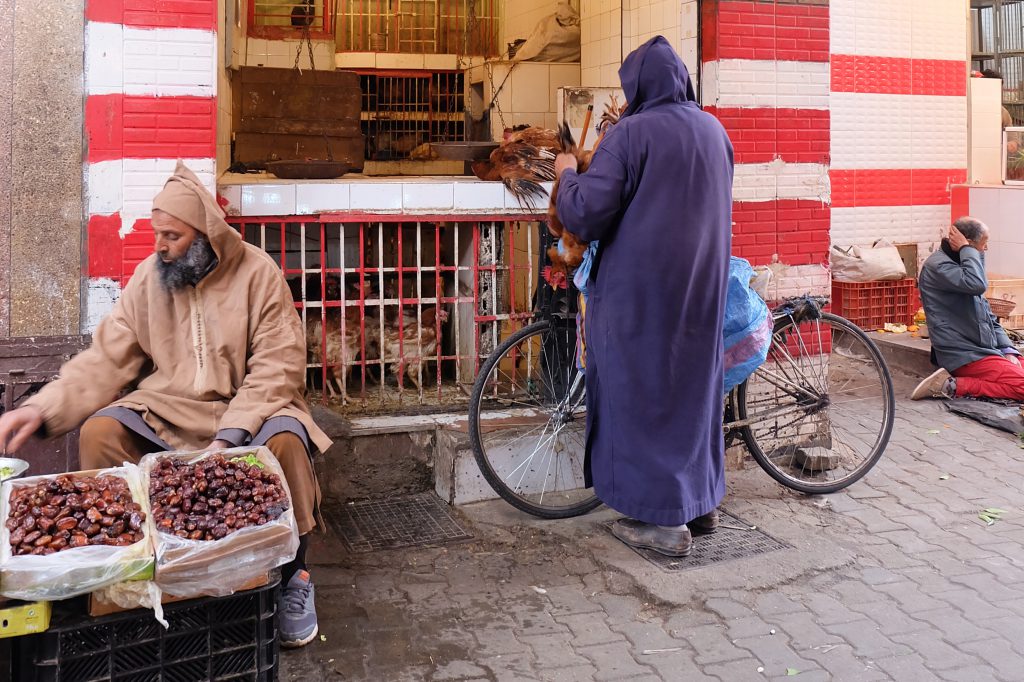 Pretent you're Alice in Wonderland
Getting lost in one of the many souks should be the goal! The souks are a maze of narrow streets with lots of shops. One wrong turn and you're instantly disoriented but who cares? Eventually you'll always end up somewhere. The thought might cause you some panic but really: strolling through the souks is a great experience. Personally, I can enjoy it all day long. Make the efford to learn a few words of Arabic. In my experience a friendly "salaam" will quickly be awnsered with a smile. I was warned in advance about intrusiveness. However, I haven't experienced it that extreme myself. Yes, people can be less modest than people in Asia but no means no here aswell. Sometimes you may need to be a bit more direct. For example, on Djemaa el Fna – that famous square – I felt treated like I was a walking wallet. When I get that feeling I some how always tend to rebel. There was this guy who demanded money because he was in the background of my picture, blurry by the way. If I had put my camera in his face without asking, he may have had a point. But this guy was mental. Unfortunately for him, so am I! Taking pictures of the souks let to no hustle. It speaks for itself that you do ask first when taking close ups of people or their products. Kindness will bring you a long way. Anyway, download Maps.me. With a little bit of luck you'll always find your way back to your riad. If not: ask a shopkeeper or walk into a restaurant. Be aware of unsolicited help. Although this really doesn't always have to mean somethings off either. So don't be afraid to wander like Alice but just use your common sence.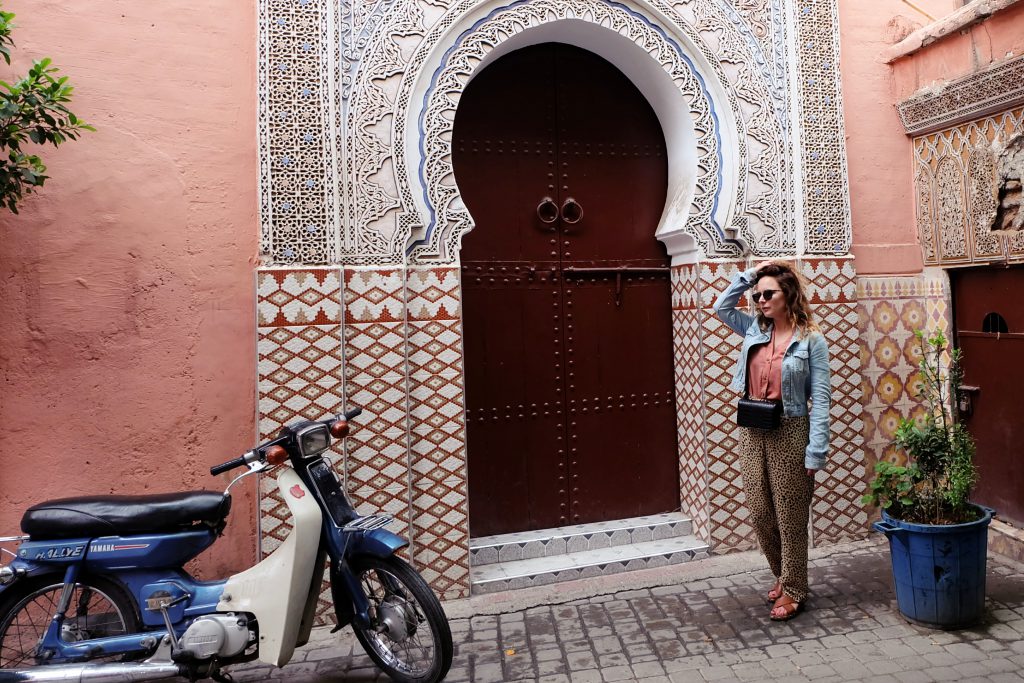 Escape the hustle and bustle
Marrakech – the medina in particular – is a very trendy and touristy city. Something I normally don't get that excited about. Yet it gives Marrakech just that little extra allure. Why? Well, the city is bursting with rooftop bars. It may not be about sniffing some culture but it does give you a few minutes to breathe. Trust me, you're gonna need it! Cool off with an afternoon breeze or enjoy the evening sun while having a bite and a drink. Not only has attention been paid to the interior but – nine out of ten times – you can also have a nice meal. Try Shatto for a lovely view over the city – just to name one out of many. The internet is full of tips about where to go but of course you can also choose to be pleasantly surprised. Take those mysterious stairs. Usually you'll end up at some pretty looking terrace.
Go see some of the many sights the city has to offer
You're here anyway. On top of my list was Ben Youssef. Unfortunately peanut butter – that's a dutch saying – the medersa was being renovated. That's just my luck. Not only did we arrive in the rain but also the one thing I REALLY wanted to see was closed. No worries: the city has a lot more beautiful sights that are worth a visit. And that rain only lasted a minute. If you're in to architecture be sure to visit Bahia Palace. It was built in the nineteenth century and has many pretty rooms and imposant courtyards. However, Yves Saint Laurent's backyard does win. Jardin Majorelle is a tropical party with its colors, mosiac fountains and huge catuses. You won't find peace and quiet though. For that you'll have to go find the hidden garden in the city center. Le Secret Jardin may be less popular but it is certainly not less charming. For non-moslims Koutoubia – the largest mosque within the city – can only be admired from the outside. Do so from one of the roof terraces on Djemaa el Fna during sunset. It's not only a pretty sight but you can also watch the square come to life. Personally, I found observing Djemma el Fna from above more enjoyable. Although it can be nice to blend in with the crowd and go with the flow, in my experience it felt more like a fiasco. To each his own, I guess.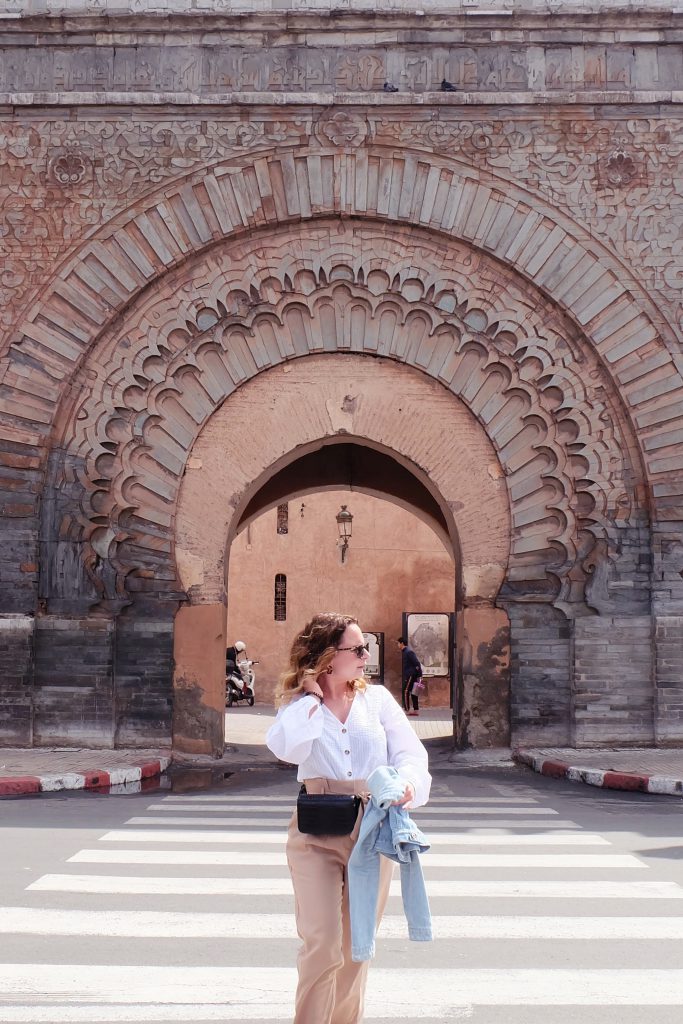 Marrakech has sparked my curiosity to explore more of Morocco. I hope to one day be able to travel through the country by car.
Inshallah!