It is hard to tell what the coolest city in the world is, but Cape Town sure as hell comes close. From mountain views to white sandy beaches. From historical sights to a vibrant and colourful culture. From inspiring street art to culinary delights you can't compete with. The mother city simply has it all. I have lost my heart, again. To the city, to the people and to all the beautiful surroundings. This is what made Cape Town so cool:
Four seasons in a day
For those who didn't know yet: South Africa is located in the southern hemisphere, which means seasons are opposite to ours. We visited the country in the middle of winter. Fortunately South Africa knows much milder winters than the Dutch do. Yet the weather in Cape Town has a live of its own. You start your day in autumn, by the time you're ready for lunch it begins to feel like summer but that was only April's fool because it was just a quick hello from spring before sunset. Temperatures can get between 5 to 20 degrees. Yes, also on the same day. Take that into account when packing your suitcase!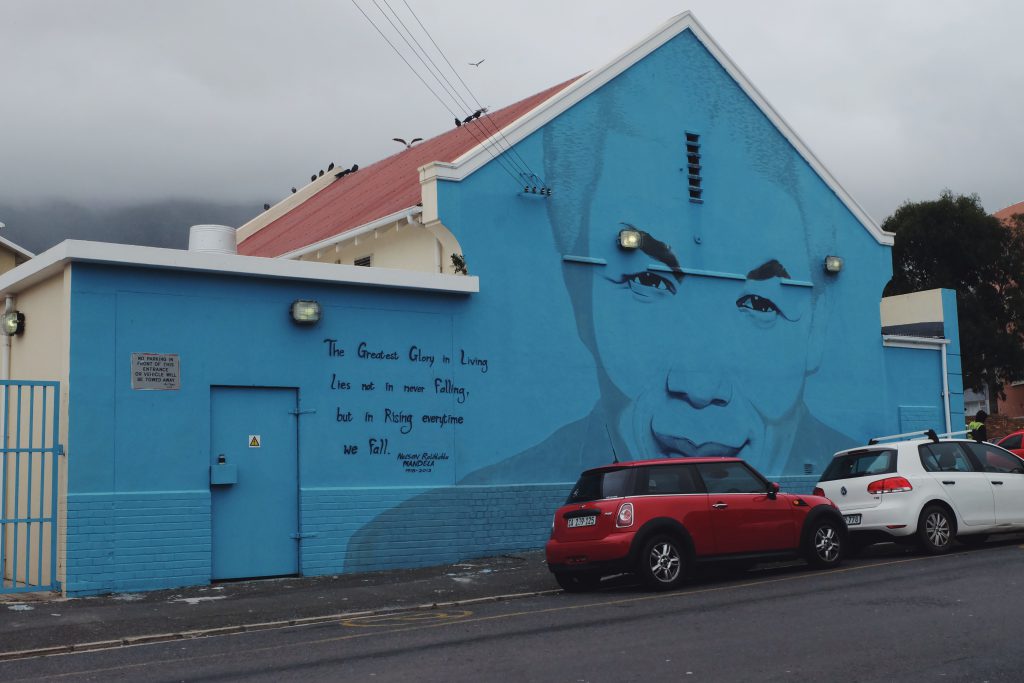 Food to die for!
Or should I say: food to live for. Seriously, the food in Cape Town is super tasty, diverse and reasonable priced. Take for example The Shortmarket Club, La Mouette and Kloof Street House – to name a few. We also had a lovely dinner at Bocca and Seabreeze. Unfortunately, not all restaurants are naturally open daily during winter. Otherwise we would have loved to have tried The Test Kitchen, Mink & Trout and Foxcroft aswell. For a good start of your day you can opt for Jason Bakery, Molten Toffee, Lola's, Clarke's Bar or Superette. It's like you're a kid in a candy store. Cape Town is worth a visit for that reason alone. Only the Italian can debat about that cuz well, they're Italian.
Cape Town is very diverse
The city has different neighbourhoods, each with their own charm and character. Although you might want to avoid some of them, others reflect the beauty of this city perfctly. We stayed in the city center, between the neighbourhoods The Gardens en De Waterkant, in a beautiful old building called Victoria Court. This Airbnb on Kloof Street was also ideal. You will find many cafes and boutique stores here. Its central location makes it a good base to explore the rest of the city. I highly recommend joining one of the Free Walking tours on your first day. Why? You'll get to know the city and its turbulent past a little better. We went on the Apartheid to Freedom walk. It brought us to the historical District Six. Very moving. Be sure to visit the District Six Museum. When the sun is out, go to the harbor at Waterfront, grab yourself a drink and observe the daily hustle and bustle. You will find those brightly coloured houses in Bo-Kaap. Nowadays probably known for the most photographed neighbourhood, traditionally known as the Malaysian district.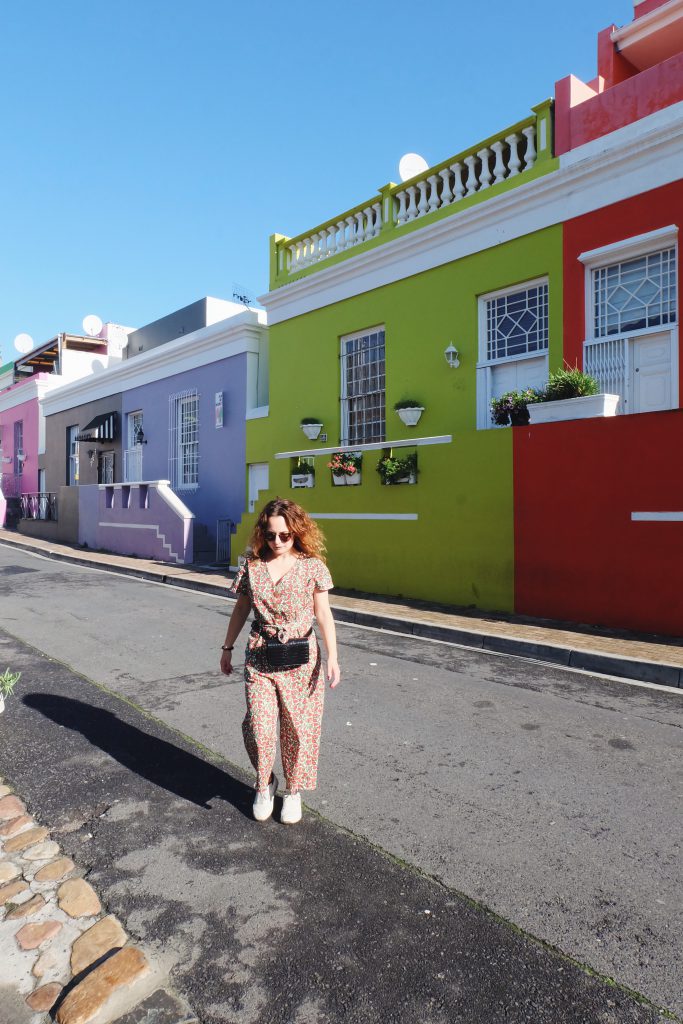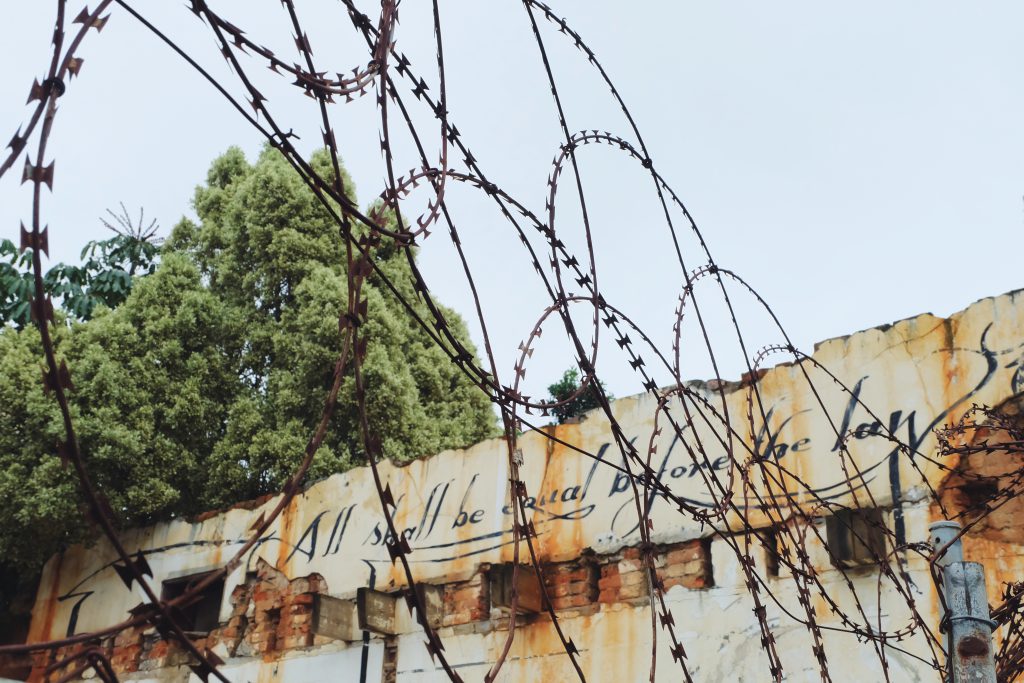 Woodstock is known to be the next upcoming neighbourhood with creative people bringing it to live. It seems to be working pretty well. Have a local tell you more about the many street art, visit Woodstock Exchange or stroll around at The Old Biscuit Mill market on a saturday morning. Seems to be rather hip and happening. Less hip and happening, but definitely a must if you'd ask me, is a visit to Langa. Langa is the oldest township in Cape Town and shows that a township is so much more than meets the eye. Obviously we didn't wander around by ourself but were acompanied by Siviwe. Very interesting experience. Last but not least: Camps Bay – a.k.a. the Beverly Hills of Cape Town. Talking about contrast: unbelievable! Besides expensive housing, Camps Bay offers breathtaking sundowners. Bring yourself a good bottle of wine and watch the sun drop into the Atlantic Ocean. I tell you: baie lekker!
The surroundings are just stunning
With a little bit of luck, Table Mountain shows from basicly every corner in the city. Picture perfect beauty! Yet this famous mountain isn't Cape Town's only diamond. On a clear day you should make it a priority to climb the top of that other beautiful mountain called Lion's Head. Lion's Head gives you amazing views of Cape Town AND its icon. It's why I would prefer hiking Lion's Head. Is the climb up to the top too much for you? No worries, half way the views are just as stunning. You can also see a lot of Cape Town from Signal Hill having both mountains as your backgrond. Moreover, you can get to the top of Signal Hill by car. Very popular spot during sunset by the way. Don't forget your picnic basket!
The Cape Peninsula is an hour's drive from the city. Rent a car and drive via Chapman's Peak towards the most southwestern point of Africa. Chapman's Peak is seen as one of the most beautiful roads in the world. The 9 kilometer long coastal route runs from Hout Bay to Noordhoek and seems to have about 114 turns. I lost count. You do have to pay some toll, but you can stop several times along the way to enjoy the fantastic landscapes. Such a pretty sight!
Once you've arrived at Noordhoek make a pit stop at Jakes. Then continue via Glencairn Expy to Boulders Beach. Here you will find a colony of African penguins. I mean come on? Does it get any cuter? Unfortunately you'll have to share the view from a platform with at least 100 other tourists. Really, tourisme has gone mad but lets not get into that. A bit futher you could also have a swim or lie on the beach with these funny little creatures. Nice experience during summer i am sure. Just know that they smell enormously and do their number ones and twos wherever and whenever they feel like it. But everything for the gram, right ?!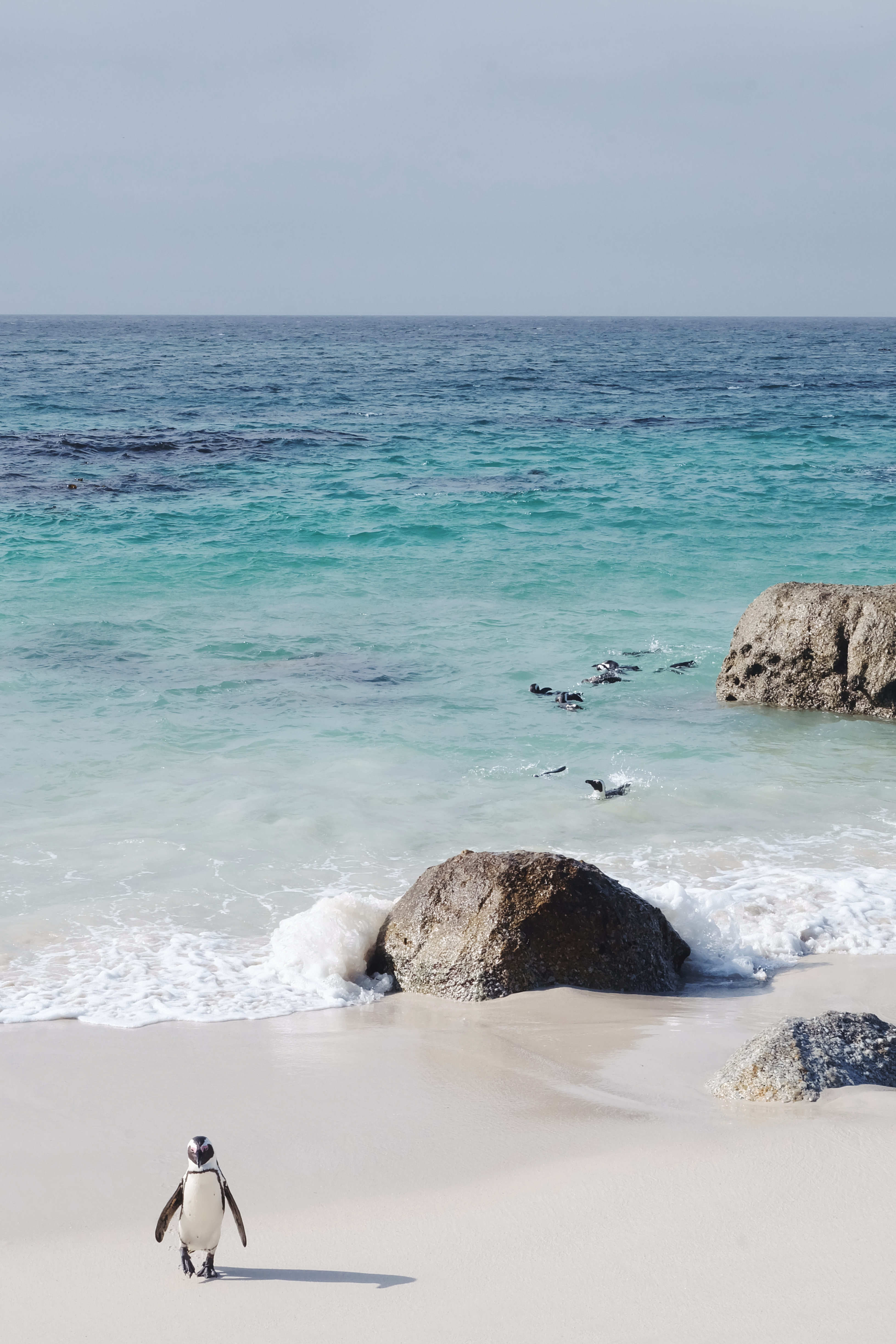 Continue your roadtrip to Cape Point and Cape of Good Hope. Both are located in the Table Mountain National Park. You can take various hiking trails and spot animals. We saw two ostriches, but it also seems to be terrorized by baboons. There are warning signs like everywhere – not a single baboon though. Of course you cannot leave without getting your picture taking at the world famous sign of Cape of Good Hoop. Congratulations, you have reached the most southwestern point of the continent Africa. I don't know why that's a thing. For the southernmost point of Africa you have to be in the town of L'Agulhas.
I didn't expect it to beforehand but our visit to Robben Island really touched me. You cannot visit nor explore the island independently. You have to join in on a tour to do so. You will be driven across the island in buses filled with 50 others after which you will be given a brief tour of the prison. So, to be honest, I had prepared myself for an unpersonal experience of routine work and lots of inappropriate selfie sticks. Nothing turned out to be less true! Maybe we got lucky with our guide. It was the way he knew how to tell stories. Very inspiring to say the least. It got to me. Following the heartbreaking story of Robert Sobukwe, he thanked us very much for our visit and reminded us of our task to carrying out what these brave men have fought for. It was hard not to get emotional. As I wiped away a few tears, we were welcomed by Mbatha Ntando. Ntando was a political prisinor on Robben Island for 7 years and works as a tour guide now. He shares his story and that of others with us. He likes to do so, he explains, while guiding us through the prison. Again, you could've heard a pin drop. We could've easily listened to the man for another hour but it was time to go. Obviously you will get to see Mandela's cell aswell, but honestly: a visit to Robben Island is so much more. We walked back to the ferry given the opportunity of experiencing what these men must have experienced leaving Robben Island. Simply impossible!
Got more time to spend? Pay a visit to the Kirstenbosch Botanical Gardens. Its listed as one of the most beautiful gardens in the world and not just because Table Mountain is next door. You can visit the botanical garden all year round but during summer you can attend concerts by local artists. How cool is that? There is so much more to see and do when it comes to Cape Town and its surroundings. You can easily fill two full weeks and still not get bored.
What about the safety?
Right, it's a topic that is talked about a lot. I can only speak from own experience which remains strickly subjective of course. But I can tell you that we have certainly felt safe in Cape Town as well as South Africa in general. Crime does occur as it does in every big city around the world. Use some common sense like you would elsewhere. Avoid remote places – especially when it's dark, don't go showing off your valuable stuff and don't go wandering around by yourself during night but take an Uber instead. Read more about safety here. I am sure you will love Cape Town as much as I did!