The best thing about traveling is coming home. Cliche, but true! Not just because you long for your own bed and shower (which is basicly the best thing after traveling) but mainly because you start seeing 'home' with a different perspective. Because even though the Swan Bridge is as powerfull as ever and people still complain about everything there is to complain about, it's like you experience it all for the first time again. Travel does that. It lets you appreciate what you usually take for granted. And whether that urge to travel will never go away, I know I will always come home. Old habits die hard! So while I'm still sprung on all the places I've seen and everything I experienced in the beautiful land Down Under, I'm exploring my Rotterdam. Spots that are special to me, because of the memories I have or because they just let me realize how incredible Rotterdam really is. It's not in appearance but in everything from within.
Proveniersstraat
Located behind the main train Station, hiding, between the tranquillity and green on the Singel and the hustle and bustle on the other side of the track. The 19 century atmosphere and the arrival of good-quality restaurants, make the Proveniersstraat rise in popularity. To me this street is al about bringing back memories. From the 70s untill 2010 my grandparents had lived right in fornt of the poem by Jules Deelder. Their name is still imprinted on the front door. When I was little me and my cousins, who came to visit from Ireland during summer, have spent much time there together. We used to run up and down the street from the train station to the doorstep and vice versa to see who was first. Never me of course, because I'm the smallest and the youngest of the bunch, but I loved it. During sleepovers your bed would start shaking when ever a train came by. Good old times! Nowadays I come here every once in a while for a nice walk down Memory Lane or to have a delicious coffee at Booon.
Aloha Bar
Likewise this location brings back old memories aswell. It used to be a swimming pool named Tropicana. But that is not the only reason why Aloha Bar is one of my favorite spots. The outdoor pool has been transformed into a charming terrace with an amazing view. It has still got a bit of that subtropical vibe from the past. At the end of a hot sunny spring day you can enjoy a tasty drink with some good company. Today, you can also enjoy a nice meal. The historic building, which is completely empty besides the bar, however, gets a new destination. On Aloha Bar's website you can find some brief information. Although this will take some getting used to, because we people from Rotterdam are skeptical when it comes to our gems, this kind of initiatives resembles the character of the city. Rotterdam is innovative and dynamic but it never forgets where it came from. How fortunate!
Market hall
The new high light of the city. Where you wouldn't find much locals on a saturday or sunday afternoon the first few months. Since the opening of the market hall a lot of people from all over the country (and abroad) came to visit. Logically so because it is an unique building. Now it's as if the icon has been there for a lifetime. Something we are proud of and we enjoy. Each visit is an experience. I love coming here because I love food obviously, but also because I enjoy watching people. To go for an evening walk and just stare at the peace of art. Seriously, it's such a beauty! But the people of Rotterdam wouldn't be their unique selfs if they didn't had anything to whine about. Everything is much more expensive. So for fresh fish, vegetables or some flowers we still prefer the outdoor market. 70 cents to use the public toilet: are they out of their god damn minds?! We would rather piss our pants (question of principle). But hey: the first indoor market hall of The Nederlands and also the most exclusive one in the world is situated in Rotterdam. Isn't that something?!
Vroesenpark
As soon as the sun appears and the temperatures rise, we all massively move towards the (in my opinion) finest city park in the beloved district Blijdorp for a gettogether picknick in the backyard of Rotterdam. Stretch your doily, meat on the barbecue, lukewarm wines in the cooler and spotify on. A perfect day at the park! It's the ultimate summer feeling, something we'd longed for for so long. If you're looking for some peace and quiet you better find a different park. On a summer afternoon there are so many people there won't be a spot of grass left. Yet there's always a feel-good vibe which makes for a festival atmosphere. A place where friends meet and new ones are emerging. A few times a year the Vroesenpark is used as a festival site. The Food Truck Festival TREK early May is definitely recommended. We can't wait!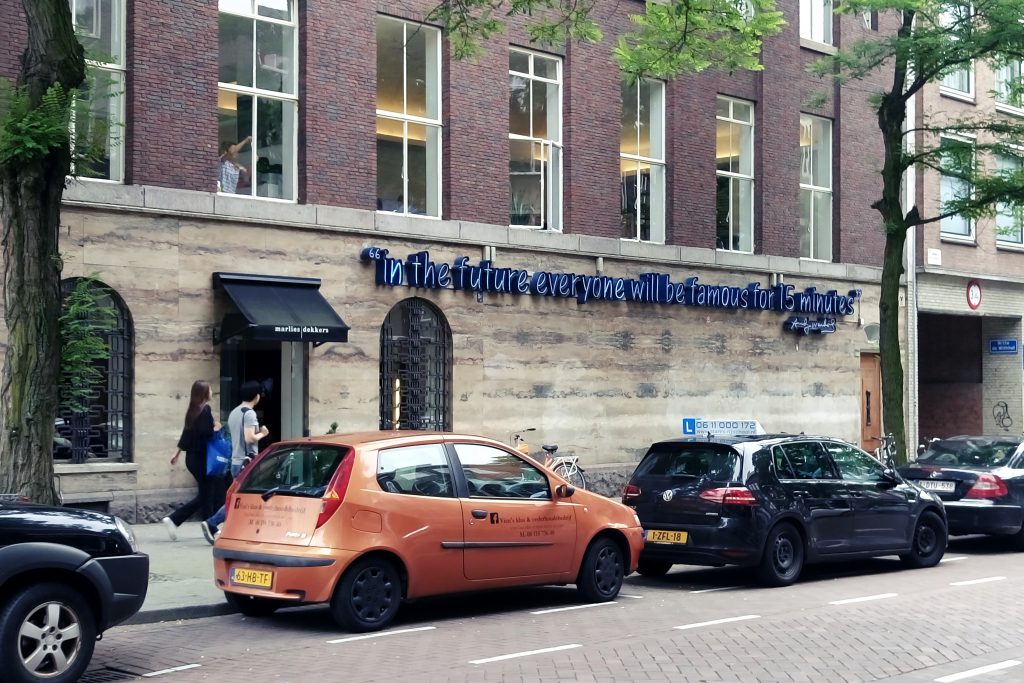 Witte de Withstraat
Innovative, creative, artistic and vibrant. I'm talking about Witte de With of course. The street is primarily a meeting place for a variety of city dwellers and enthusiasts. This and its multicultural character provide a typical Rotterdam atmosphere. We adore! Witte de With is a mix of quaint boutiques, cosy cafés and (modern) art galleries, which are just a little different. Everything that Rotterdam is comes perfectly together. A beating heart with a vibrant character. It's why I love it so much. Witte de With lives! Rotterdam lives. And let's be honest: life gives identity to a city.