As one of the oldest cities in Europe, Lisbon has a rich history. But the city is more than just beautiful old buildings and artworks. Lisbon was built on seven hills and divided into several districts, each with their own character and appearance. This makes for some stunning views and atmospheric streets and squares. Lisbon may be less popular than Europe's 'big three'. She certainly has a lot to offer. Did I mention the sunny weather? Wander from terrace to terrace while enjoying some of the city sites. Just the perfect ingredients for that ultimate city trip!

Baixa is the heart of Lisbon. In this district you will find the famous street Rua da Augusta, which ends on Praça do Comércio. The square by the riverside lends itself perfectly to enjoy the sunny weather. The stalls along the waterfront sell tasty cocktails (with or without alcohol) instead of ice cream. The Portuguese understand life! While you're there pay a visit The Sexiest WC on Earth (Praça do Comércio). We ladies gotta go at some point. It may be a pricey pee, but it will be a pleasant one. Another absolute must when it comes to Baixa is Praça Martim Moniz. This is THE place where people come together at the end of the day and socialize, while a DJ plays some relaxing music. Bonus: there's free wifi! In Baixa you'll find numerous restaurants and bars but for the ultimate Portuguese experience you'll need to look for those tiny Ginjinha bars. Ginja is a tradinial cherry liqueur which is also very popular among locals. Perfect ending to your day!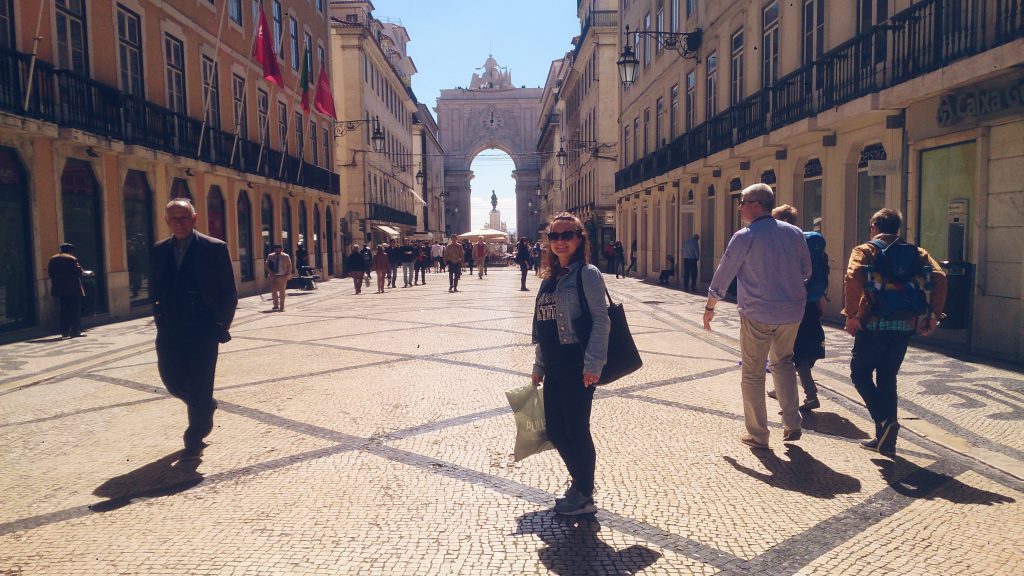 To get to Bairro Alto take the Elevador de Santa Justa. This elevator, made by a Portuguese student of Eiffel, will save you a weary walk up the hill. It also gives you a beautiful view over the city. This area really comes to life after nightfall though. Whether you're looking for a night of bar hopping, wanna go dancing until dawn or go for a traditional meal while enjoying some Fado (Portugese folk music). Bairro Alto is the place to be! If, however, you decide to explore this district during the day there are still a few spots worth visiting. The historic café A Brasileira for example, is known for the best coffee. My personal favourite is Elevador da Bica. The cable cars, running up and down Rua da Bica, make this street the cutest in town (if you ask me). Therefore it might be one of the most photographed streets in Lisbon. Stroll down along the railway line or choose to take one of the side streets. Situated opposite Cais do Sodre station is Mercado da Ribeira, Lisbon's new and upcoming markethall. Here you will find a selection of the best restaurants in town. Yummie!

Take tram 28 to the charming Alfama district. You will definitely not be the only one, but it's something you have to experience. Get off at the stop for Castelo de Sao Jorge. From Santa Luzia Viewpoint you'll get the best view (or so it's said) in the neighborhood. From here it's only a short way to the castle, which rises above the city center. Each city trip , however, must include a visit to a church. In Alfama you find Sè which also happens to be Lisbon's oldest building. Obviously the best way to discover the oldest neighborhood in town is by foot. Move your way through narrow streets and staircases, pass apartments where the laundry is hanging from the clothesline to dry and reach small hidden squares. On the local market you can try some home made delicacy. Really, it isn't hard to fall in love with Alfama at all!

Belèm is a little further away from the city center. Here you'll find Mosteiro dos Jerónimos, Padrão dos Descobrimentos and Torre de Belémthe, the main attractions of Lisbon. Take the train down west and pretent to be a bloody tourist for the day (you've been doing so since the day before yesterday anyway). From the monastery it's an half hour walk along the riverside to the Tower of Belém. Half way you come across the Altis hotel terrace. It isn't cheap but very tasty! You can also have a picnic in the Belèm Park if that's more your thing. Feel like doing something else? Near Ponte 25 de Abril (the bridge that looks like the one in San Francisco) you can find the hottest spot in town called the LX factory. This place is a former industrial corner that is now home to design shops, cute eateries, and creative studios. It's that mix of young and old, classic and trendy which makes Lisbon the perfect destination for a city trip that meets all needs! What are you waiting for?!