Pura vida! That translates to pure life. In Costa Rica also used as a greeting or saying "you're welcome". Costa Rican people understand life and know that good things come with kidness. If you add lush jungle and pristine coastline you have the perfect ingredients for your next trip. Whether you're looking for adventure or just want to relax on the beach, Costa Rica is the place to be. After three years of not traveling I decided to practise my Spanish in the enchanting green paradise of Central America. What did I learn? "Yo hablo español muy bonito" but other than that I am lost.
Getting around
Costa Rica has a well-developed tourism which makes traveling around the country quite easy. If you are traveling together renting a car is definitely the way to go. Roads are generally well paved so if you are not planning to go off road a 4×4 is really not necessary – even during rainy season. When you are traveling by yourself like myself, you can get to almost every destination with a shared shuttle by Interbus or Easyride. There is also fairly reliable public transport but I choose comfort over budget nowadays. In any case: there is something for every traveler. As far as I know, Uber only operates in San Jose and La Fortuna. Therefore you are dependent on local taxi's but this was also very doable. Otherwise you can rent a bike at almost every destination.
Many people speak English but obviously you want to learn a little Spanish. For me Duolingo works just fine. The problem, however, is that when you ask a question in perfect Spanish you will most likely get a response in perfect Spanish. "Euhm, no comprendo.." Fortunately, people are willing to speak a little slower for you to understand. Using your hands and feet is also very helpful. Bienvenido a Costa Rica!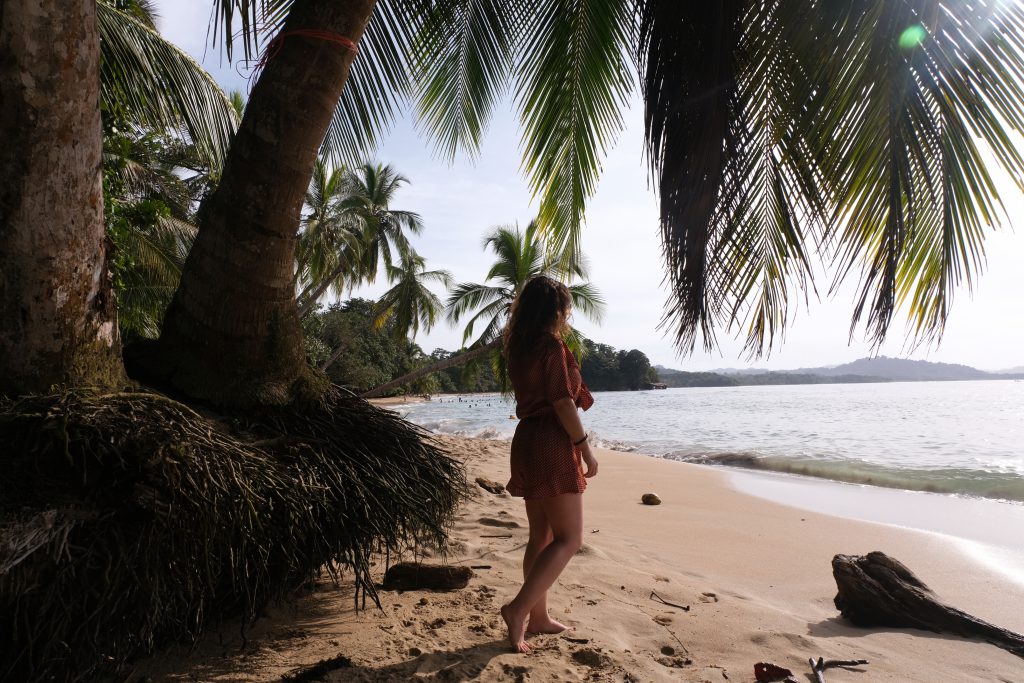 Puerto Viejo
After arriving in San Jose – the country's capital – I board a shuttle to the Caribbean Coast early the next morning. Six hours later I arrive in Cahuita, a village near the more popular Puerto Viejo. I literally find myself between the rainforest and golden – sometimes black – coast. The Caribbean influences give the place a very chill vibe. Oh how I have missed this! Finally we are traveling again..
I am staying at an Airbnb run by a local tourguide. It turns out to be the perfect location for the start of my journey. Rodolfo is very knowledgeable about the history and culture of his country. In short, it makes our conversations very interesting. I highly recommend joining one – or more – of his tours. I was given a kayak tour as a gift because the pool was out of order due to renovation. Before breakfast we float on the river spotting active wildlife. We see sloths, monkeys, reptiles and birds. Serene and satisfied we stop at the Sunday market in Cahuita town for some refreshments.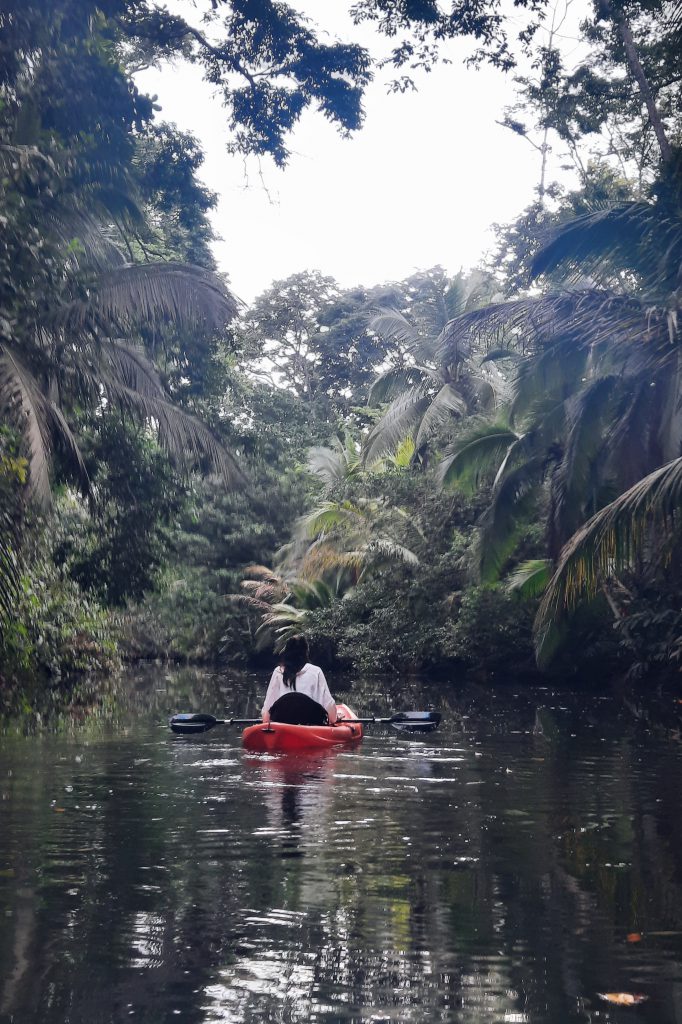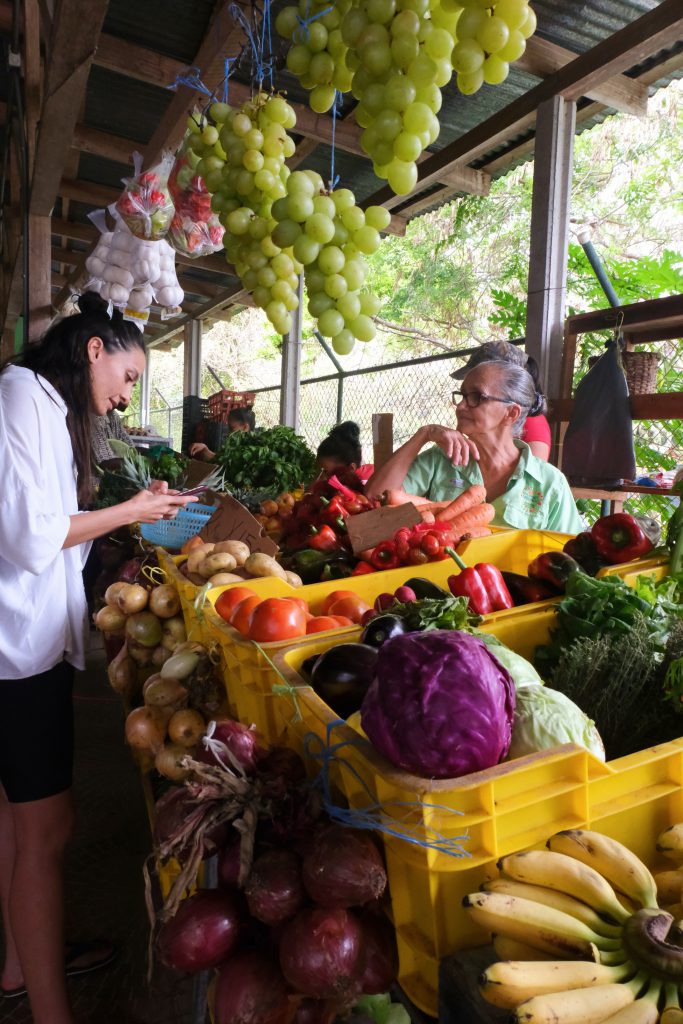 In addition to the kayak tour you can also opt for a chocolate tour, visit an indigenous village or take a guided walk in Cahuita National Park. The latter is a must anyway! The next day I decide to go out on my own. I walk about eight kilometers on well-maintained paths right through the bush. Along the way I stop at the most beautiful beaches. I also spot the morpho a.k.a. blue butterfly – mindblowing – and see racoons, howler monkeys and a crocodile which almost bit my butt. No, not really but it could have. I wanted to rest in the shade for a while so I was unbfolding my towel when a observant tourist asked me if I had seen the creature behind the bush. Obviously I had NOT! I am sure I have missed out on more interesting things but if you are more like Crocodile Dundee you will probably find a lot of excitement in Cahuita National Park. You should also rent a bike for the day to go beach hopping. The beaches between Puerto Viejo and Manzanillo are among the most stunning in Costa Rica. As you cycle through high overgrown forest you can hear the sound of raoring monkeys, singing birds and other chatter. You better get used to it by the way, because you won't be seeing nor hearing anything else for the next three weeks. Jungle on repeat.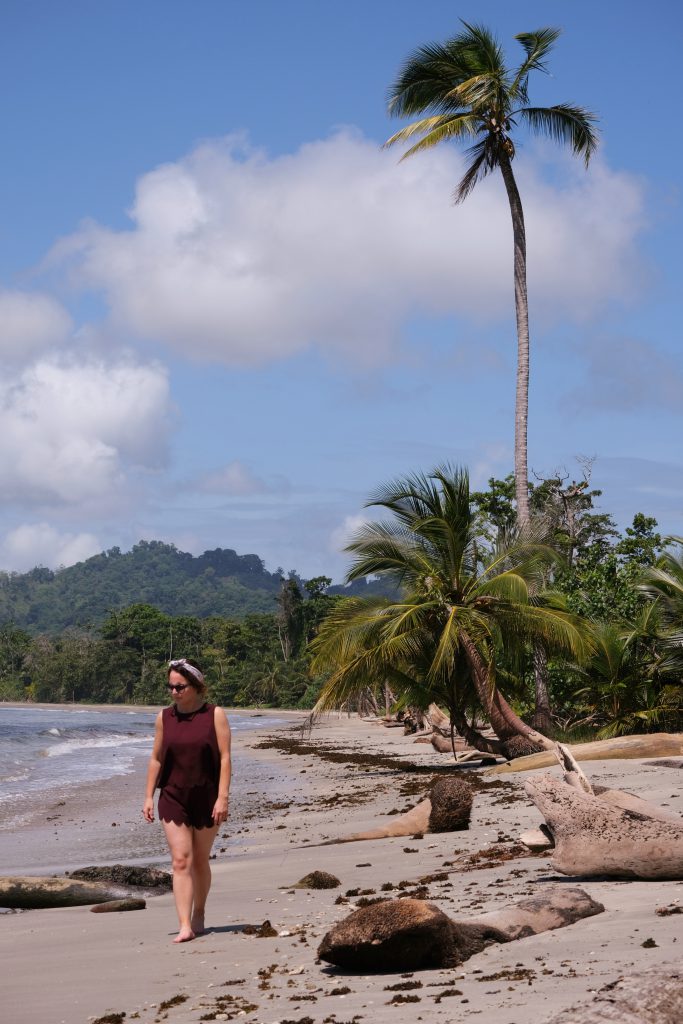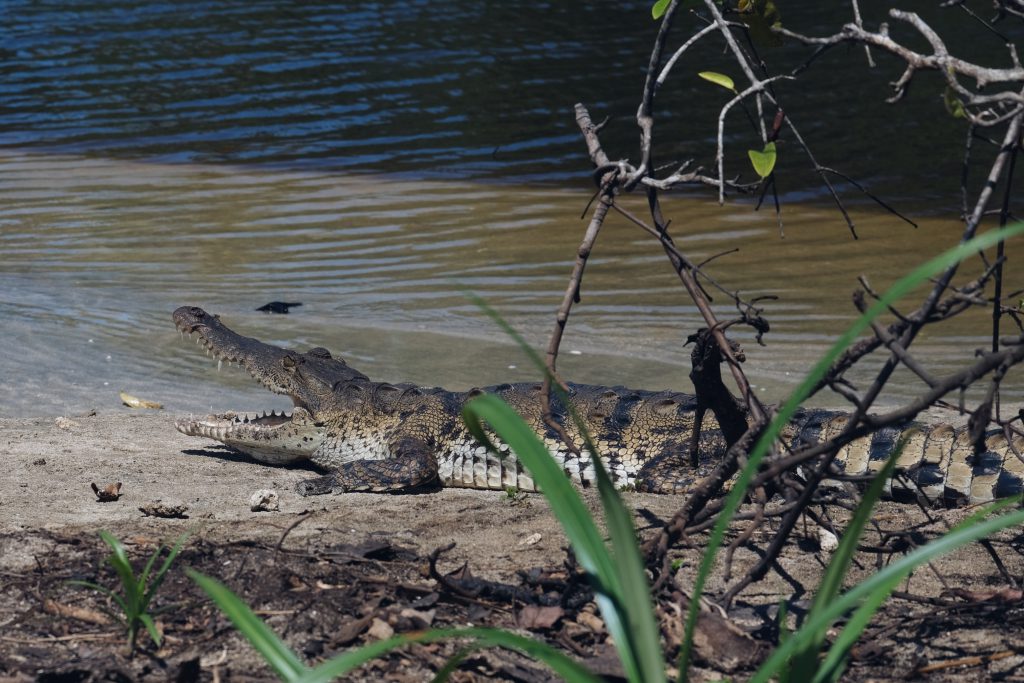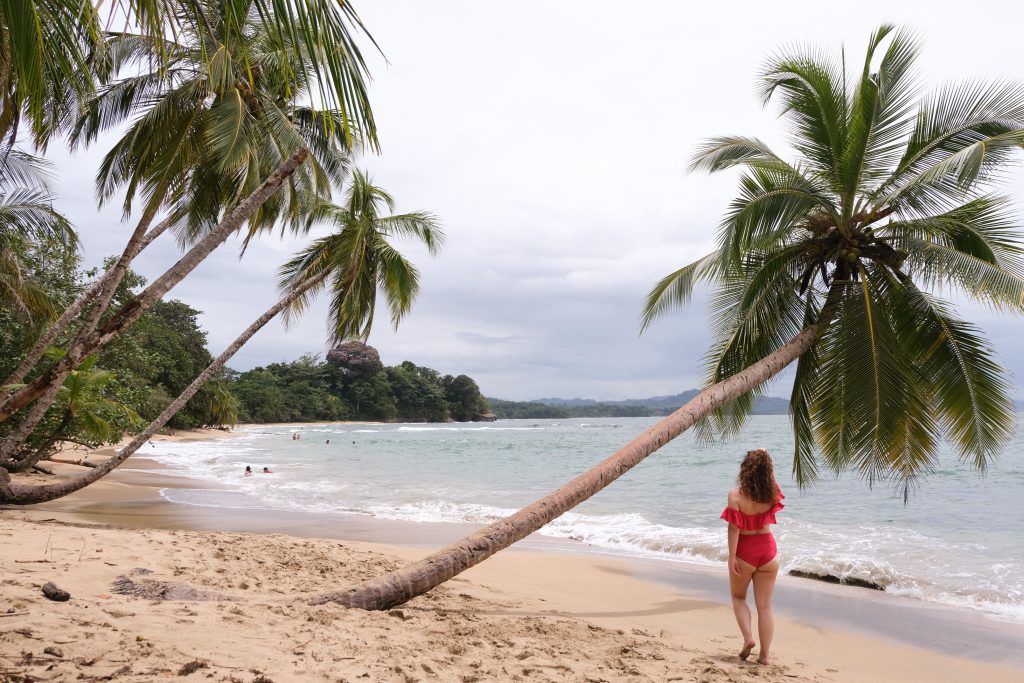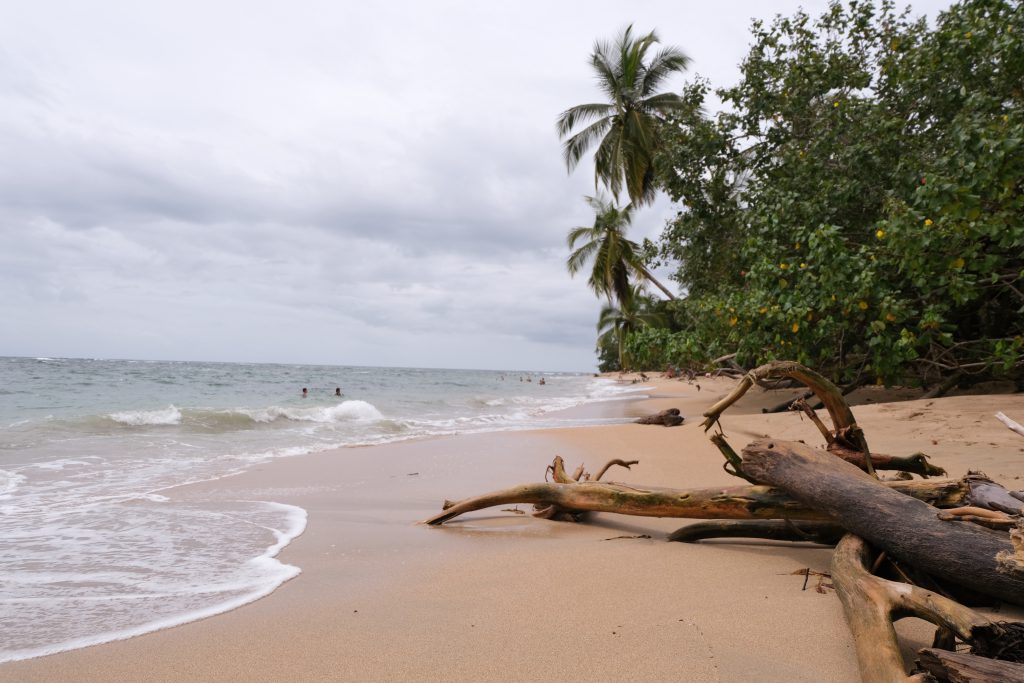 La Fortuna
After four nights I leave the coast behind to travel more inland. La Fortuna is located at the foot of volcano El Arenal. It is said to be one of the most active volcanoes in the world but has been dormant since 2010. It previously did so for four centuries untill it awoke in 1968. You can walk the lava route of that eruption. Pretty amazing! With a bit of luck you can see the reflection of El Arenal in Lake Arenal on that same route. Unfortunately, I travel during rainy season and that means that it rains frequently. Well, it kinda rains year round in Costa Rica because without rain there wouldn't be a rainforest now would there? It was gray skies all day that day so I saved myself the trouble to hike all the way down to the lake. El Arenal isn't La Fortuna's only attraction. The area is known for its waterfalls, hot springs and hanging bridges. There is also a great zipline and you can go rafting if you are more interested in that sort of thing than I am.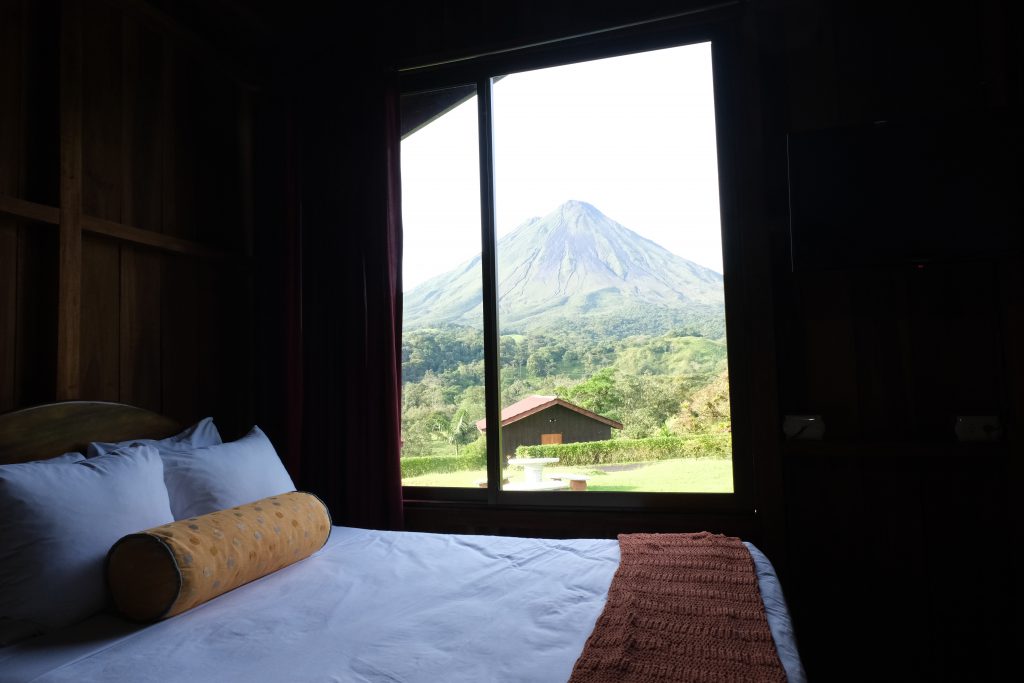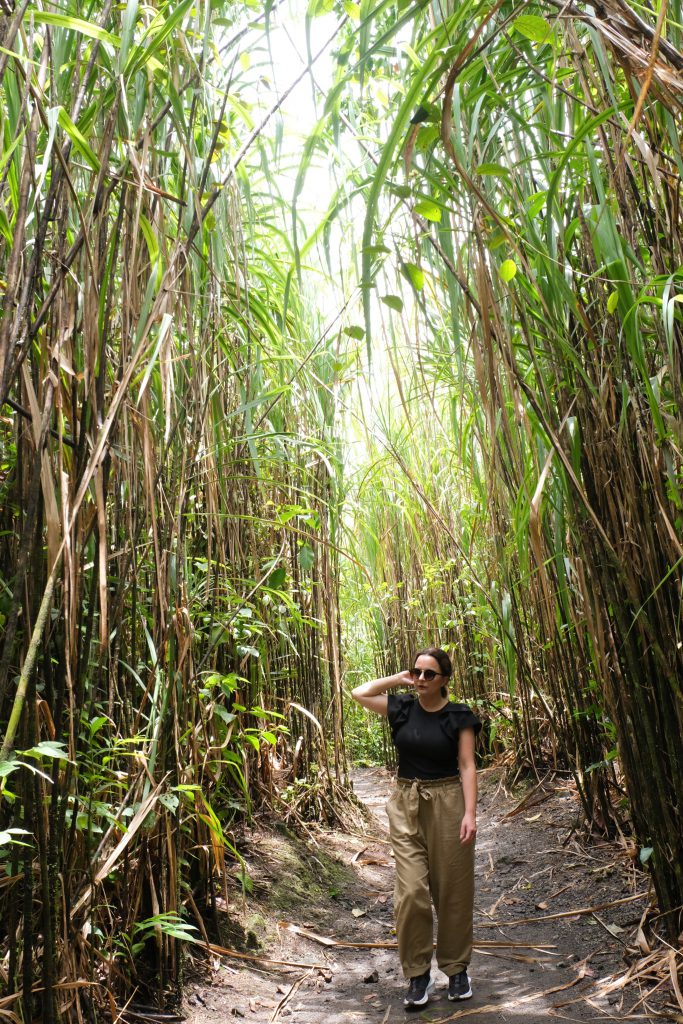 Because the weather is a bit unpredictable, I decide to rent a car for three days to explore the surroundings. Gerardo only has a Toyata Corolla in store for me. It's an automatic so I am a very happy woman. Saves a lot of sweat on the slope, doesn't it? I even get a navigation as a gift. Gerardo sets it up for me. Gerardo is now my best friend. Just to be sure I ask if all roads are paved. "Si señorita, all roads to the main attractions are paved." Nice! We navigate to Rio Celeste, which is about an hour's drive. On sunny days this waterfall is turquoise in colour but because of the heavy rainfall the past few days I have to believe the internet. "Turn left after three hundred meters." I look at the navigation. "Caution", it says. "You are approaching a dirt road." Are you kidding me Gerardo? He wasn't. The road was sort of paved but in a previous century judging by the potholes. Whatever, me and my Corolla survived the ride. We also went to Mistico Hanging Bridges and La Fortuna Waterfall. I have to admit: there was something mysterious about those gray clouds that high above the trees.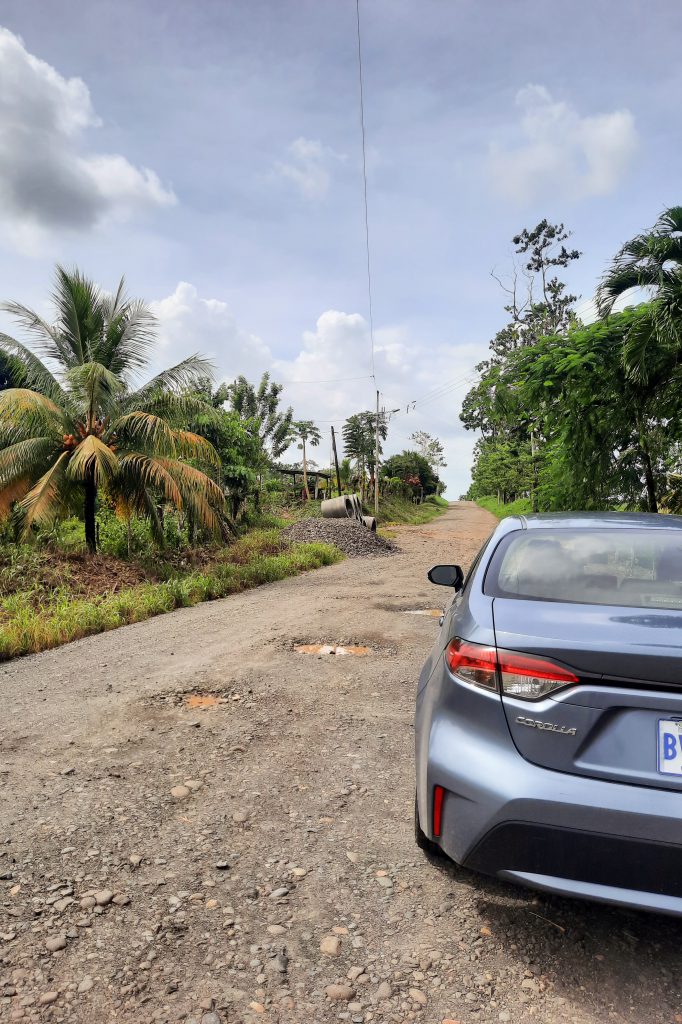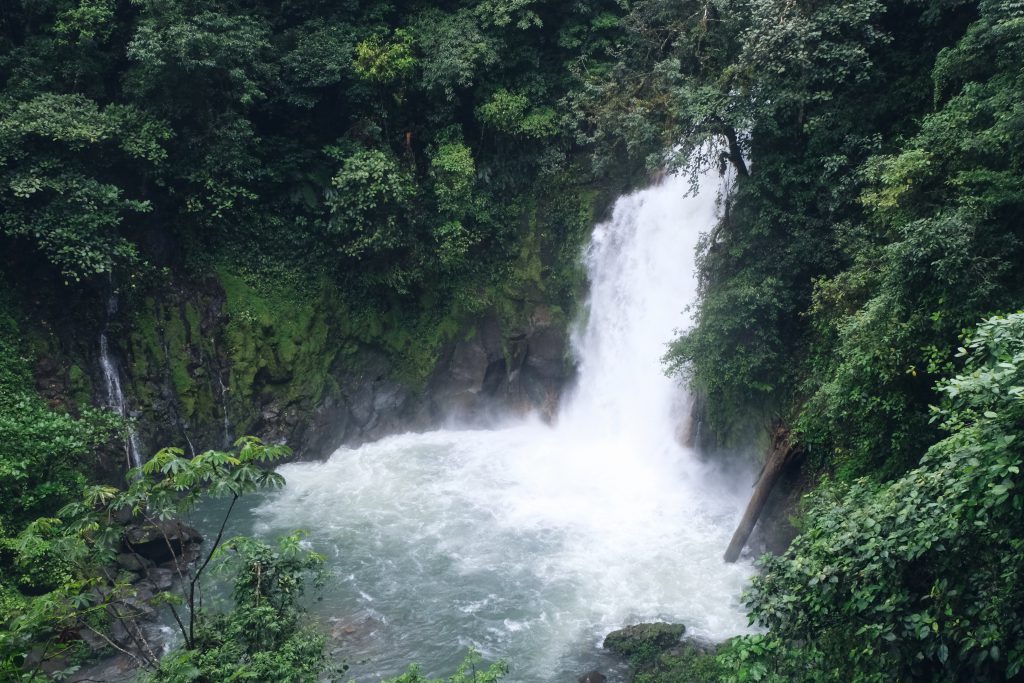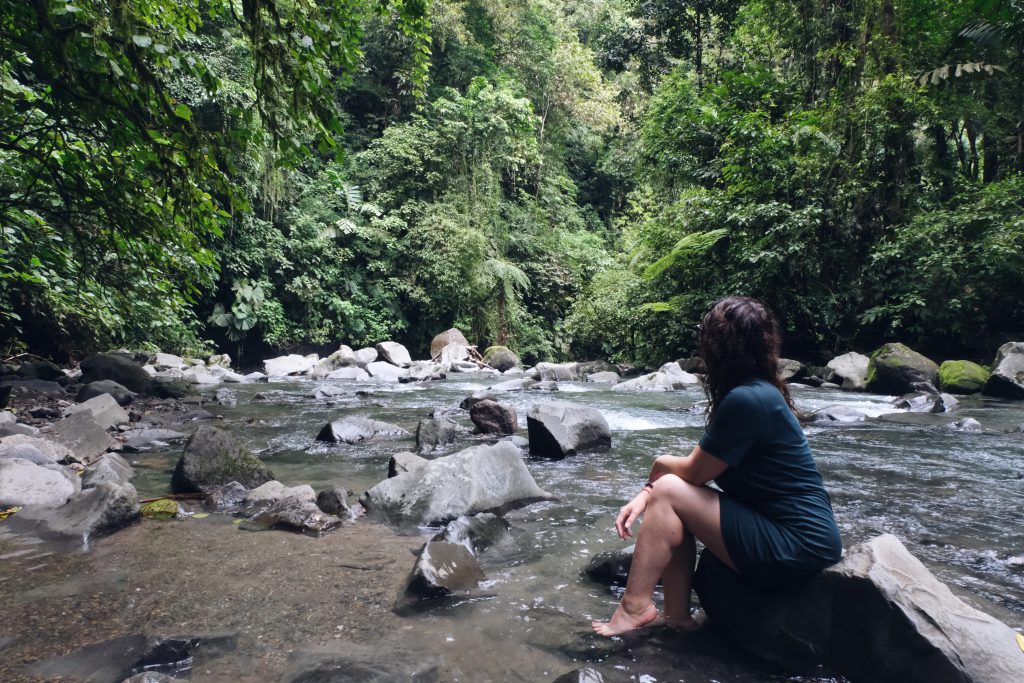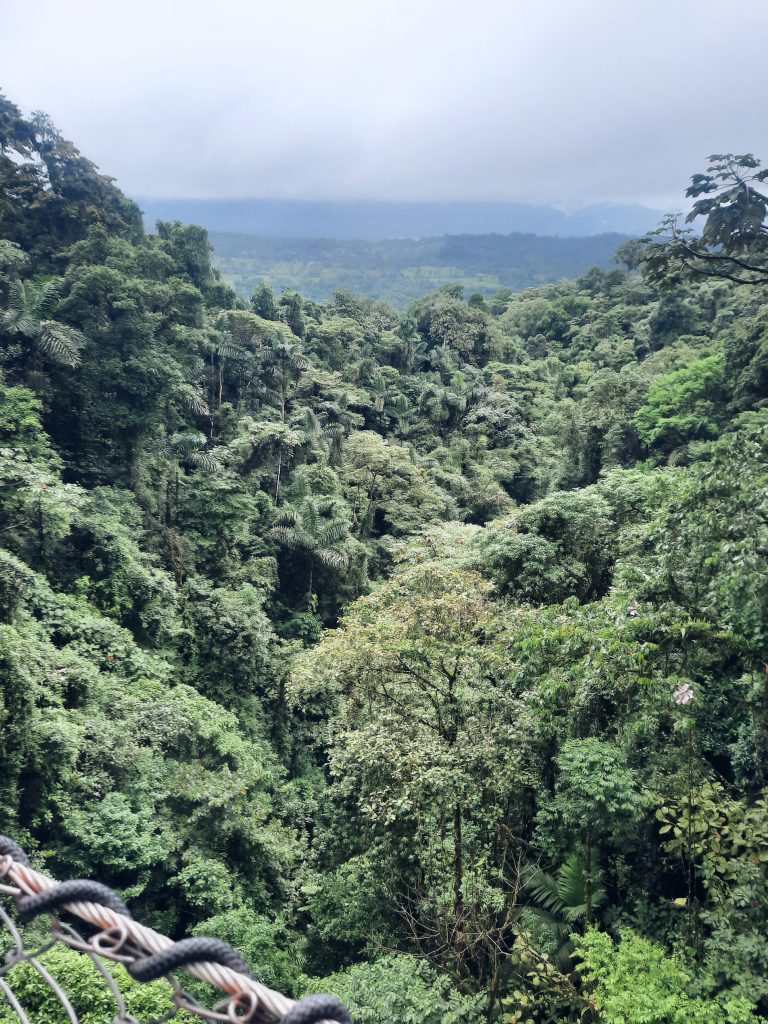 Monteverde
From rainforest to cloudforest. The weather ain't getting better but a forest doesn't get its name for no reason. Monteverde is located a little more up the mountain so temperatures drop down to about twenty degrees aswell. That's no punishment at all. I am staying for just two nights to visit the cloudforest. Due to the mist trees and plants are covered with more greenery and more life. Life I would rather not know too much about but my guide is very enthusiastic. This time I'm not wandering around by myself but joined by three biologists. Besides my guide the two other lads are also nature lovers by profession. I do know how to spot birds now. That is actually pretty fucking hard to do. You also have to have a lot of patience. I can hear you guys thinking but very occasionally I could be – patient that is. We see a quetzal among other things. Seems to be a thing. Unfortunately too fast to catch on camera. Pretty bird though. After an interesting morning I decide to go chase another waterfall. Monteverde really has a different environment than the other places I have visited. Santa Elena, the nearby village, is also very cool!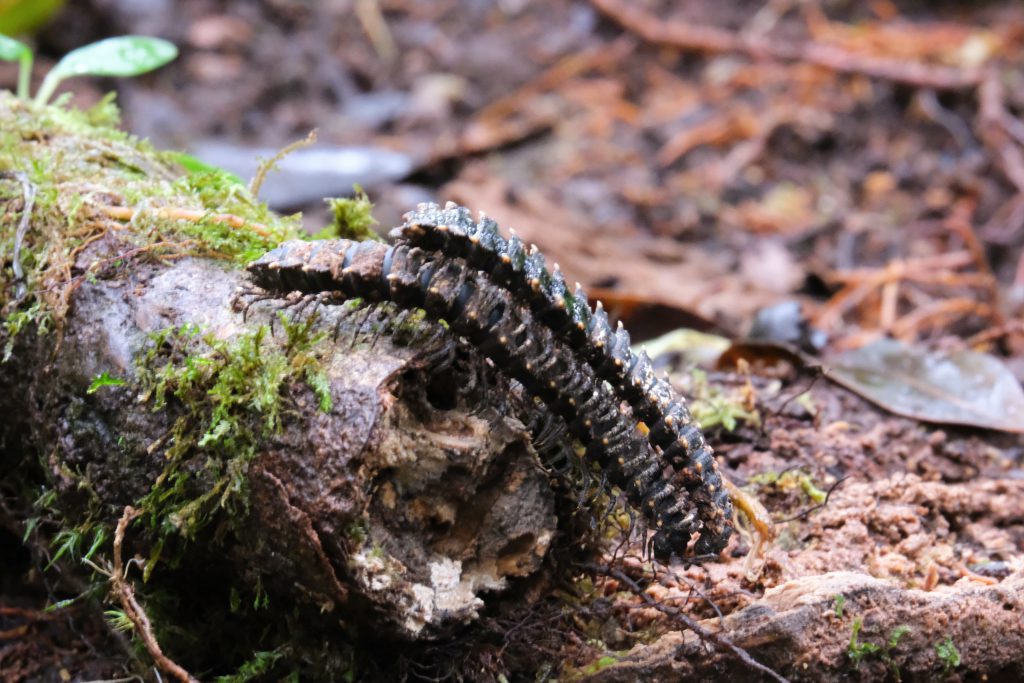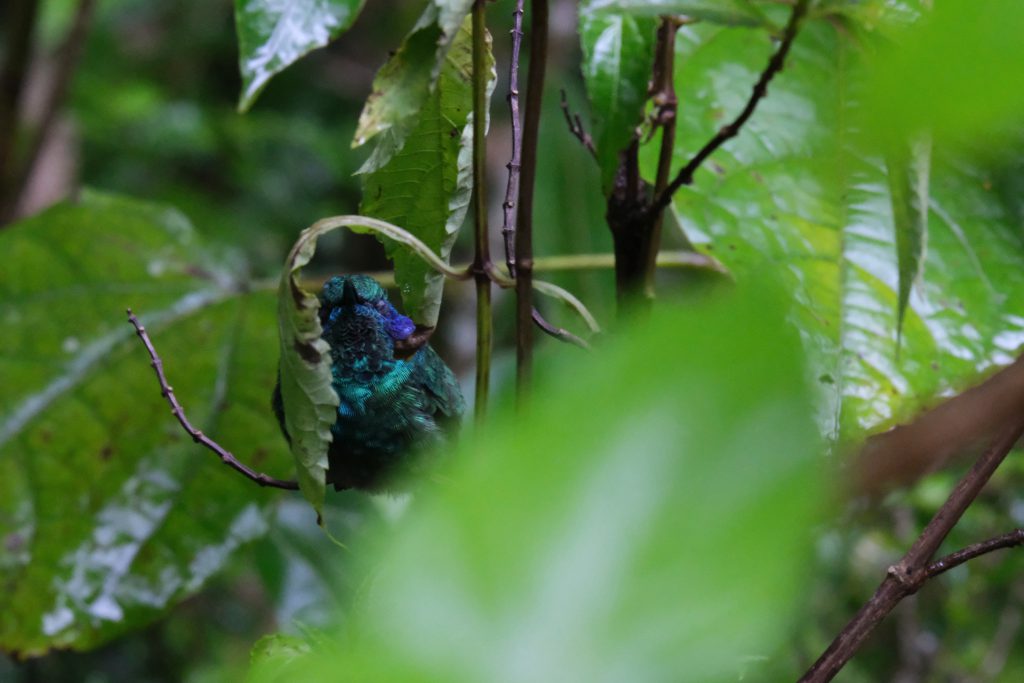 Manuel Antonio
After rain and clouds it is time for sunshine on the Pacific Coast of Costa Rica. The town of Manuel Antonio is a bit more crowded. It's probably because its national park is the most popular among tourists. It also appears to be the smallest park of the country. Although the crowds may be more noticeable, you can still enjoy Costa Rica's natural beauty in peace. It is something I really appreciate. It does require some preparation. For example: you have to buy your ticket online in advance. In addition, you are not allowed to bring any food with you except for a bottle of water. Because you can't live on an empty stumach all day the park does have a restaurant where you can buy yourself lunch. The park opens at seven so I leave early to avoid the crowds and have myself a peaceful morning. Of course you can opt for a guide but of all the places to spot wildlife this is your best shot so you really don't need one. However, with a guide you might learn something. After my Monteverde experience I am a professional bird watcher. I find a humming bird all by myself and two other birds I need Google lens for. I am really proud of myself! I also spot three of the four monkey species, sloths, crabs and iguanas. In the afternoon I look for some refreshment on the two white sandy beaches within the Manual Antonio National Park. It is really bloody hot today but damn it: Costa Rica is so pretty!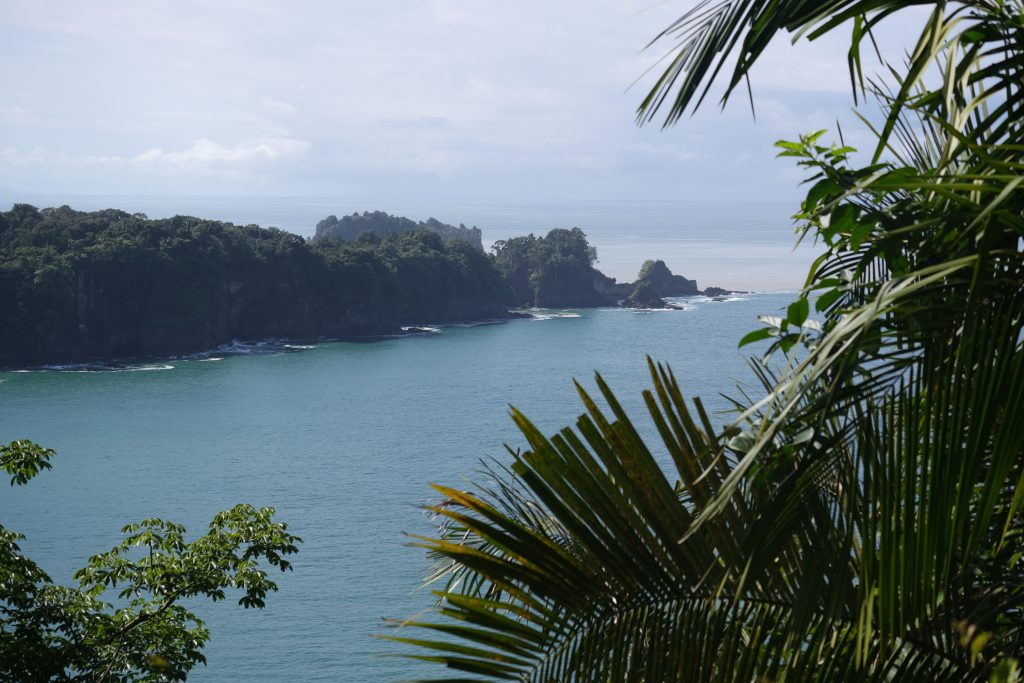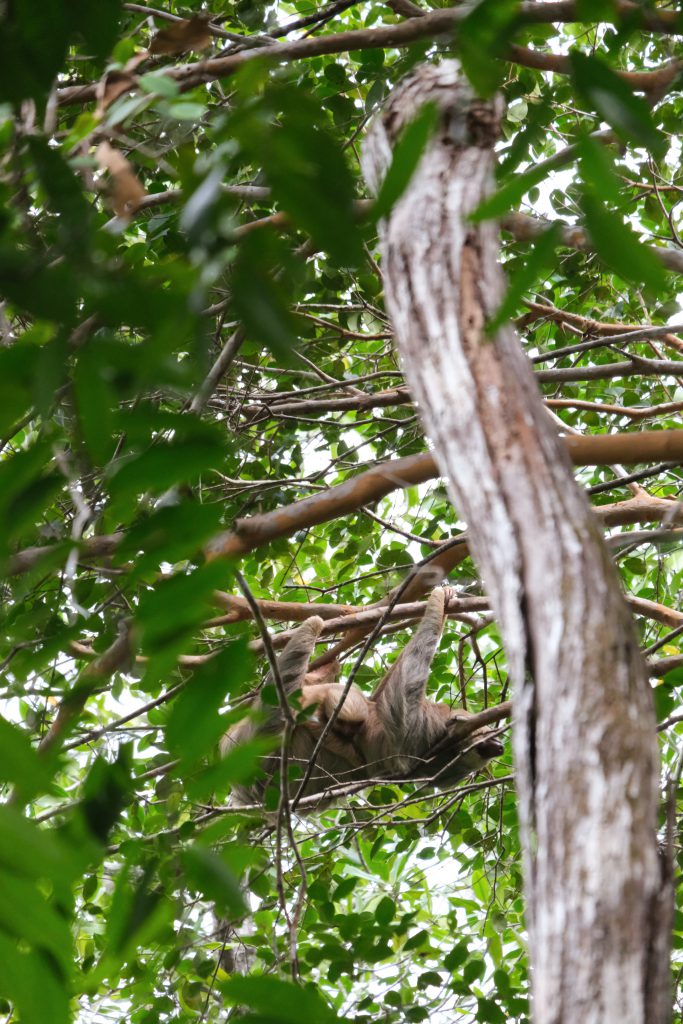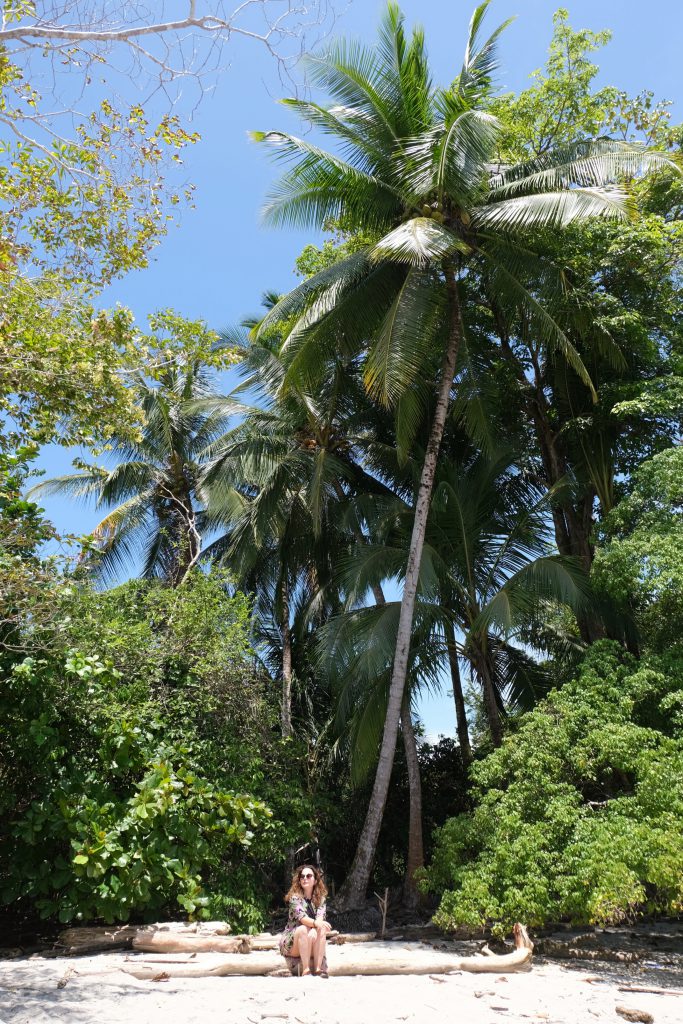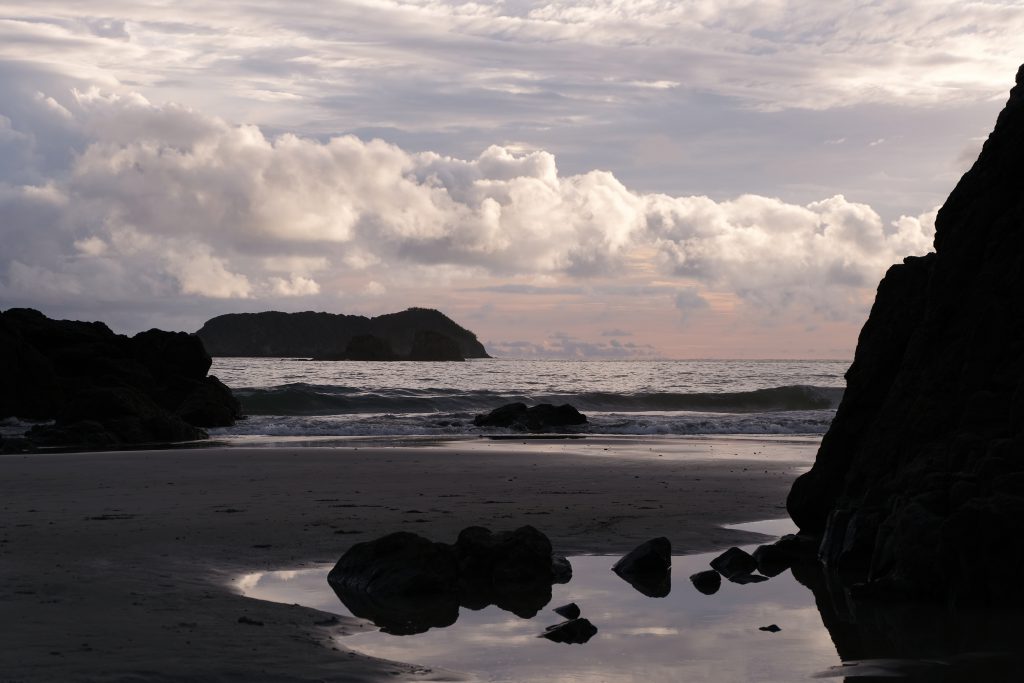 Uvita
I travel a little further south for the last stop of my journey. With that I leave the crowds behind me. Uvita is a quiet tiny coastal town where you can learn how to surf very easily – apparently. It's what most of the tourist who do visit Uvita come to do. The rest of them take a boat out to sea to spot whales. I especially enjoy the sunshine on the streched beaches of Marino Ballena National Park. At low tide you can walk on a sandbank shaped like a whale tail. Funny, isn't it? Yeah, you can't really see from eye level though. So what else is there to do? Not much so get yourself something to eat and drink, settle down underneath a tree and have a siesta for the rest of the day. Keep an eye out because during high tide the water can reach the edge of the dense forest.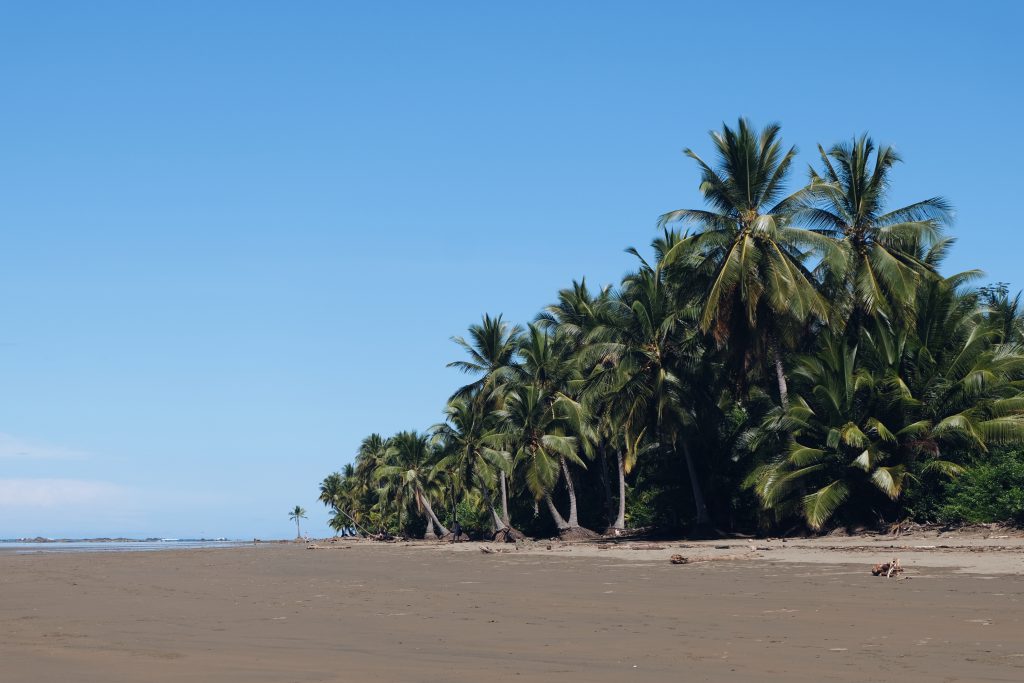 Within an hour's drive you will find Nauyaca Waterfall. Without a doubt Costa Rica's most beautiful waterfall. I arrange a taxi who is willing to drive me there at six in the morning and pick me up again at two in the afternoon. During rainy season it is advised to plan your activities in the morning hours as the weather can change quickly. This advise did not apple for the Caribbean Coast. It kinda was the other way around there. Anyway, from the parking lot Nauyaca Waterfall is still a four kilometer walk. You can also get to the waterfall by horse or jeep, but I like a challenge. Not really but it saves some money and I could use the exercise. After a rather tough hike of an hour I arrive at the scene. The first hour and a half I only have to share the sight with morpho the blue butterfly. Such a magical moment! At the lower falls I take a refreshing swim. When the first horses and jeeps arrive I make my way to the upper falls. Just as stunning. Moreover, fewer people linger here because you are not allowed to swim in the water. I decide to have a picknick by the river bank before mentally preparing myself for that four kilometer hike back. If only I could go on holidays 365 days a year..
From Uvita you can take more interesting trips of which Corcovado National Park might belong on top of your 'things-to-do-while-traveling-Costa-Rica' list. Oh well, next time..
Pura vida!