Funny enough I could only find a few positive blogs about Jakarta when I was preparing for my trip. Most people seem to escape the city as soon as they set foot in the capitol. It would be too crowded, noisy and very dirty. Moreover, it had too little to offer. Boy, how nothing turned out to be less true! Alright, traffic might be a little bit busy like all day every day but what do you expect with almost 10 million inhabitants? Yes, it comes with a lot of noise and some pollution. It wasn't all lies. In addition, Jakarta is known as pedestrian unfriendly. So I get it. It's all just a bit too much to take in at once, but really: Jakarta is actually a pretty cool city! You just have to know where to go and how to get there.
First things first
Every trip to Indonesia starts with downloading the GoJek and Grab app. This is basically the asian version to Uber – and more. The costs for a GoJek or Grab are considerable lower than a regular taxi. Plus there is no fuzz with negotiating about the price. The only thing is that you need to be connected to the internet to be able to use these apps. Therefore, I recommend buying a local SIM card. It's possible to get one at the airport, but I suggest you find yourself a shopping center down town. This will save you some money. Besides, at the airport you can use the Wi-Fi network. A Telekomsel SIM card will give you coverage throughout the whole country, even on the smaller islands. Cost should be around 100k – about €6 – for 12GB. That is more than enough for 30 days. I bought a SIM card from a cheaper provider for 65K which worked fine untill I arrived on Flores. I have used both GoJek and Grab myself and I have to admit that I prefered using GoJek over Grab. Mainly because prices at GoJek are fixed. With Grab an additional amount is added sometimes – depending on toll roads and parking costs. Moreover, GoJek is more than just an app for transport. You can also order food, get your groceries delivered, run an errand or order a massage. The boys in green, as locals call them, are your new best friends. It's the perfect way to explore the city and experience Jakarta's crazy traffic.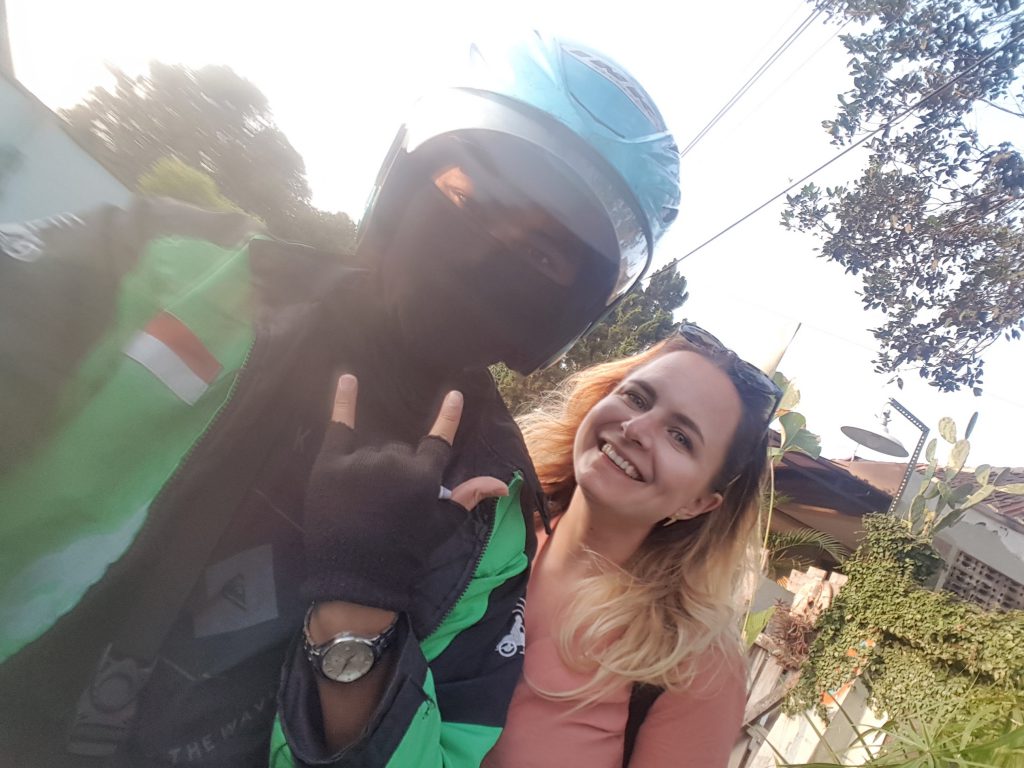 Museum Macan
At Museum Macan – which opened its doors in 2017 – you can enjoy some fine modern and contemporary art. When I visited Jakarta, I got to see the exhibition of Yayoi Kusama. The first in Indonesia with 130 art pieces that showed 70 years of her artistic and inspired life. Super awesome! The museum has more cool exhibits that you can admire. A ticket now costs 100k, but as a student you will get a 10% discount. The admission price seems to have risen in connection with the number of visitors. People seemed more interested in making selfies than in the artworks themselves – kids these days. Therefore a camera is not allowed, but there is no one stopping you from taking pictures with your phone. Lockers are available. Especially if you're into contemporary art, Museum Macan is worth a visit. Check out their website for current exhibitions.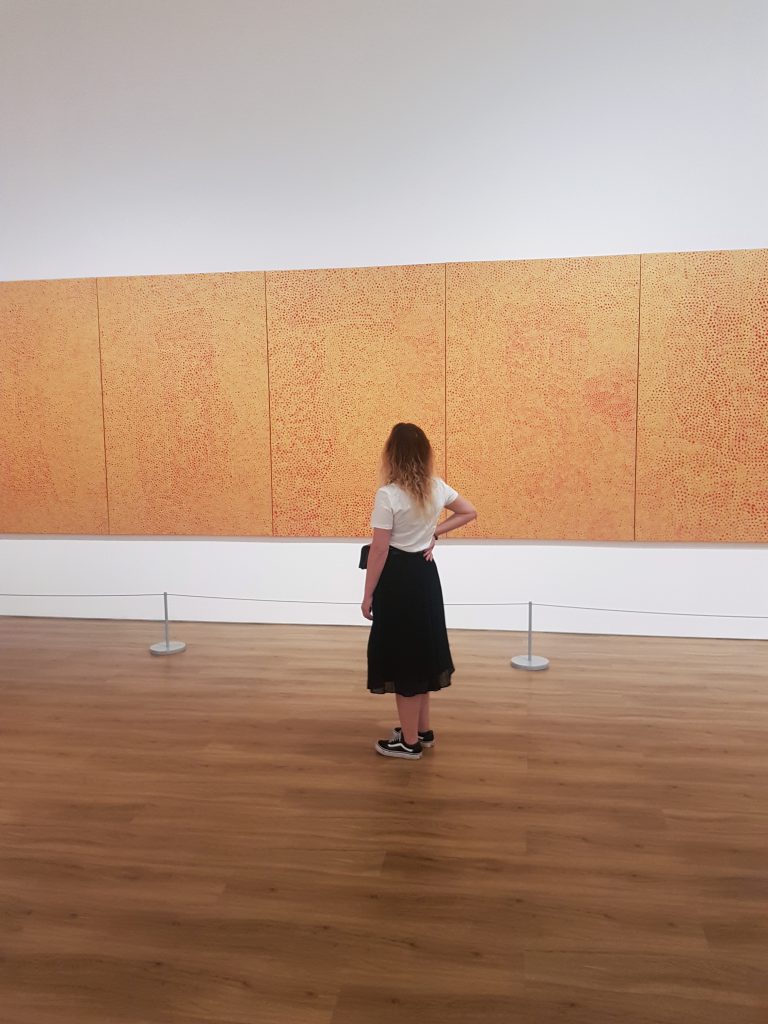 Kota Tua
In the time of the Dutch East Indies the old part of town was called Batavia. Many of the buildings in this neighborhood remind you of that time from long ago. Taman Fatahillah then formed the administrative center of the city. Nowadays you can rent a brightly colored bicycle with a matching hat and bike around the square looking very elegant. The old town hall is now a museum, but the former post office is still in use as a kantor pos. You will find many restaurants and cafes around the main square all having a historic sense about them. Don't forget to walk along the canal untill you reach Jembatan Kota Intan. This bridge might look familiar. For a moment there I thought I was in Amsterdam. When you walk a little further, you'll arrive at the old port of Jakarta. Here you can visit the old VOC warehouses.
Monas
On Medan Merdeka you'll find the National Monument which symbolizes the independence of Indonesia. It was built on behalf of president Sukarno, but was only completed after his death in 1975. Monas – as the monument is called nowadays – is 132 meters tall. The bronze flame on top is covered with quite a few kilos of gold and reflects the spirit of the Indonesian people. You can visit the museum for a brief summary of a long history or enjoy the view from the top of the monument. But the huge park surrounding Monas is also worth a walk through. On a sunny weekday morning this is the place to be to escape the city's hustle. Believe it or not: it is really possible! Peacefully quiet.
Istiqlal and Gereja
Indonesia has the largest population Muslims in the world. So if you'd ask me, a visit to a mosque is an absolute must when traveling through the country. Why not visit the largest mosque in Southeast Asia? Istiqlal was designed by a Christian, which makes it kinda an unique mosque aswell. Although almost 90% of the population is registered as Muslims, a small 10% are Christian, Hindu or Buddhist. Directly opposite the mosque you will find cathedral Gereja. This can also be seen from inside the mosque. Isn't that a beautiful thing? At both visitors are very welcomed. My experience is that it is very much appreciated when you as a foreigner show interest in their culture. Of course it goes without saying that you dress appropriately.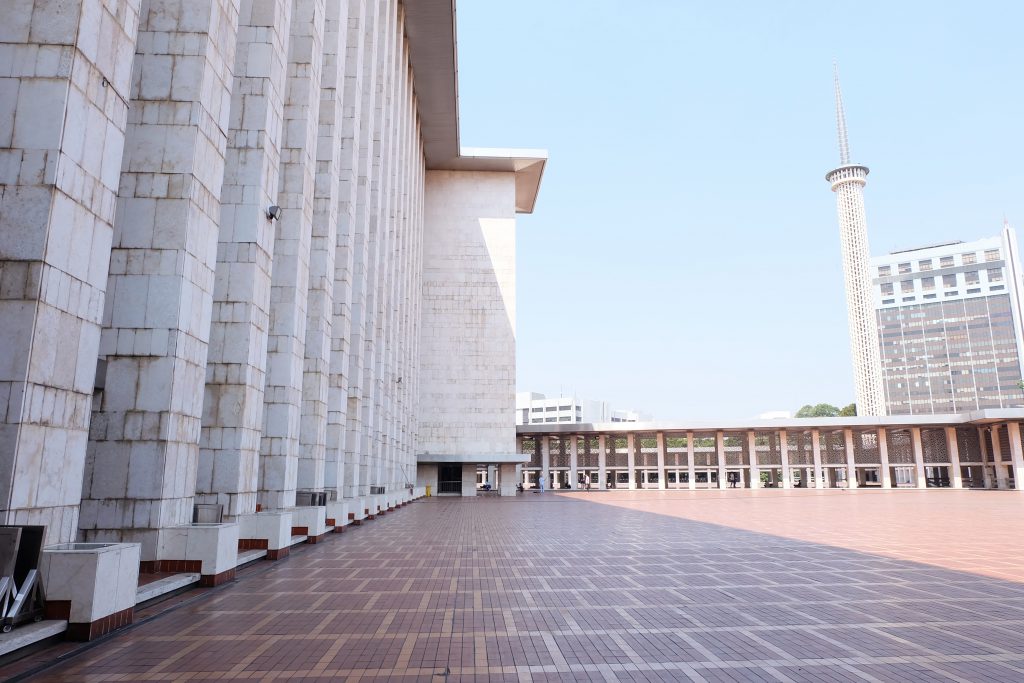 Where to eat?
Where not to eat? Indonesian cuisine is simply delicious. For the tastiest food a warung or street stall are your best bet. However, early mornings I crave for something other than nasi goreng. Not keen on a heavy breakfast either? No worries, at Maple and Oak you can get a delicious smoothie bowl for example. I also highly recommended Watt Coffee. Have a nice cup of coffee with an avocado chicken sandwich. Fancy local food, but wouldn't dare the street food? In Kota Tua I had a quite nice meal at Historia Food & Bar. Kopi Kuta Tua also looked pretty cool. For burgers and cocktails you have to be at Three Buns! Wanna stay up late? Lucy In The Sky seems to be totally hip and happening. Try Skye Bar if rooftops are more your thing. Plenty of choice, right? I told you Jakarta was cool!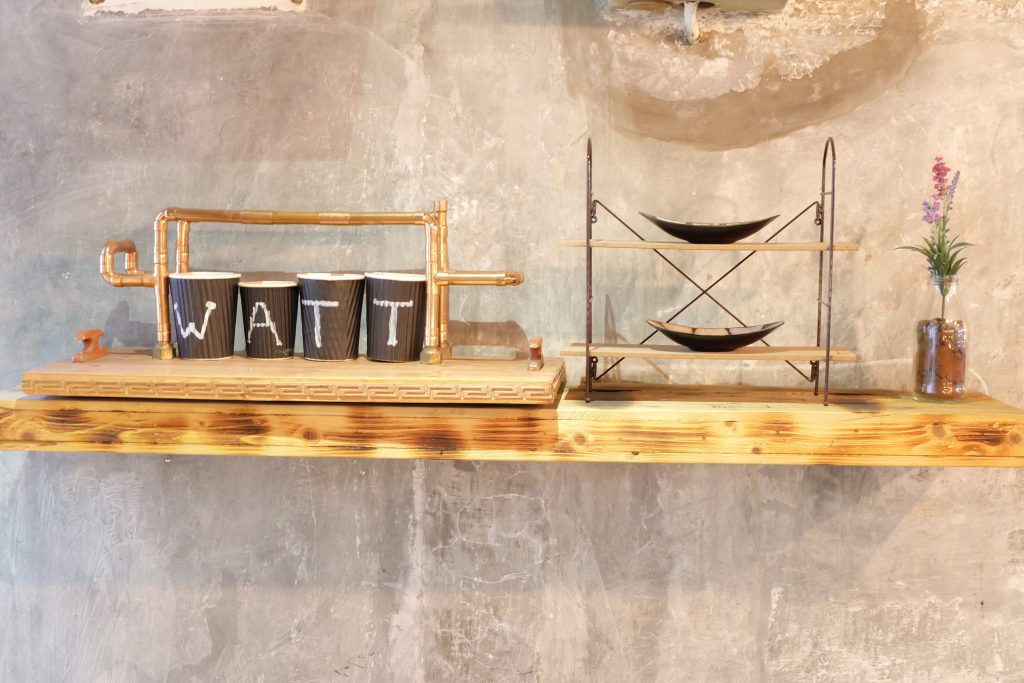 Where to stay?
I recommend staying in a neighborhood outside the city center. The different neighborhoods each have its own charm. In addition, I would not opt for a hotel nor hostel, but go for a homestay instead. It is much more personal. You'll find super cute accommodation on Airbnb. I stayed in a quiet neighborhood south of the city, near the hip Kemang area, for 3 nights. I was welcomed with open arms in a beautiful 'hidden oasis'. Noran has such an eye for style. The interior, her children – read cats and dogs – and her hospitality will give you a homely feel. I immediately felt like a family friend instead of a guest. Something that I – as a female solo traveler – find very important. You can really see and feel that Noran has put her heart and soul in building her lovely home. When you hear the story behind a place and the people who live there, it makes your visit extra special. Travel inspires, don't you think?
Jakarta is authentic because it isn't build for tourism – yet. It gives you a good glimpse of everyday life in Indonesia. And it's buzzing! Maybe I'm so enthusiastic about this city because my grandmother was born there. It kinda made me curious. But even when you do not have a connection with this city, it has lots of fun things for you to see, do and experience.
– X –