You can't go to Edinburgh without a visit to the castle. Well actually you can. It's a beautiful building for sure but way too crowded for my liking. Luckily Edinburgh has more than just a beautiful castle. A few weeks back I flew to the Scottisch capital for a hen party and decided to add 48 hours to explore the city some more. And let me tell you: Edinburgh is pretty cool!
If you haven't been there yet then maybe it's time to think of Edinburgh for your next citytrip. The city – better known as ghost town – has a rich history but is anything but old-fashioned. Behind that historical appearance hides a young character and that's exactly what makes this city so much fun. Stroll along cute little boutiques, trendy coffee shops or find stuffy cocktail bars in some abandoned alley. Edinburgh is hip and happening.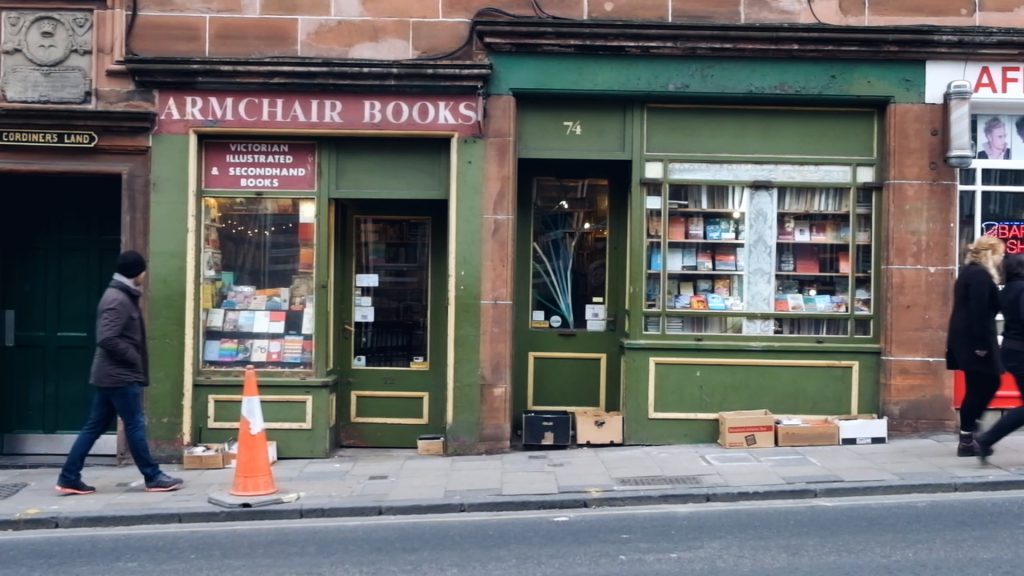 Day 1
Because of the authentic atmosphere you should stay in the old part of town. The Grassmarket hotel or Stay Central are good options. Everything you need is just one or two steps away. Your day starts with breakfast of course. On the corner of Grassmarket and Victoria Street you'll find Hula Juice Bar, where you can get fresh made juices, shakes and a well-stocked Acai Bowl. Normally I'm not really the super food type but I sure had a delicious breaky. With its colourful facades Victoria Street is probably the most photographed street in the city. Wander along the shops and take a picture yourself. It's free so why not, right? After breakfast make your way to Calton Hill at your own pace. This park is located on one of Edinburghs 7 hills and gives you a fantastic view of the city.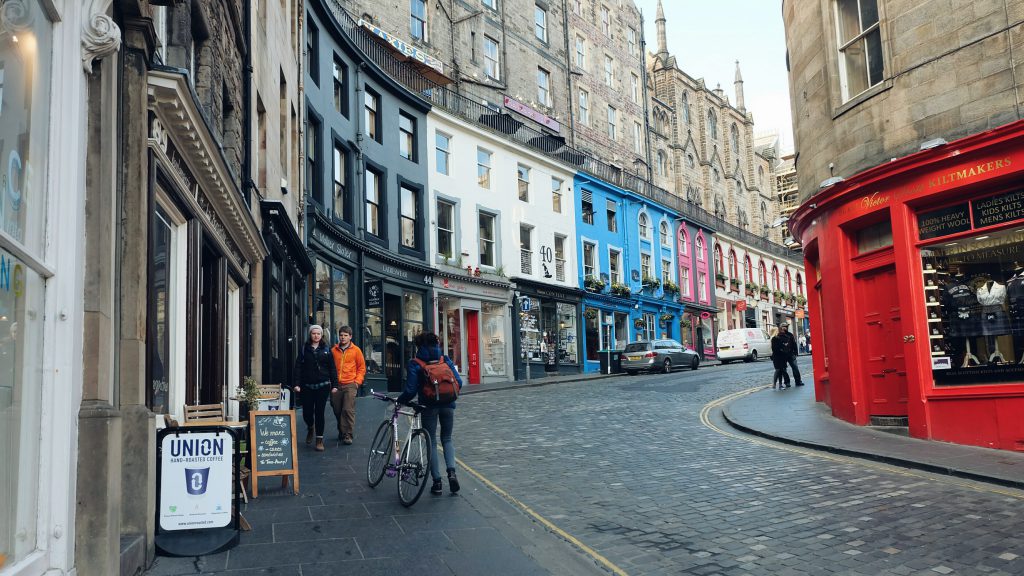 Calton Hill lies at the foot of Princes Street which brings you in New Town, the modern part of the city. With those charateristic city houses, this part of town made me feel like I was on set of the Scottish version of Sex and the City. I loved it! Coffee and cake o'clock? Isn't it always? Leo's Beanery is where you want to go. It has a cosy atmosphere, the staff is super friendly and the coffee and cake taste like the passion and love put into it. It's a locals favourite. You can find Leo's in the basement of one of those stunning buildings on Howe Street.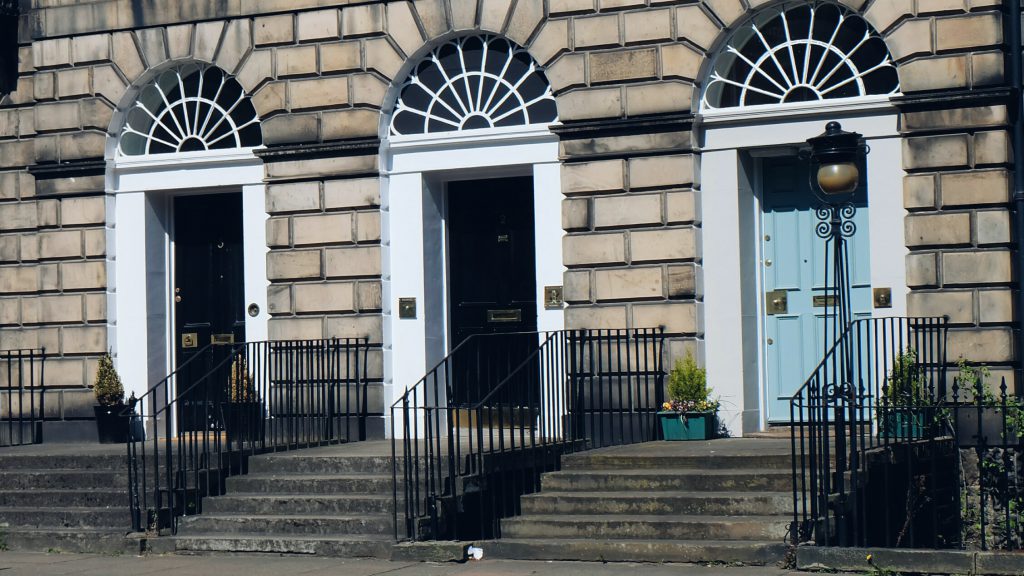 Starting from Howe Street Dean Village is only a short walk away. Although there is rather little to do, Dean Village is a lovely place to visit and escape the hustle and bustle yet again. A small village hidden in a big city. How cute is that? However, for some food you'll have to go back into New Town. Tip: at Faundry 39 you can get a great lunch for next to nothing!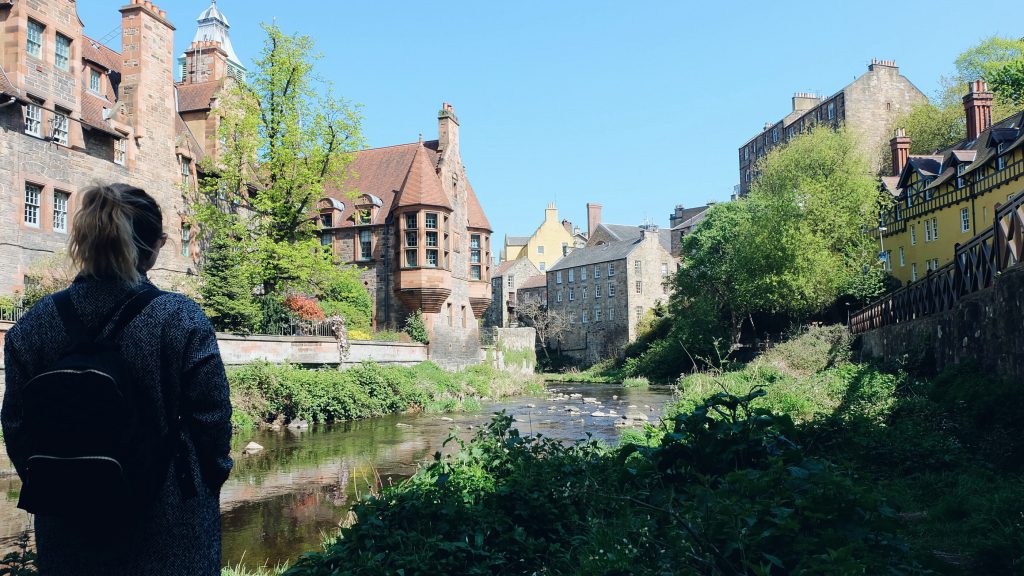 When the stomach is stuffed make your way to Princes Street Garden, where it's an easy climb up to the castle. On your way up to the top, stop a few times to enjoy the views. I decided not to visit the castle but if you do want to visit, just follow the selfie-sticks and you'll get there.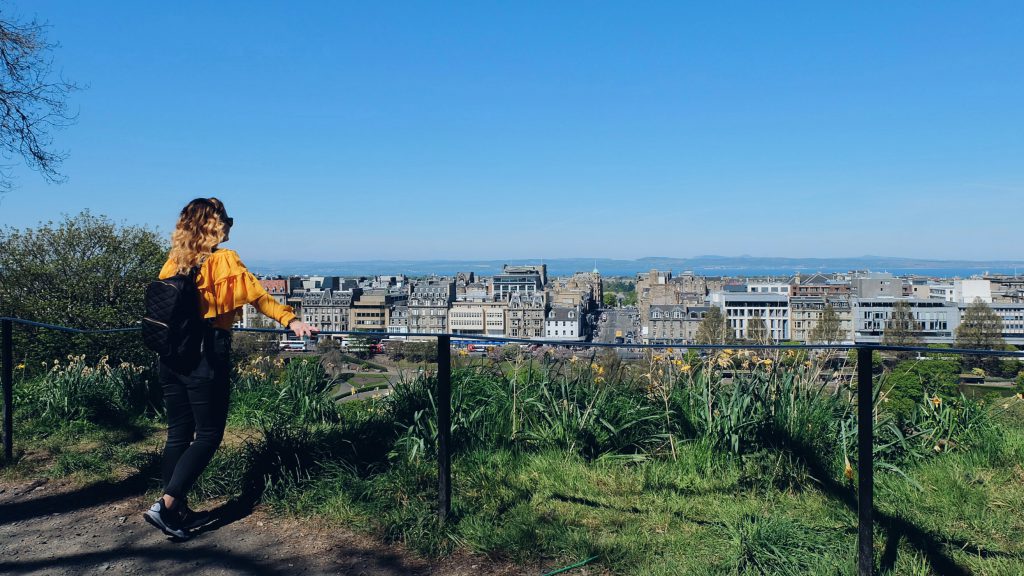 The day might be over but the night is still young! Score a nice Scottisch meal at The Gourmet Mash Bar and end the night in style with a cocktail at The Devil's Advocate. Prices might be slightly above average but they don't just serve any cocktail. Trust me, it's good!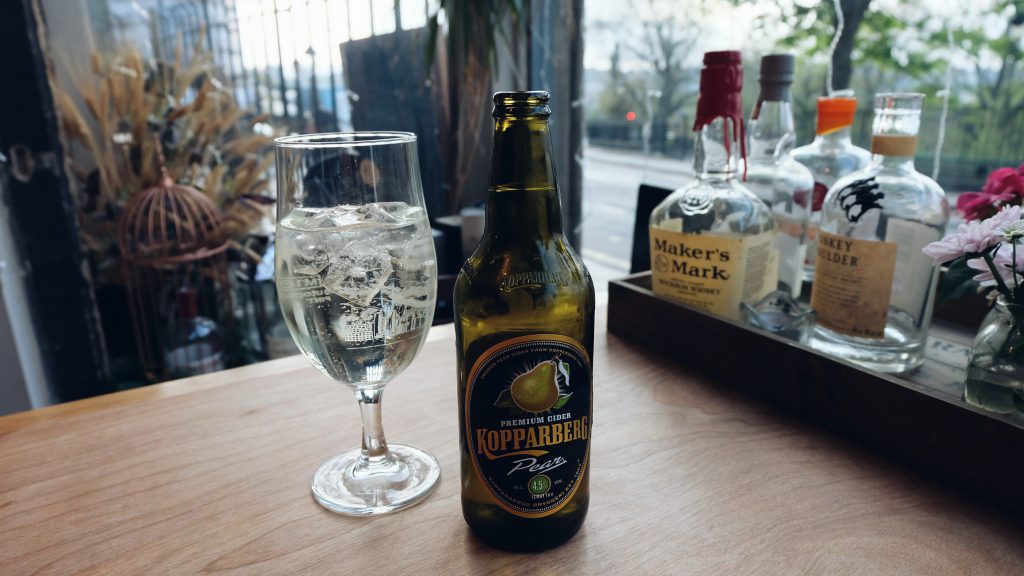 Day 2
It's rise and shine early this morning! Today it's time to hike Arthur's Seat. The highest point of Edinburgh is located on top of an ancient volcano in Holyrood Park. Nature just steps away from the city. But first coffee! Outside the city center but on your way to Holyrood Park, you will come across Cult Espresso. This super cool coffee shop has a simple menu for you to have a more than ok breakfast.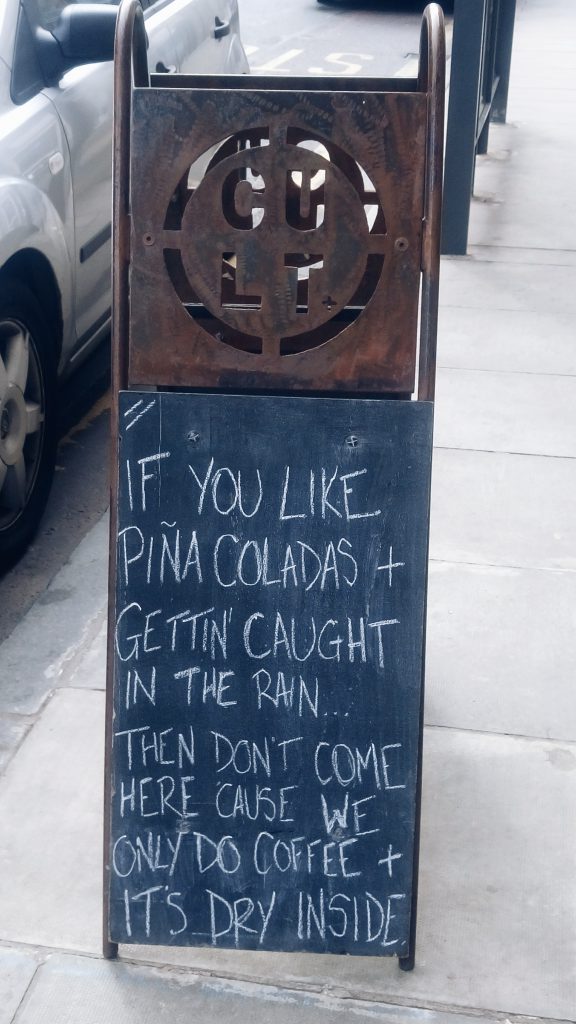 From here it is still a few minutes walk to the shortest – but fairly steep – hike towards Arthur's Seat. Don't forget your sweater because chances are you'll be blown away by the strong wind. Nevertheless, the hike is amazing! To see more of Holyrood Park take a different route back down. I took a path right down the middle, which took me to a ruin and ended at the parking lot on the side of Holyroodhouse Palace.
Walk the famous Royal Mile to explore Old Town. Get lost by taking the mainy side streets and arcades. Go for a coffee and something on the side at The Milkman on Cockburn Street. There are plenty of restaurants nearby where you can have a nice lunch. After lunch visit the National Museum of Scotland because a visit to a museum is basicly part of every citytrip. Plus it's free of charge. I myself usually get bored after having spent an hour. This time was no exception.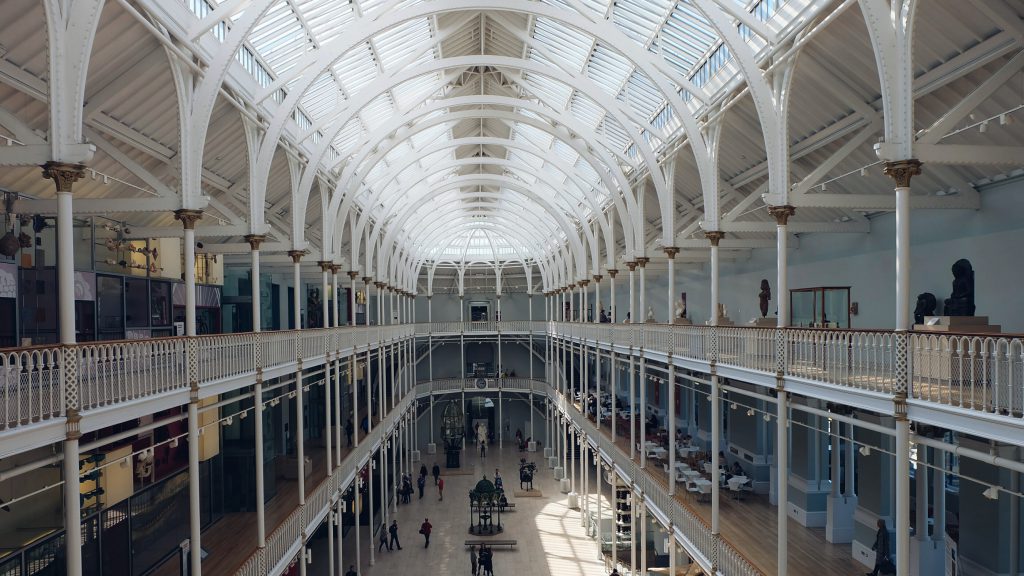 So time for ice cream! You can go to Edinburgh without visiting its castle, however, you can not come to Edinburgh without trying an ice cream at Mary's Milk Bar. This popular gelato on The Grassmarket is regularly jammed and with good reasons. (second)Best I ever had!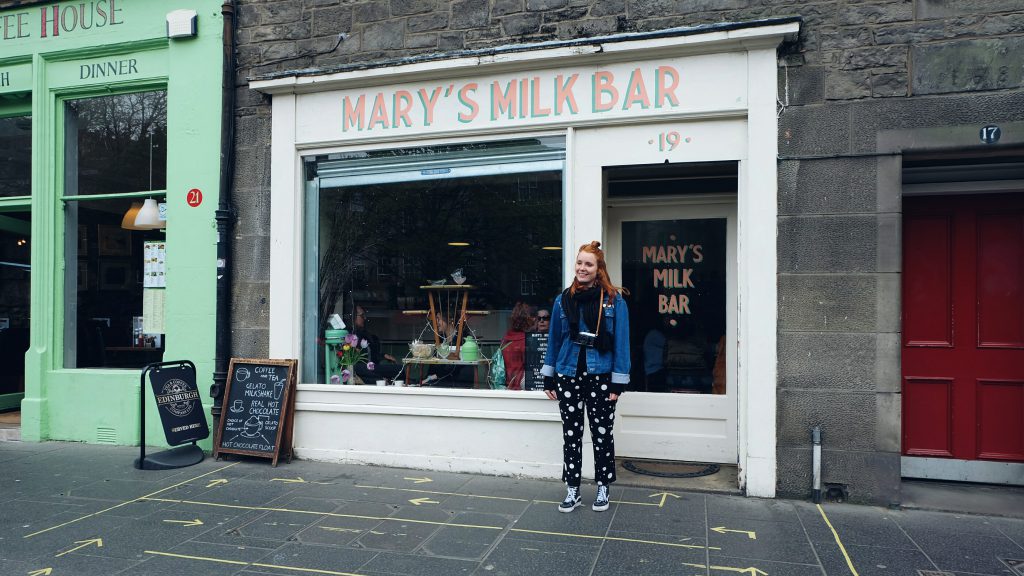 You can opt for a spooky night by going on a city ghost tour or you can take it easy by going for a bite. At Burgers and Beers for example. Don't forget to ask for a rare baked burger. Apparently this isn't self-evidently the case but will definitely make your burger quite more tasty. After a few beers, ciders or gin tonics at The Brewdog you can basicly role back to your hotel. The Brewdog is a nice place to go for a drink. Just don't have too much fun because the staff can get a bit grumpy. Oh well, there are whiners everywhere. But cheers to Edinburgh though.
Got more time?
Visit one of the most beautiful Royal Botanic Gardens in de world. Even on a rainy day there is something to do. I may not have much with paintings from the golden age but give me a few plants and flowers and I'm a happy kid. At least have a look at The Glass Houses. I thought it was worth the effort. No city I've ever been was as green as Edinburgh. The Leith district is suppose to be nice as well but unfortunately I can't tell you much about that.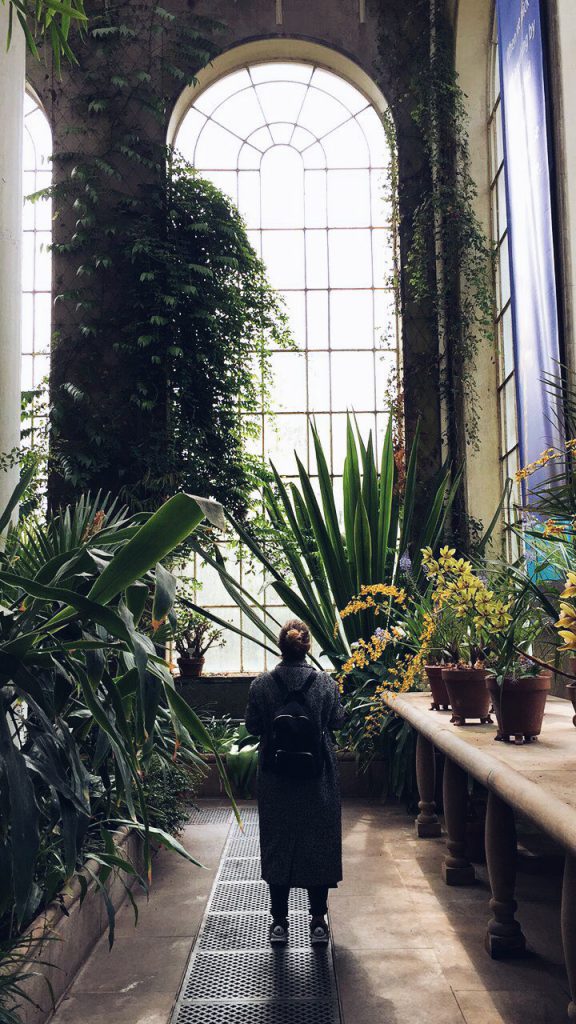 – X –