Railay Beach: a mix of Jamaica and Lloret de Mar with an Asian flavor. Sounds a bit odd – it is. Railay is a peninsula within the Krabi province. Due to the limestone rocks it's only accessible by boat from Ao Nang or Ao Nam Mao. Its remote location guarantees for a relaxed and pleasant atmosphere. The laidback vibe and a number of Rastafarians will make you feel like you're on some Caribbean Island. Add a drunk crowd that has no shame in going shopping wearing nothing but slim fit swimwear and you forget you were in Asia. Where did the Thai culture go? No worries, Railay has enough to offer when it comes to adventure and culture. You just have to look for it while you're working on your tan.
Railay is a popular destination and it's not hard to see why. The beaches are stunning. If you're hoping to run into Leonardo DiCaprio on a deserted Island maybe this is not the place for you. But as soon as all those daytrippers disappear the breathtaking sunset makes up for a lot. All of a sudden it doesn't seem to bother you anymore that prices are at least 10% higher. You'll take all them promoters infront of beauty salons, bars and restaurant for granted. Just give them a kind smile when you stroll along Railay East Boulevard. The boulevard seems to end at The Last Bar, only it doesn't. Keep walking until you have found Tew Lay Bar. Dexter – just forget you are in Thailand for a second – is happy to serve you a delicious cocktail. Raily isn't that bad!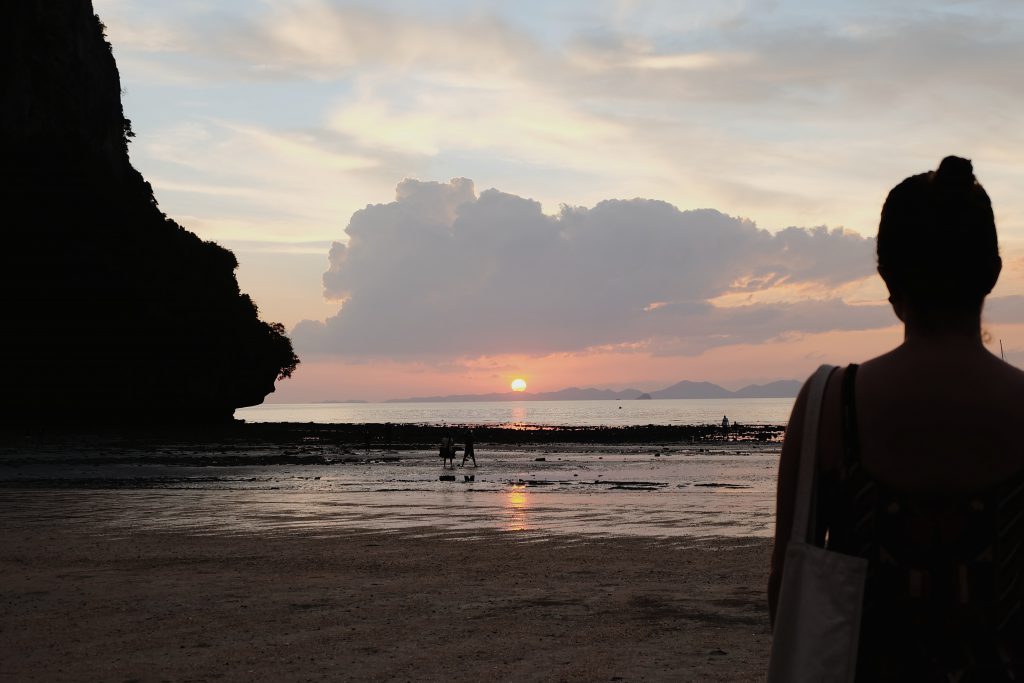 Railay Viewpoint & Phra Nang Beach
From Railay East there's a walking trail heading to Phra Nang Beach. Along the way you will find the exit to Railay Viewpoint. But be warned: this is not a marked path, just a rope hanging alongside the cliff. 'Easy climb ', they said. It was certainly not easy, but definitely well worth it! If, however, you think the climb up to the viewpoint was a piece of cake then there's a hike down to a lagoon aswell, which seems to be a bit more challenging.
You will probably recognize Phra Nang Beach from the many pictures out of magazines. It's the one of that empty beach with a long tail boat floating in the water and a big rock in the background. In real life just as beautiful! The only downside is that you'll have to share this view with many other tourists. Plus you will be harassed by a bunch of cheeky monkeys. They steal your food when you're not looking. No need for panic, they don't know what to do with an Iphone. They are just really annoying. What's cool about Phra Nang is that the beach has a cave full of wooden penises. Yep, only in Thailand. Fishermen and locals believe that their offerings will bring them prosperity.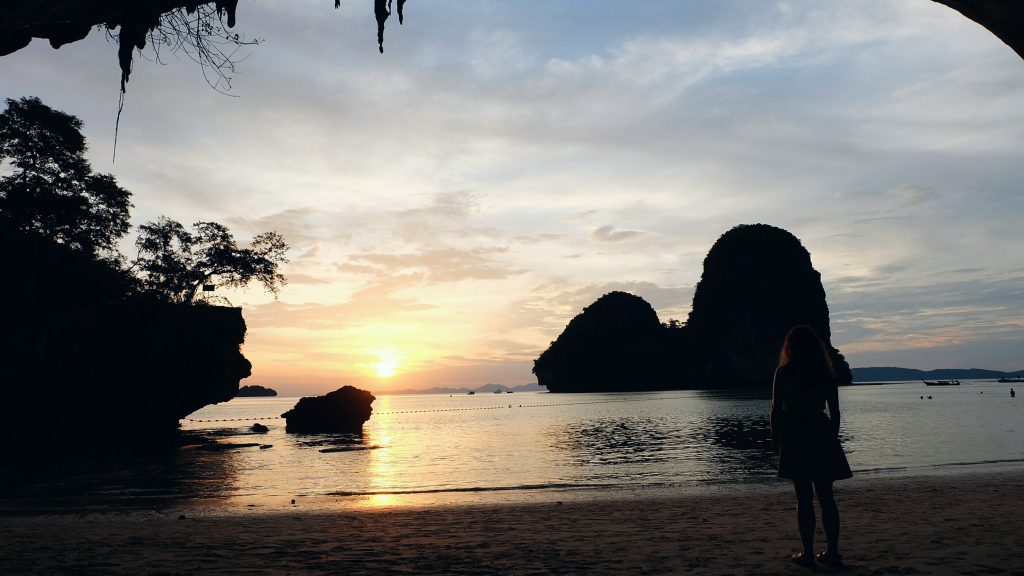 Ton Sai
When it comes to the most beautiful beach in Krabi, many people differ from opinion. Some believe it's Phra Nang others will plead for Railay West. I would definitely say Ton Sai if you'd ask me. Why? Just as beautiful, but much less crowded. Perhaps this has to do with the fact that it is not nearly as developed as neighbourly Railay. On the North side of Railay West you'll find a path that leads to Ton Sai. It's an easy walk that requires climbing over some rocks occasionally but it's not that challenging. I did it barefoot and had no trouble what so ever. Ton Sai has an even more laidback vibe than Railay does. There's not much more to do other then laying by the beach all day, hopping from beach bar to beach bar while moving to reggae music or having a bite at one of the many food stalls on Ton Sai's main road. Of the handful of people you'll find here, one half is most likely stoned while the other half is rockclimbing a cliff or two. Ok, maybe that's an exaggeration but you get the picture. The disadvantage of Ton Sai Beach is the trash. This might give the place a bit of a grimly feel. Such a pitty. Nevertheless, it's a colourful sight when jungle meets the ocean.
Tiger Cave Temple
Don't leave Krabi without visiting the Tiger Cave Temple! The temple is located on top of a cliff about 600 meters high. The 1260 steps – there are 23 more then the sign tells you – to the top are living torture but at the end your effort will be rewarded. With an incredible view and – more importantly – free wifi! You won't find a tiger hiding away in a cave but there is a huge Buddha statue sitting up there. On your way to the top you'll come across a bunch of monkeys so you better but all your belongings where the sun don't shine. Just kidding. Do keep your water bottle and snacks in a closed bag though. It took me exactly 49 minutes to climb up those stairs. If you want to break a record then you need to finish the job within 10 minutes. Please be aware that you are visiting a temple. Tip: wear a shirt that covers your shoulders and take a sarong with you to cover up your legs. The Tiger Cave Temple was undoubtedly a highlight of my journey through Thailand.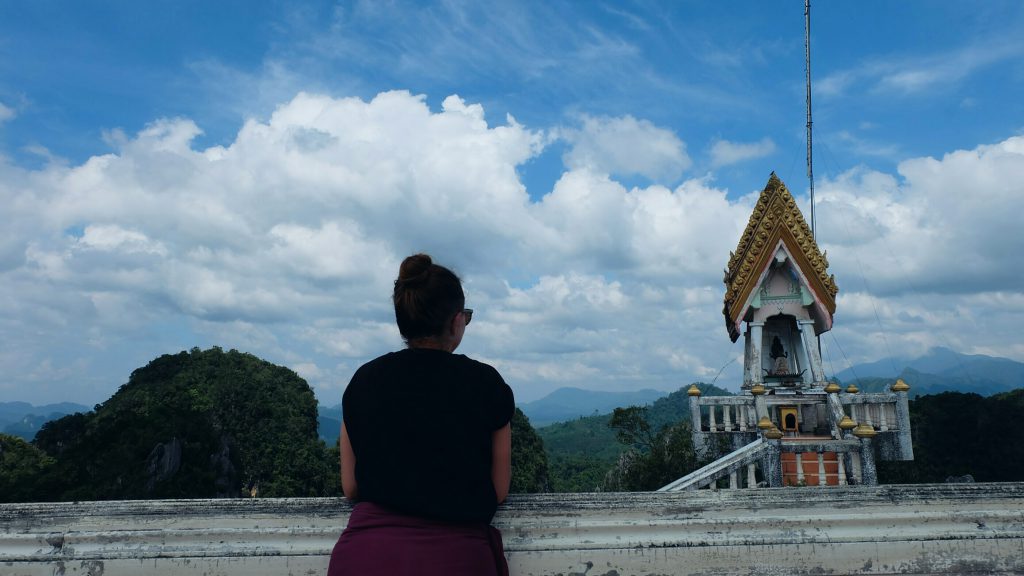 When you stop and look around
this life is pretty amazing.