Havana is overwhelming, lively, complex, mysterious, colorful, vibrant and the list goes on. I haven't been to any other city as interesting or unique as this one. From the moment you leave the airport – which is an experience in itself – you will be enchanted by its charismatic appearance, its passionate personality and its down to earth kinda mind. There was a vibe and all of a sudden my head was somewhere in the clouds. Havana. It wasn't logic, it was love.
Havana is that kind of city you can talk about over and over again – or at least I can – and still have something new and exciting to tell. Of course those colorful buildings, those classic cars, that swinging music, that tasty rum and those famous sigars have something to do with it. It's kind of romantic. However, this wasn't what impressed me most. It's the people and their way of life that does the trick. It is some what inspiring. Yes, the country is changing. Slowly. Havana is no longer what it was 10 years ago and the Havana of today will probably not be the Havana of tomorrow. But this isn't so bad if you'd ask me. Because it's not those colorful buildings nor those classic cars but it's the people that make Havana extraordinary. And they're not going anywhere any time soon. Nor will those buildings and those cars by the way. So you don't necessarily have to visit Havana asap but why wait?
Havana is alive
On every corner of every street there is something going on that you would want to capture on camera. Of course you'll visit those historic squares and a museum or two out of your travel guide but in my opinion Havana is best experienced by just wandering through those vibrant streets. While you make your way through the different neighborhoods you will probably learn some salsa and have a Cuban – or three – declare their love to you. You will most likely be telling people where you're from every five seconds and have to explaine that you unfortunately only speak un poquito Spanish. You might also be invited to a party. I am really not joking.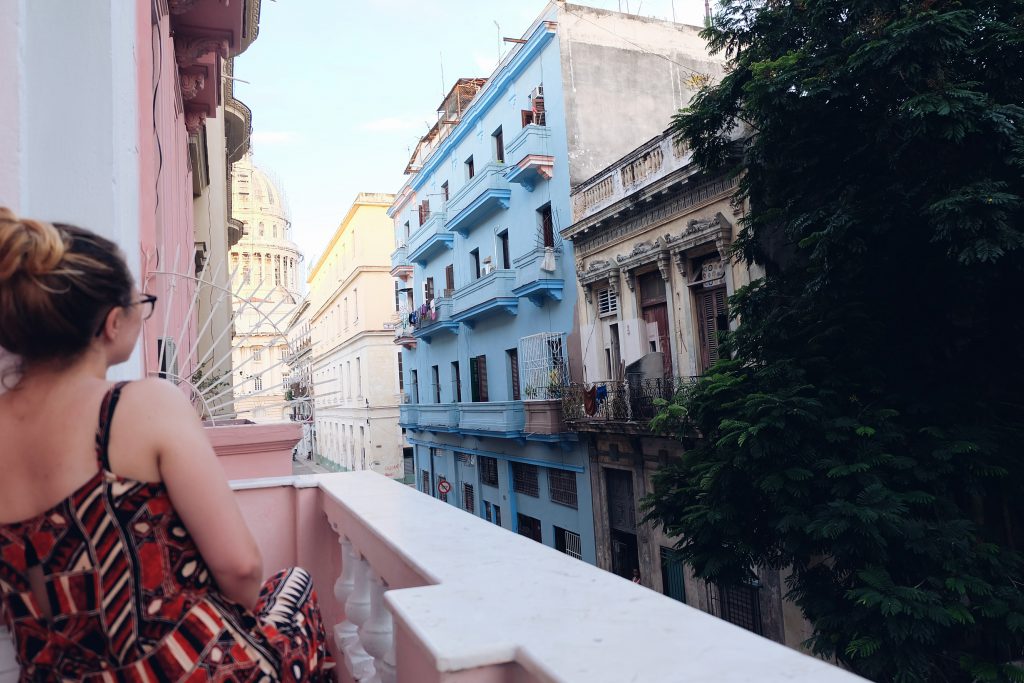 Havana Vieja is the oldest part of the city. It's like a large open-air museum full of historical buildings, lovely squares and colorful streets. Although this neighborhood is very focused on tourism these days, it still has a lot of atmosphere and character. There's lots to see and do in this area both day and night. You may find as many tourists as Cubans here but sometimes this can also provide for interesting situations.
Centro Havana has lots of colorful and characteristic buildings aswell but there's more. In my opinion this part of Havana shows better images of everyday life. Therefore Centro Havana fascinated me a bit more. Kids playing football in the middle of the street, men working on their cars and women keeping an eye out from their balcony. On Sundays Callejón de Hamel is suppose to be cool. I thought this pretty street full of murals was a tourist trap but I was there during a week day and there wasn't much more going on than harassment by some gangsters – they're harmless by the way, just incredibly annoying. On the other hand, you should definitely visit La Guarida. Even if it's just to admire the beautiful building from the inside or enjoy the magical view from the top terrace.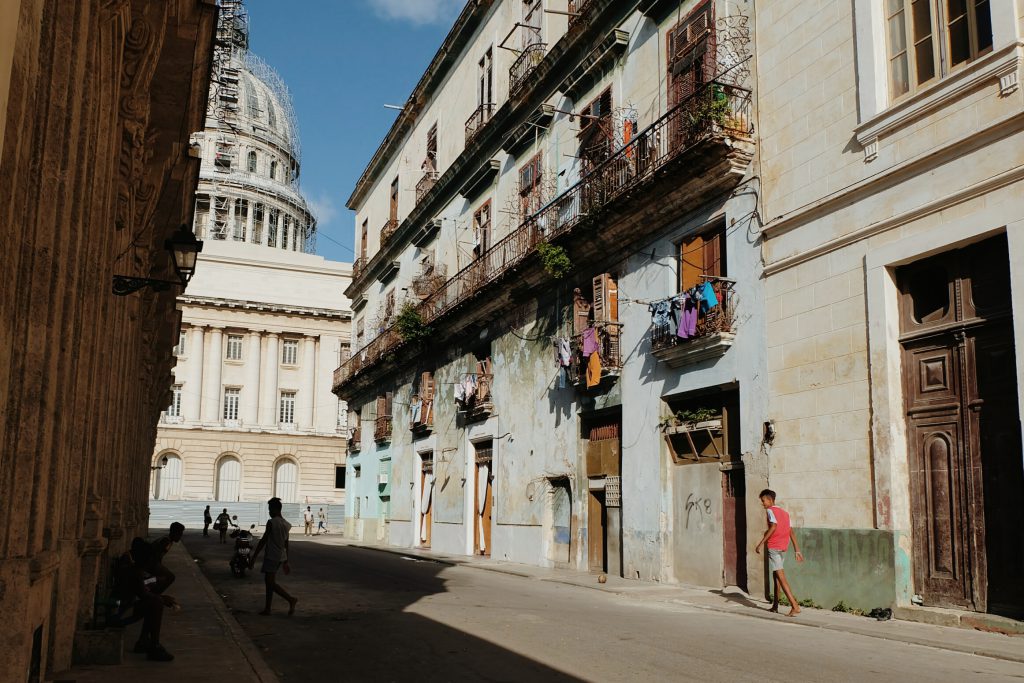 The Malecón runs along the edge of Centro Havana. This famous seven kilometer long promenade is a popular meeting place for both locals and travelers. Particularly during sunset when fishermen pour out their fishing rod, lovers enjoy the romantic view and friends and strangers come together to drink and dance with one another. Good times guaranteed. Don't forget to bring a bottle of rum!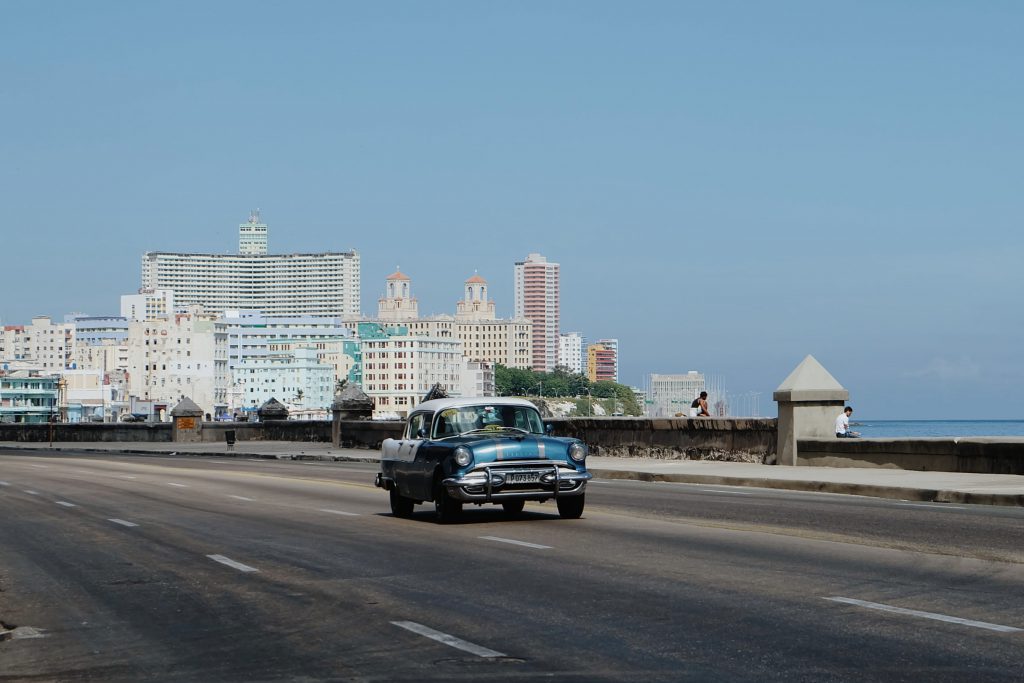 On top of the bucket list is probably a ride in an old convertible. Head to Park Central, pick one with a bright color and negotiate with the driver about the price. They usually start with a price between 50 and 35 CUC but if you're lucky you'll pay something from 20 to 25 CUC for an hour. I do recommand talking the driver into taking an alternitave route. As long as it fits the hour. Do drive along the Malecón and stop at Plaza de la Revolución but also go to Castillo De Los Tres Reyes Del Morro for example for lovely views of the city. Agree that you'll be dropped of at Hotel Nacional at the end of your trip. At first glance Hotel Nacional may not seem very special but since the opening in the 1930s a number of historical events have taken place here. Follow in the footprints of many infamous celebrities from the past and have a drink on the garden terrace. From here you can easily explore the more modern neighborhood Vedado.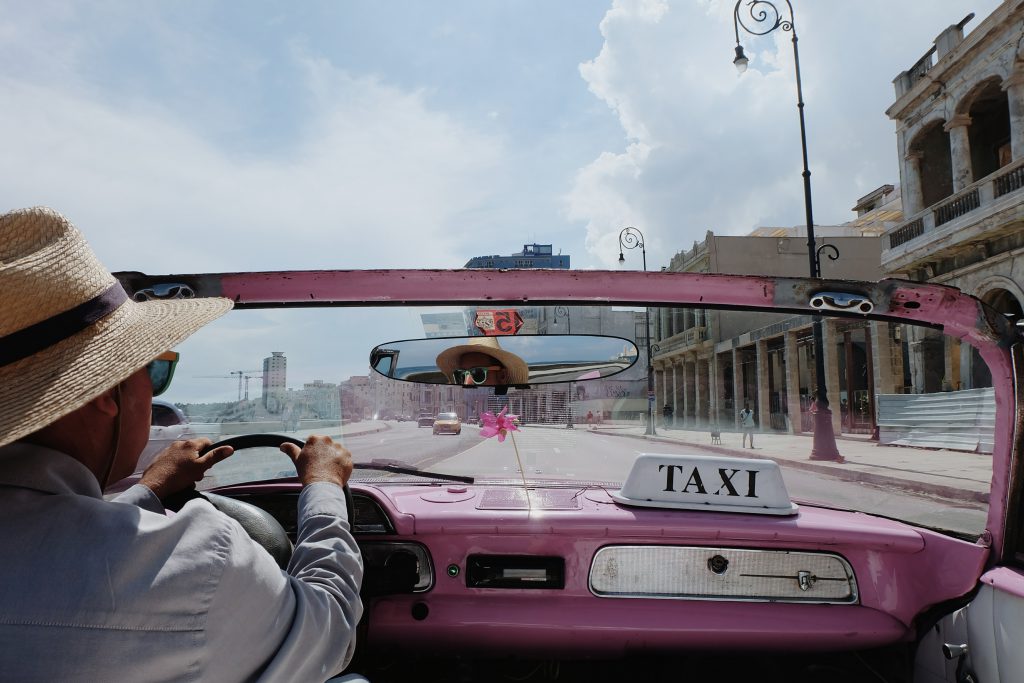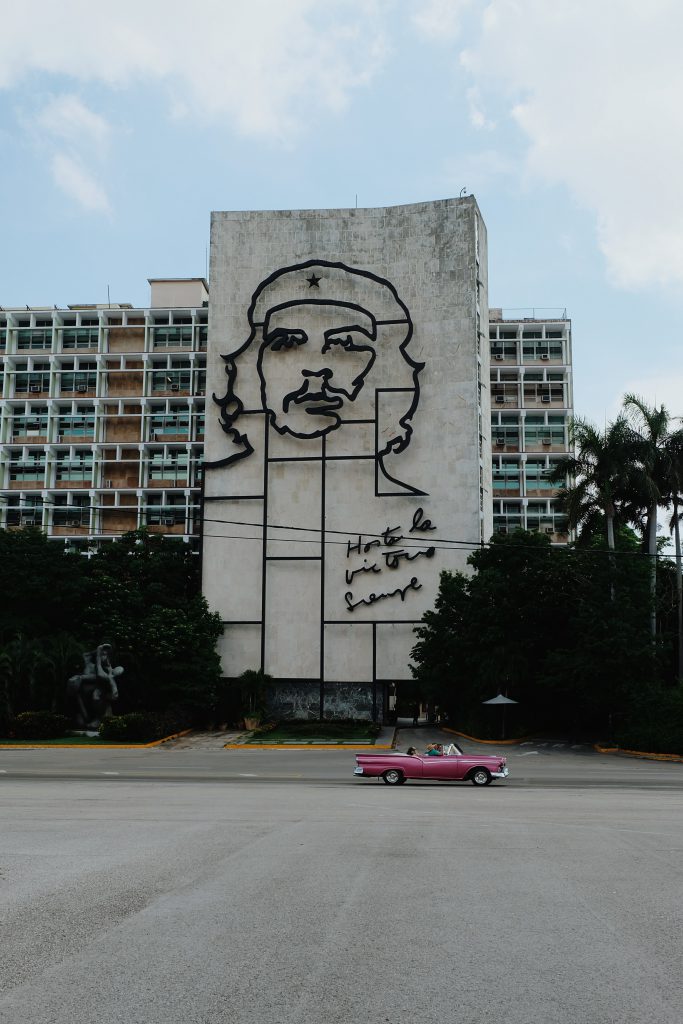 Havana is hip & happening
Trendy eateries and cocktail bars grow rapidly. This pleasantly surprised me. I kind of prepared myself for rice and beans but nothing seemed to be less true. Because changes also bring new opportunities for young and creative initiatives. And thank god for that! An absolute must is a visit to Fabrica de Arte. From Thursday to Sunday you can appreciate the work of talented artists while enjoying a drink and some music played by a DJ. Prefer to see an orchestra play or attend a modern ballet? This is the place to be. It has a bit of that see and be seen kind of vibe but it's pretty cool though. Inside tip: have dinner at El Cocinero beforehand. However, you do need to book a table well in advance. Fancy huh?!
Definitely go to El Dandy. This cozy tapas restaurant/cocktail bar is decorated with vintage furniture and classy pictures that give the place a very cool look. There's a very laid back vibe and the food and drinks are tasty. At El Chanchullero they also serve very tasty food and drinks. More people are aware of this fact so there is usually a waiting line. But man was it worth it! Seriously, best meal I had. The daiquiri wasn't so bad either. Speaking of which: don't miss out on the watermelon mojito at El Del Frente. While you're there you might as well have something to eat too. If there's a table availible that is. This place can get very crowded aswell but for good reasons obviously.
For more tapas and cervezas – but they do cocktails aswell – you go to Lamparilla. This trendy joint with retro interior is located on a quieter street in old Havana. The staff is super friendly aswell. Siá Kará is hidden behind El Capitolio on the edge of Centro Havana. This cute little cafe has a playfull look with a very relaxed atmosphere. The art on the wall has pretty cool detail and I believe they make one of the best classic mojitos in town but I could be wrong.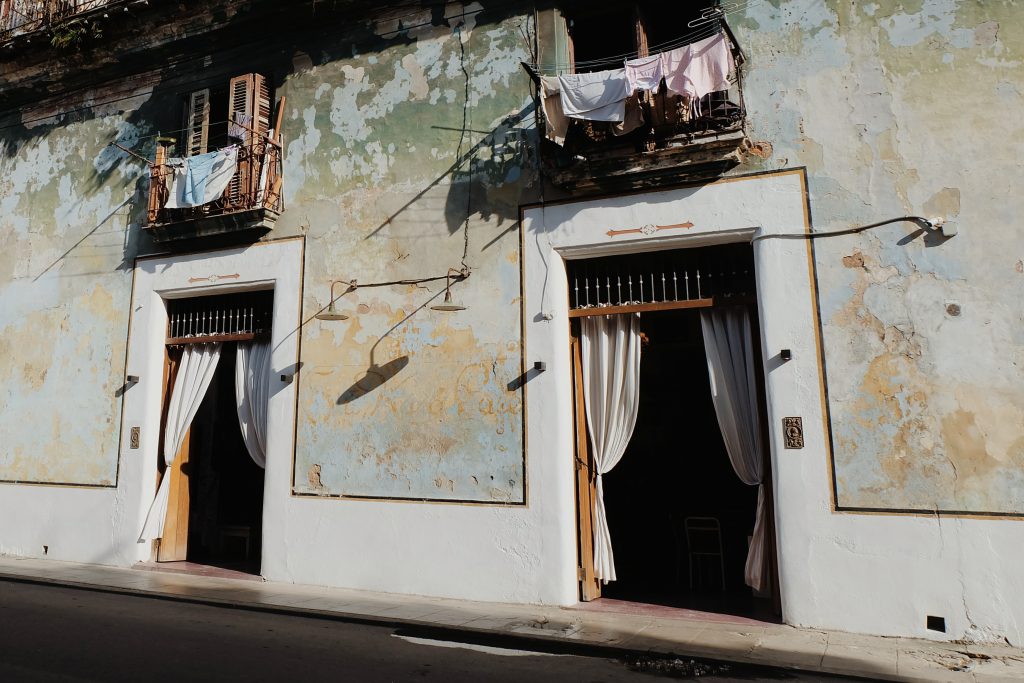 Need coffee? Try Café Bohemia, located in a beautiful colonial building on Plaza Vieja. You can also have breakfast here. Last but not least: at El Bambu Paladar you can get a nice meal for next to nothing. A small, simple but very cozy restaurant on the corner of O'Reilly and Aguacate. The meal comes with typical Cuban cosiness. What more do you want? Oh that's right: a rooftop bar! Havana has got that too. I'm not talking about the roof of some fancy hotel but a new hidden gem called Roma. Unfortunately I only discovered it on the morning of my departure so I couldn't check it out myself. But you can. I do not dare to tell for how long this place will stay a hidden gem but I am sure by that time a different creative mind has stand up.
– Me gusta Habana