Deze kleine stad ergens langs de westkust, afgelegen van de rest van de wereld, is de perfecte gateway voor The Kimberley. Broome wordt gezien als de parel van het westen en natuurlijk heeft dat alles te maken met haar parelindustrie, maar de schoonheid mag ook zeker niet onderschat worden. Die heldere blauwe zee, dat spierwitte zand en de oranje kleur van de ruige rotswanden, geven Broome een exotisch tintje. Niet te vergeten de zonsondergang over de Indische Oceaan. Als dat niet bijzonder genoeg voor je is, er is meer..
Just an ordinary day in Broome
Huur een fiets (misschien is een scooter of auto een beter idee) en ga langs de verschillende spots die de stad te bieden heeft. Alhoewel Broome net zo vlak is als ons kikkerlandje, liggen de bezienswaardigheden vrij verspreid. Zo groot is het nou ook weer niet dus hoe ver kan het zijn? Euhm, met de fiets blijkt dat toch nog best een eindje. Maar hey, kunnen we gelijk wat aan die conditie doen. Genoeg water bij ons en het dragen van een helm is 'verplicht' dus dat helpt ons tegen de zon. Anyway, start de dag vroeg en rij richting Gantheaume Point. Tijdens eb kun je hier voetsporen van dinosaurussen terug vinden. Helaas moet je dan wel denken aan 5.30 uur. Dat ging hem voor mij net even niet worden. Gantheaume Point is mooi genoeg om later op de ochtend (of tijdens zonsondergang) alsnog te bezoeken. Chill hem in één van de rotsbaden of waag een duik vanaf de rotsen. Neem genoeg vocht en voedsel mee om het een uurtje of 2 vol te houden. Zo kan je het mooie uitzicht echt in je opnemen.
Ga rond lunchtijd terug naar het centrum. Voor een hapje en een drankje moet je bij Matso's Brewery zijn. Kies voor de Prawn & Mango Salade. Trust me, je bent toe aan wat verfrissends. Als je een bierliefhebber bent, probeer dan de verschillende soorten bier. Heb je net als mij liever wat zoeters, dan is de mango bier wel aardig.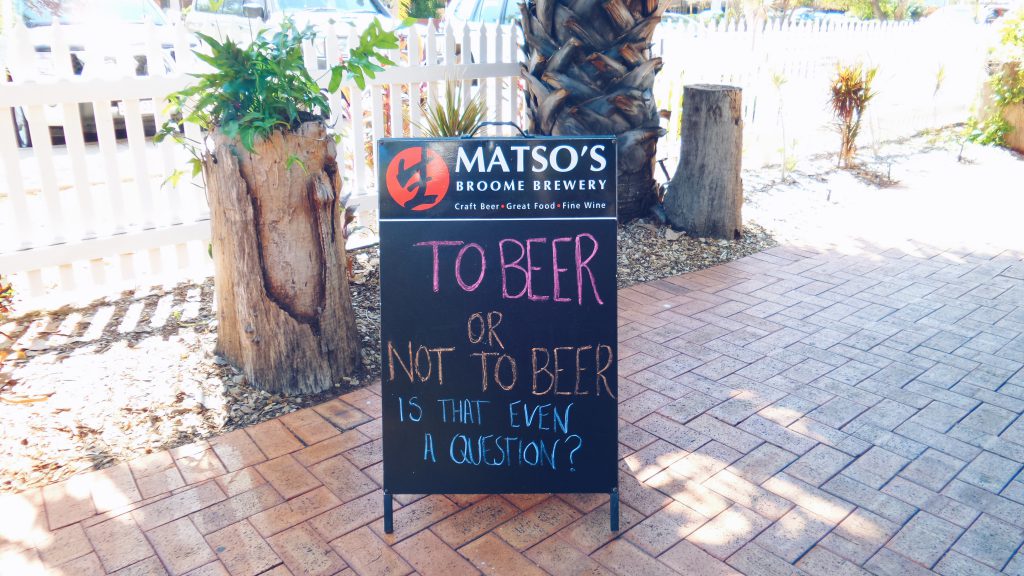 Aan het eind van de middag volg je de weg naar Cable Beach om, net als de rest, te genieten van de zonsondergang. Als je wilt kun je op een kameel over het stand banjeren. Schijnt een leuke ervaring te zijn. Ook leuk: een aantal dagen per maand kun je aan de andere kant van de stad, op Roebuck Bay, de maan zien opkomen. De zogeheten Staircase To The Moon. Dat lijkt mij best bijzonder.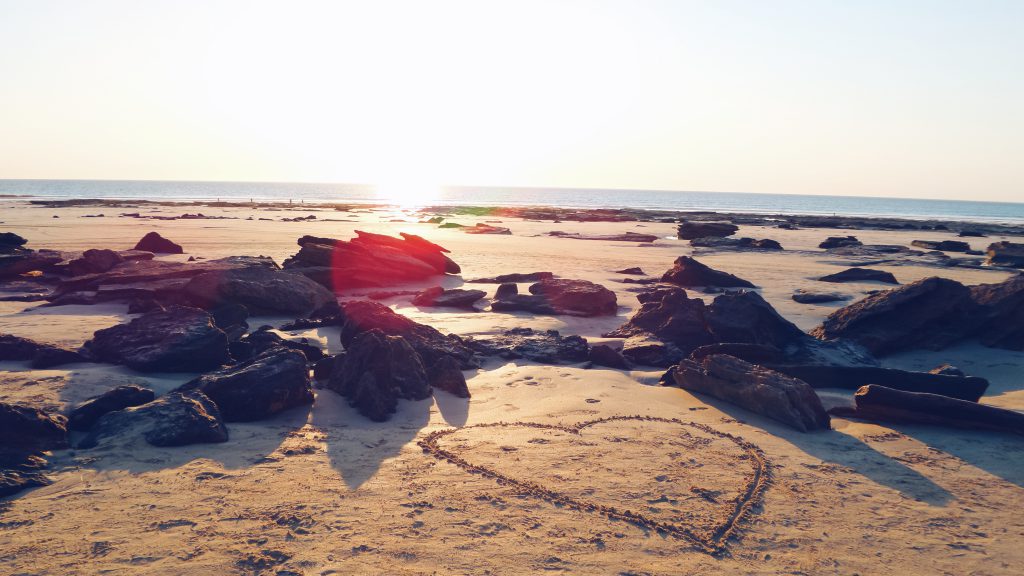 Natuurlijk heb je onderhand weer honger gekregen. Ik in ieder geval wel! Gelukkig vind je in de buurt van Cable Beach genoeg restaurants. Out of the Blue is er eentje van. Best gezellig en (niet geheel onbelangrijk) het eten goed.
– Pearl