As capital of Siam – former Thailand – Ayutthaya was known as world's largest city. Hard to imagine huh?! According to a bunch of Europeans it was also the most beautiful one. Until it was destroyed by the Burmese army in 1767. Yes a very long time ago but a little history never hurt nobody. The ruins can still be admired about 80 km outside of Bangkok. What a luck!
The remainings are on the UNESCO World Heritage site since 1991. Because – destroyed or not – it is still beautiful. Ayutthaya Historical Park is situated on a small island surrounded by three rivers: the Chao Phraya, the Pa Sak and the Nam Pasak. You can easily take the ferry across for only 5 cents but the wats (temples) around the historical area are also worth a visit. However, history is not the only reason why you should make a trip to Ayutthaya. If you've ever been there you will know I'm obviously refering to roti sai mai. Too fucking good! Only saw this sweet dish in the streets of Ayutthaya though. It's something I would definitely take a day trip out of Bangkok for.
How to get there?
Of course you can hire a car with your personal driver. Probably one of the most comfortable ways to travel but also the least fun. Many people opt for the mini vans, on their own pace or with an organized tour. My advise: go by train! Seriously the best way to travel if you ask me. From Hua Lamphong trains, which stop in Ayutthaya, leave regularly. A third class ticket will cost you 15 to 20 baht, which is about 50 cents. Can you imagine? The ride takes about 1.5 hours. Depart early so you have all day to explore the area by bicycle (tip!). Ayutthaya is still quite large and it can get bloody hot so you will need a full day to do so. I decided to have breakfast somewhere in Bangkok and missed my train by mistake. Everything is just slightly less clear signposted to us Dutch. It was one of my first days in Thailand and I wasn't used to the Thai way of life quite yet. Oh well, I bought me a new ticket and hopped on the next train. Therefore I arrived at Ayutthaya in the afternoon. Luckily a good alternative is to explore the city by tuk tuk. It's a lot more expensive but also a lot faster. I paid 300 baht – 8 euro – per hour. If you're better at bargaining down the price you will probably pay around 200 baht instead. Anyway, usually there's a 50 baht fee to enter each tempel. But if you're lucky, like I was, you can explore the temples completely free of charge.
What's there to see?
Wats, wats and more wats. That's right. Temples and a lot of them! Or at least what's left of them. Broken walls, prang towers, stupas and many Buddha statues give you a glimpse of a great Kingdom from a different era. Imagine an empire, a few dragons and a throne and it's like you're Khaleesi for a moment. Or at least, I thought I was. A little imagination on its time keeps you adventurous. The headless Buddhas and black burn marks, however, remind you of the reality that took place so long ago. Who has deepened a little into Thai culture knows that the head – and in particular Buddha's – is seen as sacred. It must have hurt deeply when the Burmese destroyed the city, beheaded Buddha statues and burned the whole place down. It's the atmosphere, the ruins give to the city, that is the most impressive. I only visited 4 temples during my short trip. Sufficient for me to name Ayutthaya as the absolute must do. Decide for yourself:
Wat Chai Watthanaram
Wat Lokkayasutharam
Wat Phra Si Sanphet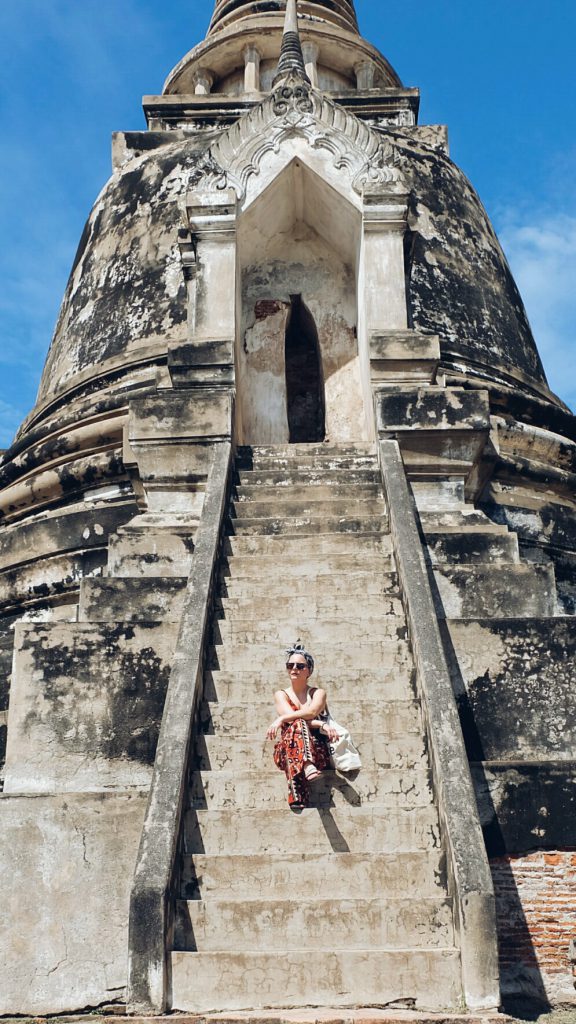 Wat Maha That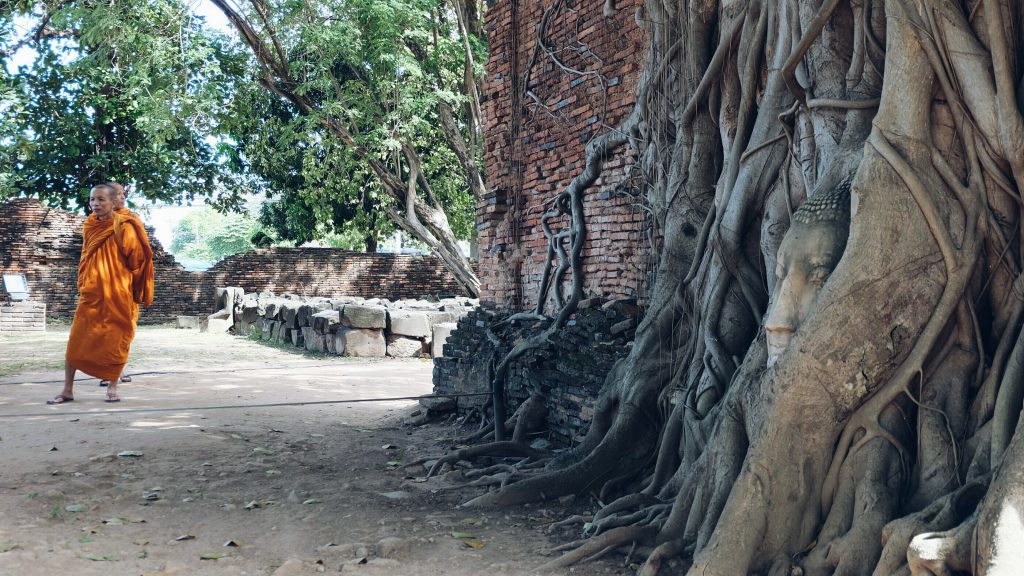 To taste?
When you say Ayutthaya, you have to say roti sai mai! These Thai sweets are Ayutthaya's specialty. It's basicly a pandan plate filled with cotton candy. Heaven! I must confess in all honesty, that someone tipped me about this treasure in advance. Despite that, it is fairly hard to miss. The colorful dough and sugar thread is almost rooted in Ayutthaya's streets. If that doesn't arouses your curiosity automatically, I hope I helped a little. Although I could live on roti sai mai all day it didn't seem like a good idea at the time. On Uthong Road along the Pa Sak River you'll find The Old Place. There's a small restaurant next to the guesthouse with a lovely terrace along the river. An old friendly Thai lady cooked me a delicious meal with love. I told you it was worth to stay an extra day in Bangkok for.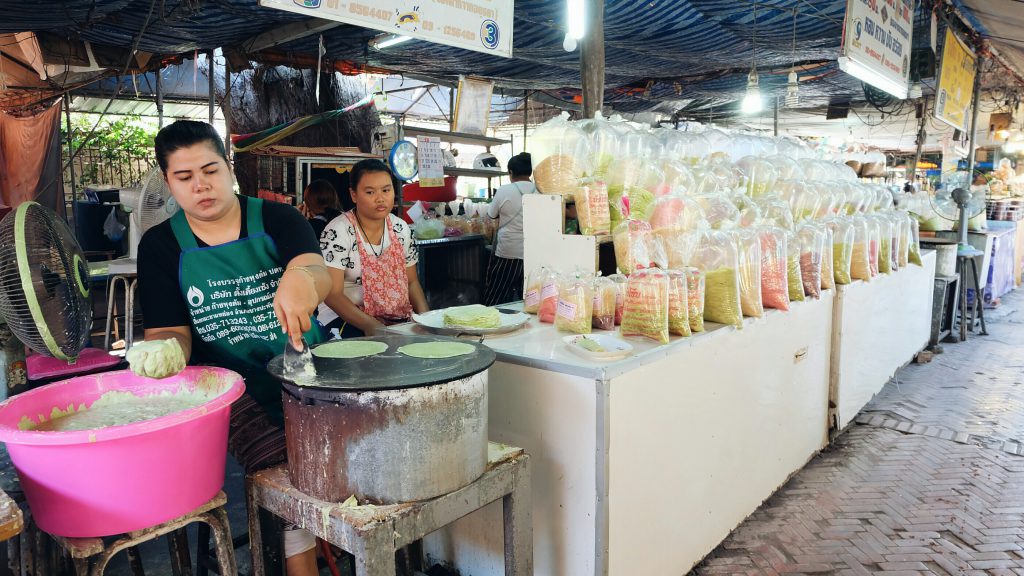 – X –