Karijini is, naar mijn mening, zonder twijfel het hoogtepunt van WA. Veel mensen slaan, wanneer zij door het verre land Downunder reizen, het westen over. Anderen hebben nog nooit van Karijini gehoord. Doodzonde! De Hamersley Ranges liggen in het Pilbara gebied. Bij Aboriginals beter bekend als Karijini, wat 'hilly place' betekend. In 1991 kreeg het park zijn oorspronkelijke naam terug. Het ruwe uiterlijk van de gorges, de prachtige watervallen en rotsbaden maken Karijini een absolute must see!
Misschien is het omdat het inheemse gebied zo afgelegen ligt, want aan de schoonheid van deze bijzondere plek ligt het zeker niet. Enorme bergen stijgen uit de verder nogal platte vallei. Erosie heeft de rotsen, van zo'n 2.500 miljoen jaar oud, door de jaren heen gevormd tot het uiterlijk dat zij vandaag de dag hebben. De oorspronkelijke bewoners zijn de Banyjima, Kurrama en Innawonga Aboriginals. Bewijs van hun bestaan dateert tot meer dan 20.000 jaar terug. Karijini ligt echter een dikke 1.000 kilometer van Perth en kent een oppervlakte van 627.500 hectaren. Even een dagje uit zit er dus niet in. Het hebben van een 4WD is ook wel handig. Dit is de voornaamste reden dat Karijini wordt overgeslagen. Het kost namelijk wat om er te komen. But it's worth it in so many ways!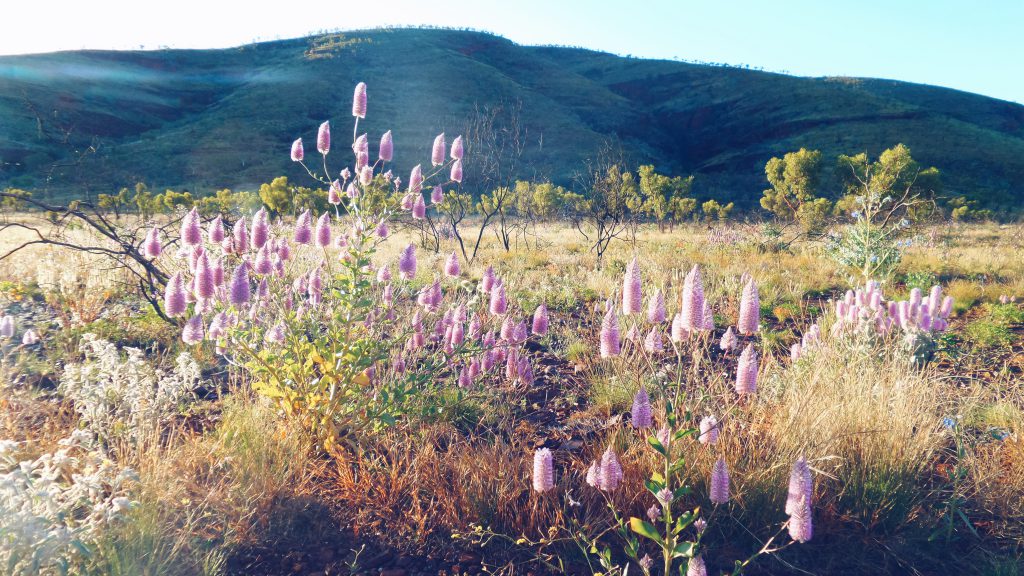 Wat een geweldige ervaring! Het begon eigenlijk al toen de groep, waarmee ik reisde, besloot met hun swag (als je niet weet wat dit is, google het dan even) buiten onder de Milky Way te slapen. Hmm, gelukkig was er ook een stretcher. Twijfelend besloot ik mij aan te sluiten. Natuurlijk denk je even aan het feit dat 's nachts alle enge beesten tot leven komen, maar als je eenmaal ligt en naar boven kijkt, ben je dat zo vergeten (echt!). Tel vallende sterren terwijl je in slaap valt. Geloof me, je bent zo weg! Best wel speciaal. Speciaal zijn ook de 32 muggenbulten, die je de volgende ochtend ontdekt. Dat spul met deet is volkomen zinloos. Als je dan vervolgens je tanden staat te poetsen en er komt iemand koekeloeren, wil je eigenlijk het liefst de toilet en douche mijden. Een kikker kwam nieuwsgierig kijken wat ik aan het doen was. De schrik van m'n leven! Misschien had ik hem moeten kussen. Wie weet wat dat me had gebracht. Douchen is trouwens alleen om te voorkomen dat je gaat stinken, want de red dirt (zoals ze dat hier noemen) gaat niet makkelijk van je lichaam, laat staan uit je kleren. Bovendien ben je binnen 5 minuten toch weer vies. Aaah fijn, we nemen het allemaal voor lief. Er zijn trouwens ook wat luxere accommodaties in Karijini voor de dikkere portemonnee. Helaas heb ik die niet.
Uiteindelijk hebben we 3 nachten in het park geslapen en er 2 volle dagen doorgebracht. Een dag extra had ook niet verkeerd geweest, want er is gewoon zoveel te zien. Hiervoor moet je wel, soms wat behoorlijke, obstakels afleggen. Begin bij level 3 of 4. Peace of cake! Zo moeilijk is dat nou ook weer niet en ik ben een doos van de bovenste plank. Geloof me, jij kan dit ook! Zolang je op het pad blijft, kan er weinig gebeuren. Level 5 is a bit more challenging. Ik heb met mijn hoogtevrees meerdere keren trillende benen gehad. Daar hang je dan vol goeie moed aan een klif boven de afgrond. Dan denk je halverwege toch even: fuck! 'Is er nog een weg terug?' Nope! 'You can do this Simone!' Het ergste wat er kan gebeuren, is dat je in het water valt. Ja, je zou je best lelijk kunnen bezeren. Màààr, we hebben het overleefd! Ik ben best trots op mezelf (al zeg ik het zelf). Aan level 6 zijn we niet toegekomen en eerlijk gezegd, zou dat misschien net iets te veel van het goeie zijn geweest. Ik heb begrepen dat je jezelf bij één van de tracks als een spin tussen 2 rotswanden moet bewegen. Daar had ik waarschijnlijk toch afgehaakt. Leuk hoor, maar ik zou 7 kleuren schijten! But who knows?! Misschien ben ik inmiddels wel een professionele hiker geworden. 😉
Al heb ik mijzelf meerdere keren afgevraagd waar ik in godsnaam aan begonnen ben, ik zou het zo weer doen! Waarom? De foto's spreken eigenlijk voor zich…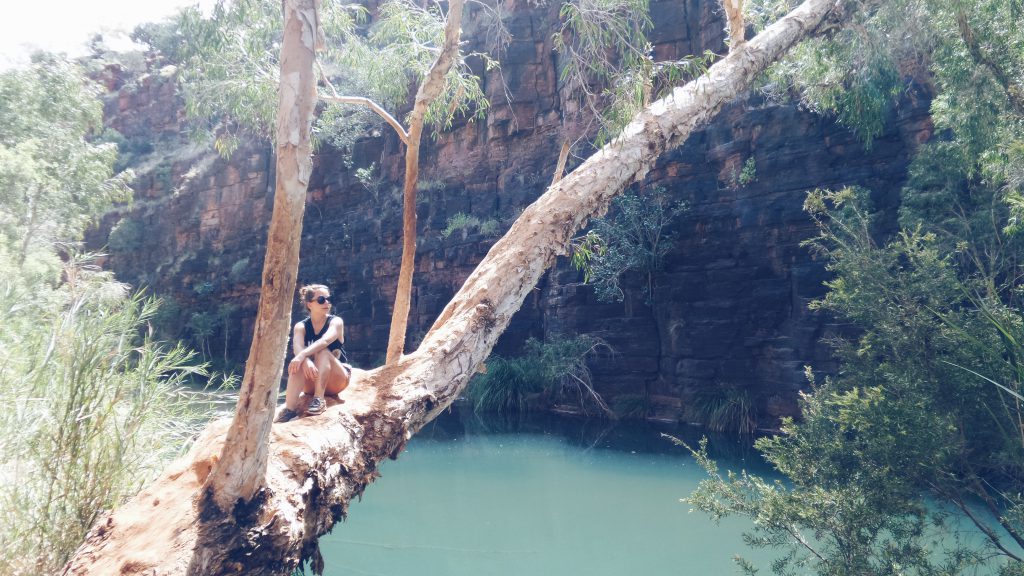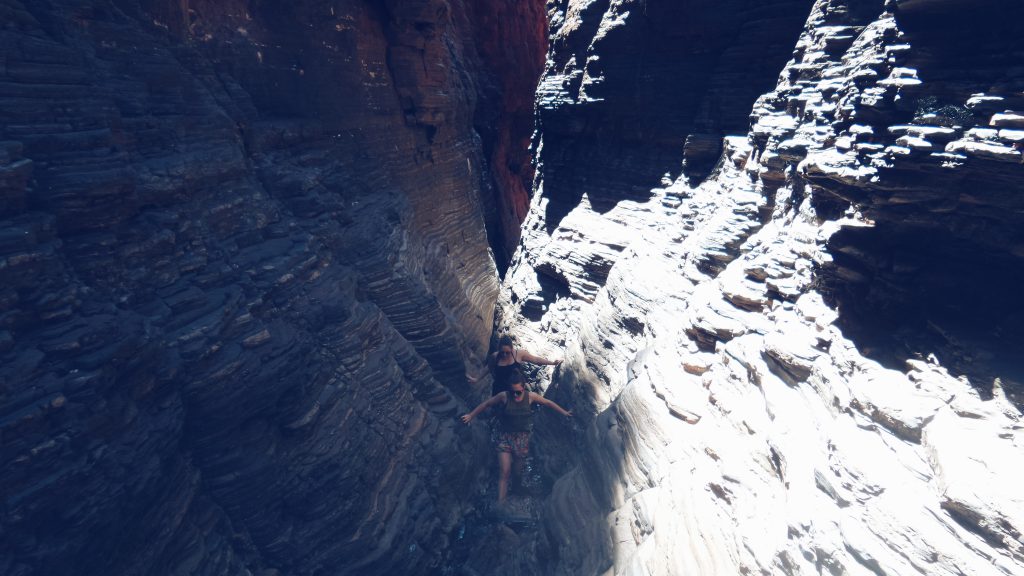 And then I realized, adventures are the best way to learn!
– Dare Devil