Na lang te hebben uitgekeken naar die mooie reis, was het dan eindelijk zover! Op de geplande tijd mochten we boarden. 'Yes, zin in!!!' Nog snel sturen we de ouders een appje. 'Hou van jullie.' Alle passagiers zijn klaar voor vertrek en wachten vol verwachting tot de taxi naar de vertrekbaan begint. Dat duurt wel erg lang. 'This is your Captain speaking.' Oke, klein probleempje, maar niet getreurd! 'Het wordt zo snel mogelijk verholpen'. Toch beginnen mensen na 1,5 uur wat onrustig te worden, wat het wachten alleen maar vervelender maakt. 'Nog een kwartiertje', wordt er gezegd. Maar na een uur staan we nog stil. Ik kijk op de klok. Dagdag, aansluitende vlucht. Die ga ik never nooit meer halen. Natuurlijk raak ik dan ook even lichtelijk geïrriteerd, maar wat kan je er aan doen? Precies, niks! You just have to learn to go with the flow. Dingen die je niet kunt veranderen, kan je het best maar gewoon accepteren. Hoe ouder je wordt, hoe meer dat besef er komt. Ik merk dat in ieder geval wel.
De vlucht is lang! Slapen lukt niet en van stil zitten krijgen we al gauw kramp. 13 uur later komen we aan op de exacte tijd dat mijn volgende vlucht vertrekt, 3,5 uur vertraagd.  Net zolang als ik op m'n overstap had moeten wachten. Gelukkig had ik mij al neergelegd bij het feit ik de vlucht toch niet zou halen. Aah fijn! Computer storing op het vliegveld dus geen vluchtinformatie. Je kan je melden bij de balie net als al die andere honderden mensen. Op zicht niet erg, maar dan zitten er maar 2 jonge dames achter. Ik hoor mezelf nog denken: heel handig dit! Er is licht aan het einde van de tunnel. 'Ik moet naar Perth.' 'Sorry mevrouw, er gaan vandaag geen andere vluchten meer.' Ook daar was ik al vanuit gegaan. En we bekijken alles van de positieve kant. Beter een nachtje Kuala Lumpur (lees overheerlijk bed en douche) dan 10 uur op een vliegveld slenteren. 'Uw koffer gaat automatisch mee met de volgende vlucht.' Die kunnen ze wel voor je traceren,  maar dat kan 3 uur duren. Heb ik het echt nodig? Ik zie er uit als een zombie, zou zo mee kunnen voor The Walking Dead. Laat staan dat ik kan nadenken. Nee! We hebben extra kleding en ondergoed in de handbagage. Er wordt netjes een hotel geregeld, ik krijg een transfer coupon en lunch en diner is inbegrepen. FIJN! Ik ben het wachten zat. We need fresh air!!
Verdwalen op Kuala Lumpur Airport is niet zo moeilijk trouwens. Inheems groot en de weg vragen, maakt het er nou ook niet bepaald duidelijker op. Men helpt je wel graag hoor, maar dan is er die taalbarrière. Eindelijk heb ik de shuttle transfer balie gevonden. Neemt u daar maar een tijdje plaats. Welja! Wat maakt het ook uit? Laat ik even dat hotel Google-en. Misschien kan ik nog wat ondernemen. Helaas ver buiten het centrum, maar het hotel heeft een dakterras met zwembad. Hallelujah! Het is bloedverziekend heet, ik ben moe, heb honger, geen losgeld op zak en shit! Geen tandpasta. Leer momentje: altijd een kleine tube tandpasta in je handbagage meenemen. Ik kan mij herinneren dat je bij Singapore Airlines dat tijdens je vlucht kreeg. Nou ja, we toveren het wel ergens vandaan. Net wanneer ik vind lang genoeg te hebben gewacht, winkt er een jonge man. Hij heeft er zichtbaar zin in (maar niet heus)! Ik ben ook niet echt spraakzaam. Mijn hersenen liggen ergens, waar dan ook, op een kussen als een dood vogeltje. Maar ik word ineens aangenaam verrast. Om het uit de grond gestampte hotel, waar ik ben heen gestuurd,  staan kleurrijke sfeervolle pandjes met winkeltjes en appartementjes. Super leuk! Ik ben in Kuala Lumpur!! Jeeeeh! Heb die Johan gewoon weer gelijk he?! Elk nadeel heb ze voordeel. 😉
– The bright side of life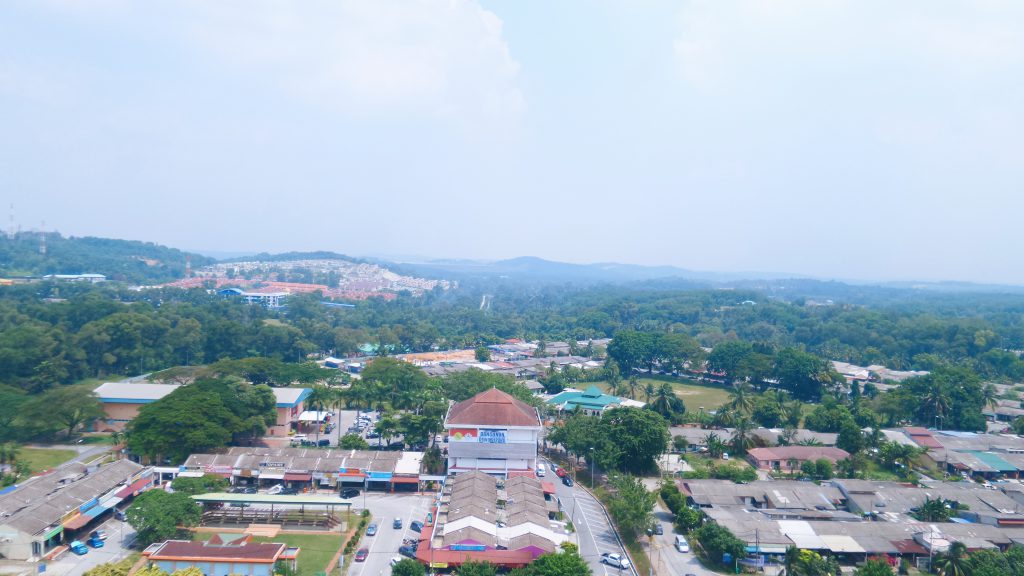 P.s. We zijn inmiddels veilig aangekomen in Perth!